2010-01-06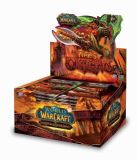 The reinvention of ye olde Azeroth in Cataclysm is a stroke of genius by Blizzard. It's revitalised interest in the game, and created a "one last time" levelling community who want to experience the original content before it's rent asunder. So unlike many expansion or patch announcements which end up reducing the player base while bored end game players tap their fingers and wait, Cataclysm has probably increased the active player numbers.
But there's one problem with the plan: Outland is immune to the pending events. Outland is…annoying. I've read any number of bloggers who reach Outland and really struggle to get motivated to move through it. My level 60 Hunter is in this exact position. For whatever reason, it seems like a hard slog and a bit of a grind, especially when compared to the 1-60 experience.
Hellfire Peninsula comes under a fair amount of criticism – it's a visually harsh, unfriendly environment and tends to be a brick wall of sorts. Similarly Shadowmoon Valley and Netherstorm seem to rub people the wrong way. In fact the only Outland zone that people seem to actively enjoy is Nagrand. The common description is "relaxing". I suspect that is largely due to it's visual appeal – it's a lush, living environment teeming with wildlife that doesn't just attack on sight. One zone out of seven isn't a winning formula, and probably goes a way to explaining the Outland hump.
So what could be done? Blizz managed to make the earlier levels fly by far quicker, by a combination of earlier mounts, heirlooms, more powerful talents, and nerfing instances. Outland was also modified, but another refresh might be needed – increase the XP gains again, or drop the average mob health to make quest grinding quicker. The LFD system has obviously helped too – many are levelling through Outland via Dungeon runs alone.
For the Recruit-a-friend brigade, one simple thing would be to continue the triple XP to level 70. At the moment it stops at 60, just when you're ready to take the deep Hellfire breath. Given the pending 85 cap, why not keep the XP bonus through to Northrend. RaF users are a minority group though, so this would only solve the problem for some.
The biggest improvement would be to make Cataclysm hit Outland. Change the environment, make it a new experience, give Hellfire a fertile rainforest heart, flood Dragonblight like Thousand Needles will be, bring Zangarmarsh some sunshine. Of course this would be a huge undertaking, similar to Azeroth in scope, but Outland totally escaping the coming of Deathwing is a bit of a cop out.
Blizzard have cried resources when explaining why Outland isn't being impacted, despite it being the zone that most needs work to make it more appealing. No-one wants to spend time there any longer, Shattrath is a ghost town, and there's nothing much to farm. So make it quicker, or make it more interesting. Oh, and leave Nagrand alone :-)
---
Comments:
Syp - Jan 10, 2010
[…] New Traditionalists spits on the corpse of Outland […]
---