2010-02-17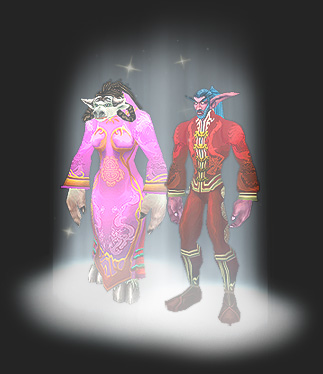 I'm plodding around Azeroth on Kodo in pursuit of my Elder title, visiting all sorts of far flung places with nary a soul around. Other than other Achievement seekers, of course. Which is kind of sad - Ashzara for example is a beautiful zone, populated by precisely no-one, all the lonely NPCs in tears waiting for someone to kill or appreciate them. Thankfully Cataclysm brings the Bilgewater Cartel goblins to Ashzara, who make their home there.
In any case, the Lunar Festival is a nice leisurely journey, and it certainly brings home the ginormous size of the world. It also illustrates one of the fundamentals of playing: the metagame. The idea of attempting the Lunar or any other festival without resources like wow.com or Wowhead is frankly unimaginable:
Bane: Hey there, guy-with-a-great-huge-halo-shooting-up-in-the-sky, how you doing?
GWAGHHSUITS: *spinning around with enthusiasm* Hail oh great PC! Thanks for visiting me. In fact, you know what - have this artfully crafted coin!
Bane: Whoa, thanks old guy! Hey - are there more of you 'Elders' around?
GWAGHHSUITS: Sure are - and they'll give you free stuff too!
Bane: Great! I should go visit them. Um, where are they?
GWAGHHSUITS: There's one somewhere in a dungeon somewhere. And another in a place you've never heard of. Just nearby. Kind of. *looks shiftily around while scuffing the ground with his worn leather boots*
Bane: Ummm, can you be more specific?
GWAGHHSUITS: Nope! Good luck! /ignore*quickly turns his back on the annoying PC*
Bane: …
Of course it would be possible to find all the Elders, but it would be a royal pain too.  I guess someone once did it da solo, and more power to them, but players with that much perseverance are few and far between.
Whilst you could argue this means the game isn't complete somehow, it seems more likely that this enormous community pool of knowledge that has formed around Warcraft is one of the things that makes the game, as BigBearButt observed. It's social networking, and it's been around since before that term became the property of Big Business™.
The amount of free info and time that people have committed to Wowhead and Wowwiki is phenomenal. It's created a community of contributers, bloggers, editors, Auctioneers and passionate players. I barely move in game before referring to LightHeaded, zooming off as directed via TomTom, or using the Lunar Festival pack for TourGuide. In many other games this would be cheating. And maybe the boss encounters suffer a bit from needing guides rather than teaching. But I'd argue that overall, the metagame makes WoW miles more fun - it doesn't reduce the challenge, just the frustration.
---