With Blaugust fully rolling now, I thought it might be ok to post a meta post about blogging - or more specifically questions about blogging and commenting. (I guess this could be better asked on the Blaugust Discord, but I don't really use or get Discord, and anything posted there is only visible to the Discorders. Which is why blogging is so great - it's public and a permanent record).
One of my biggest confusions with blogging is commenting. Whenever I see a post that stirs the imagination, I think about commenting, but then decide it would be better to make a full post here. The logic is normally that there is too much to write in a comment, and comments tend to be seen by a tiny fraction of blog readers. On the other hand, comments can be the heart of a blog. It's how you know people are reading, and reading enough to care to respond. Veteran blogger and Blaugust mentor Bhagpuss is pretty clear on the matter:
I one hundred percent recommend and advise any reader to comment, whether or not they also blog or plan on starting. Comments are the life-blood of blogs. Bloggers love comments and commenting leads to blogging. Do it!
But! He also goes on to say:
I'll start commenting and within a few sentences it will occur to me that a) the comment is going to run long - most likely very long - and b) it would make a perfectly adequate blog post! At this point, out of blogging solidarity and politeness, I usually change the comment to something along the lines of "Great post! I was going to comment but then I realized I ought to make it into a post over at my blog".
This is exactly what happens. Though I rarely get as far as starting a reply.
Is the best etiquette to post a reply, but link to your post if you make one? That sometimes seems like it might be a bit rude, hijacking someone else's post, but it does seem a good compromise? I certainly like seeing a link posted as it leads me to find great new bloggers, or great posts from existing blogs. It might also be the only way to guarantee the author knows you have posted a response.
The state of link-backs seem perilous at best, which is a real shame. There could be terrific post somewhere engaging with one of yours, but you may never see it. Interested in thoughts on this - feel free to comment or post a response! And then comment. With a link. Argh!
---
Since the announcement of BfA, a lot of people have been wishing factions would go away, to let everyone play as one happy horde. Or should that be alliance?
There are arguments for merging that are strong - playing with friends no matter what race they've chosen, less conflict with other players to allow more with fictional enemies, and a sense of cooperation instead of conflict. It would mean the end of mass PVP, as it's hard to see how you'd create two predictably opposing forces without the prop of factions. PVP may be a minority activity, but it adds flavour and drama for those that seek it out.
Despite the arguments, I think Factions should stay. Removing them would remove some of the soul of the game.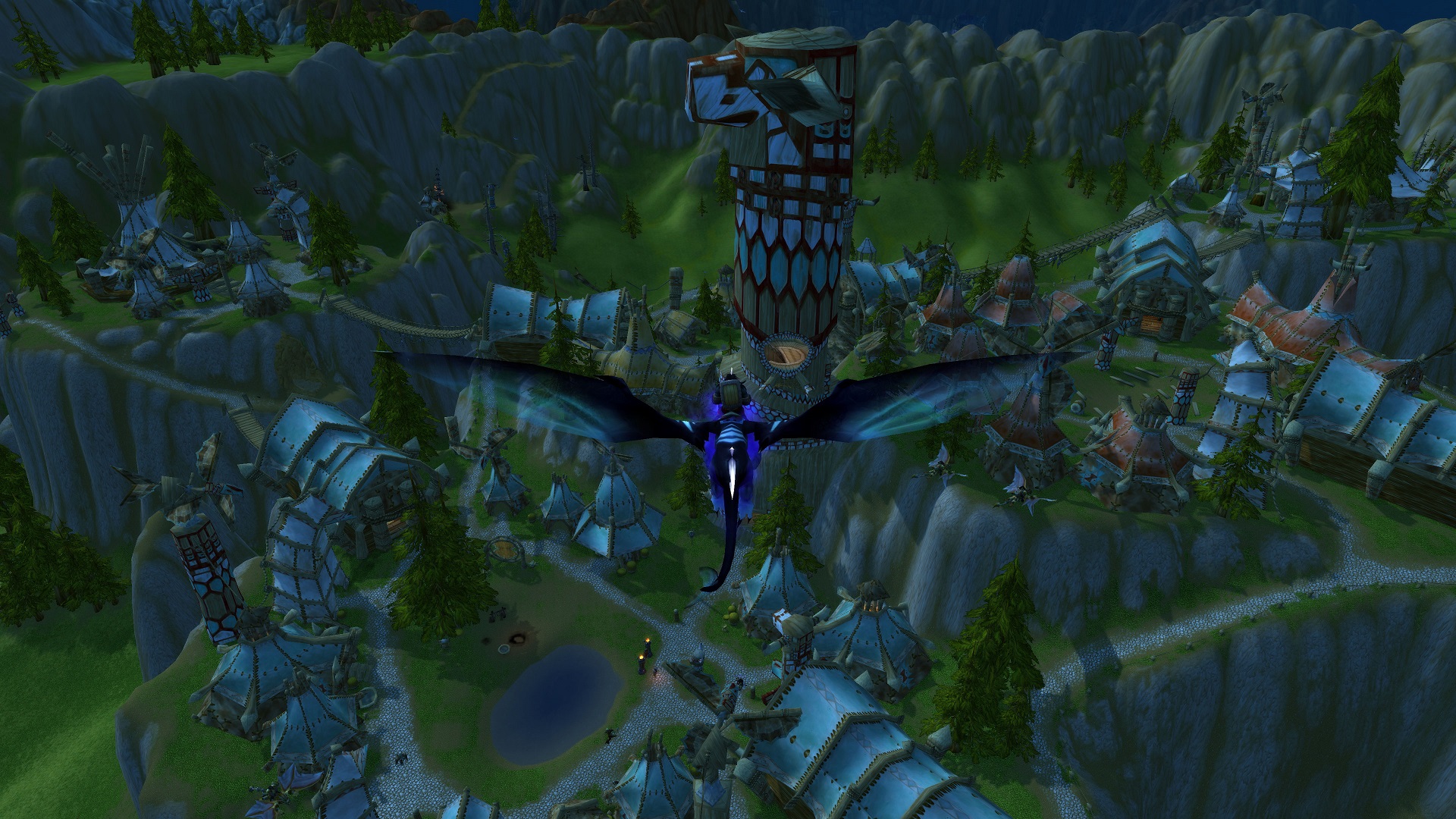 I like that there is a different feel and personality to each side. That you can have cities that are distinctly one side or the other, with the colours and personalities that go with that.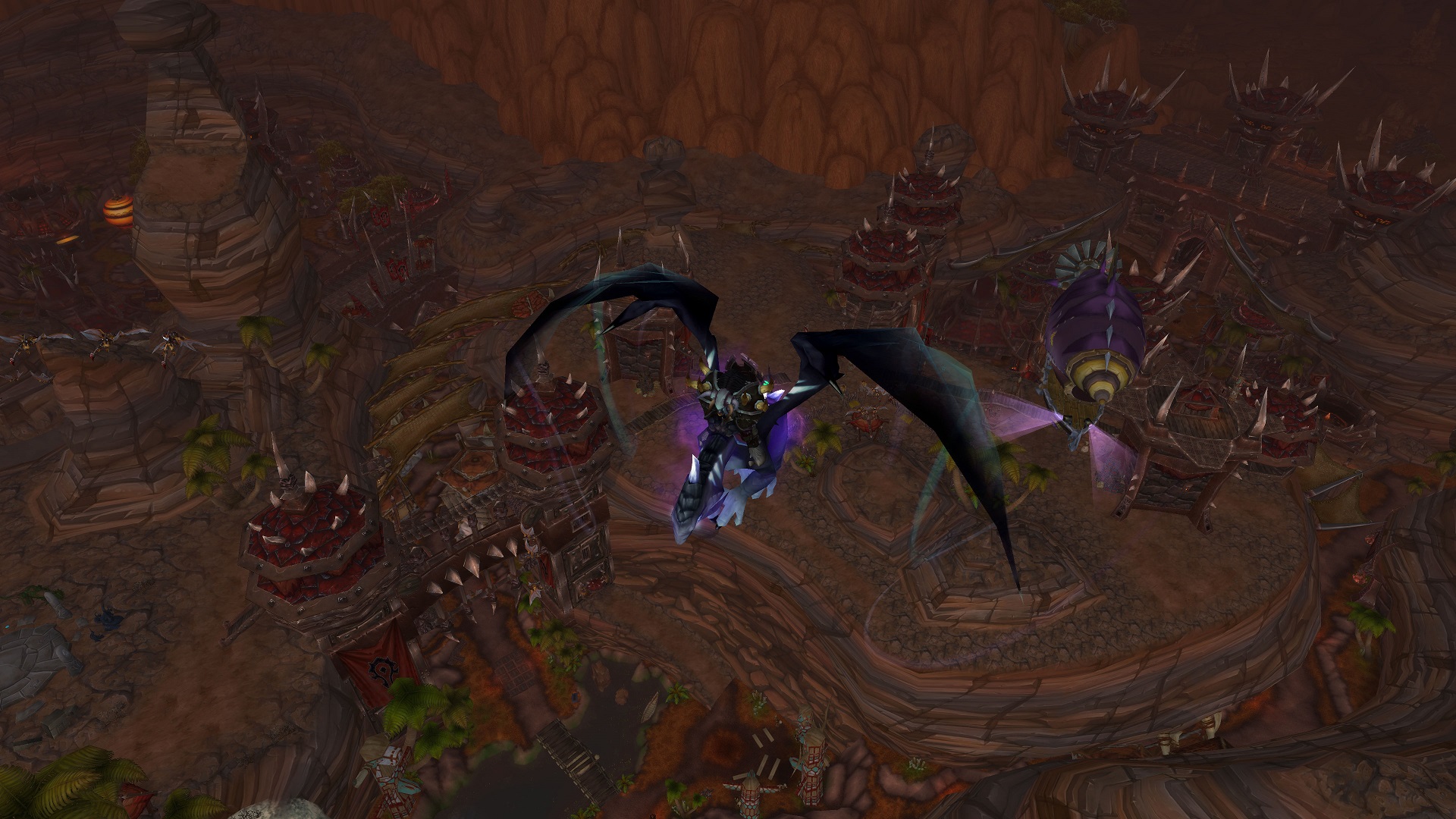 There is a sense of tension and curiosity created by having zones that you can't safely venture into, forcing you to skirt around or tentatively work your way through. Having to sneak into Ironforge in order to fish up Old Ironjaw was excellent fun that wouldn't be possible without Factions.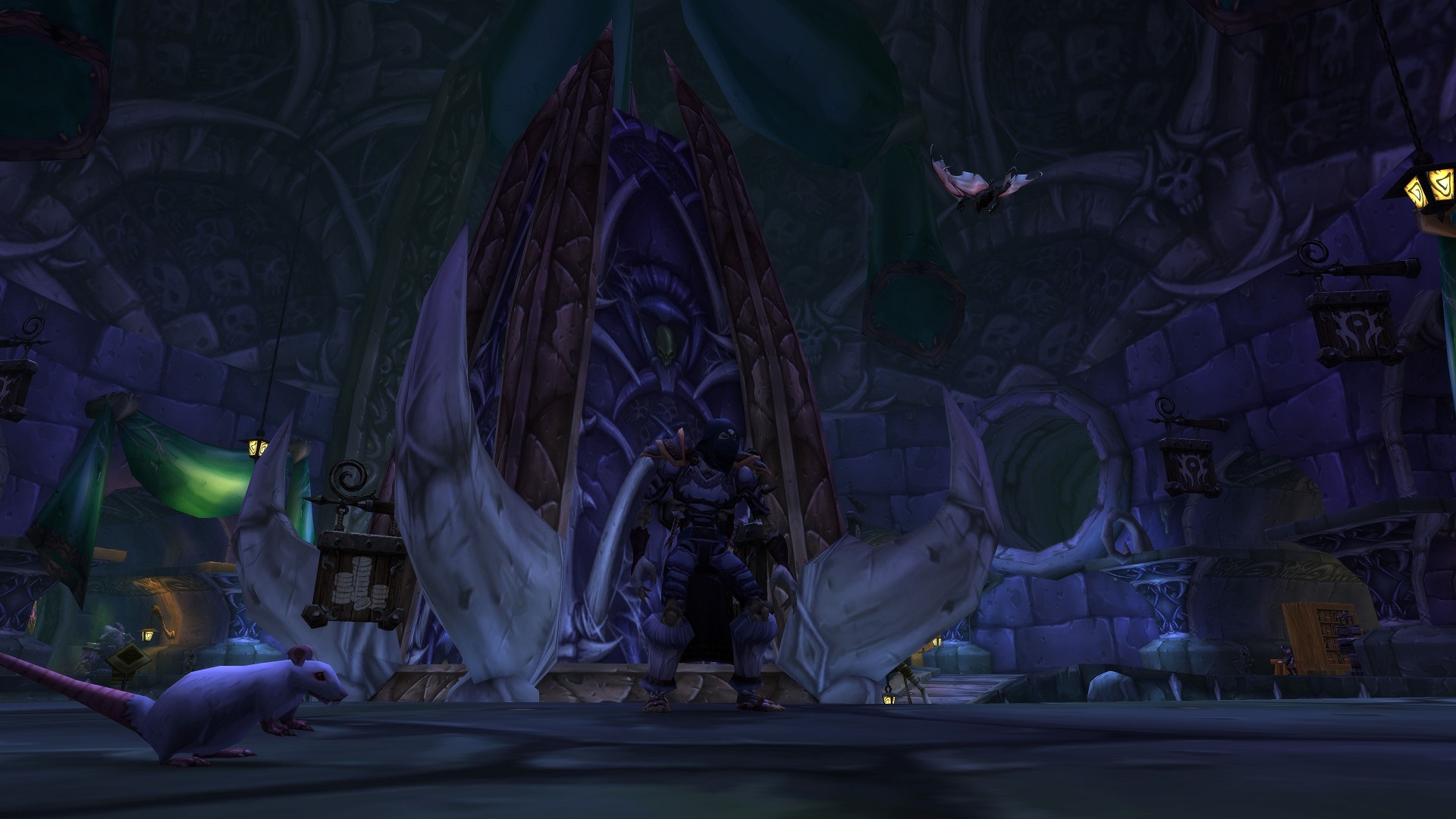 It doesn't always have to be red vs blue, as shown by Legion. Blizzard could do some cool things like having a raid with both factions inside, meeting at a final boss that they combine to defeat. To allow friends to play together, similar mechanics could be introduced for dungeons or even raids, easily explained in lore as temporary truces in order to defeat a greater foe.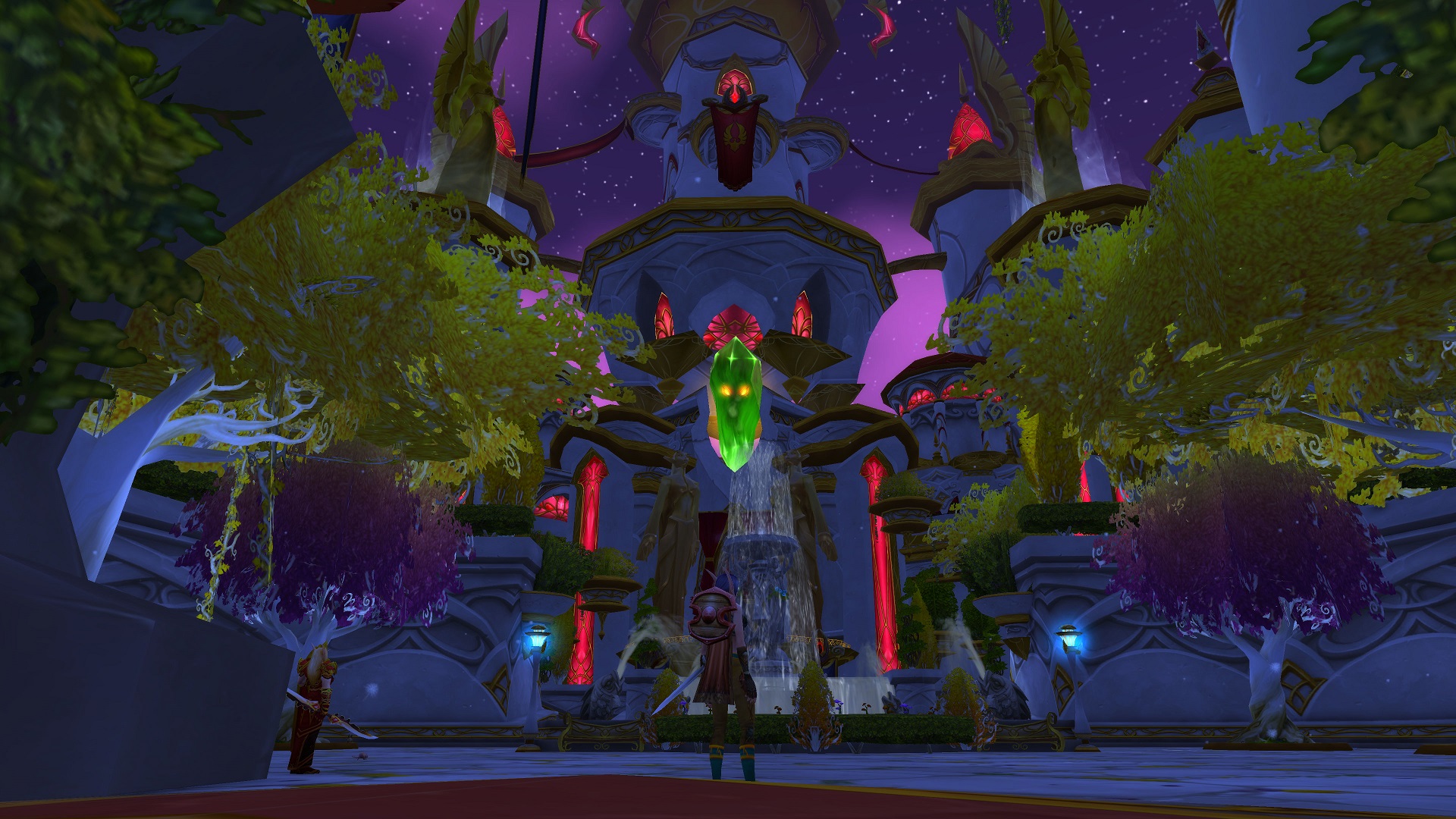 A grudging respect and sense of accomplishment created by working with the other side is sometimes more rewarding than having everything as one happy family.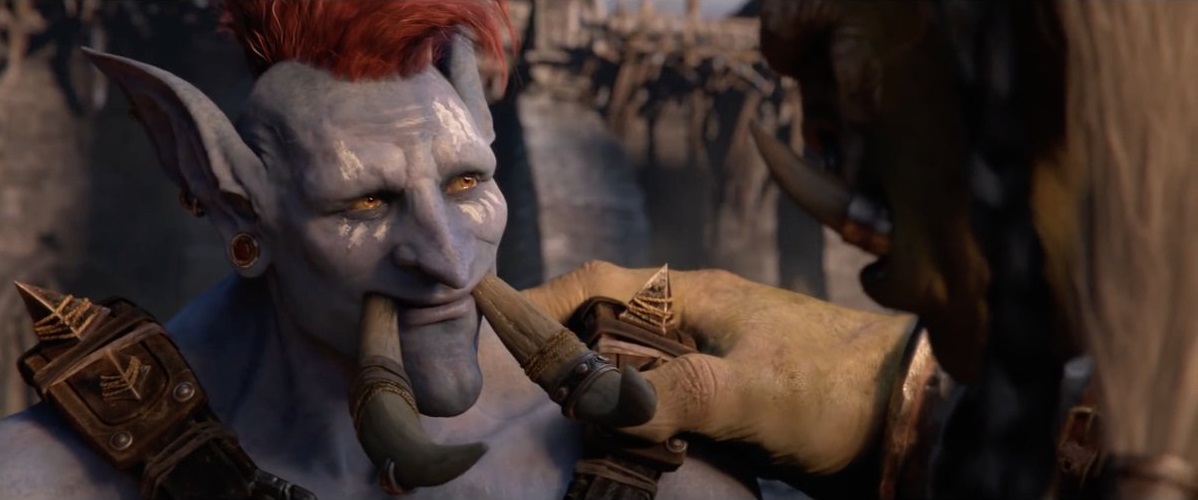 If nothing else, Factions should stay for the stories they generate, the current uproar being a great example. And also for the sense of belonging they create. As Saurfang's Troll recruit Zekhan expressed so well, "The Horde… it's all we have".
---
Well that was unexpected. After all the hand wringing, Blizzard drops one of their brilliant cinematics, perfectly targetted to assuage the wavering Horde players.
As suspected, Saurfang is being given the role of the moral core of the Horde, and it's immensely relieving to watch. Sure it's doesn't let we Horde players off the hook - the World Tree is still burnt to cinders - but it does allow us to believe there is a better path to follow. The player engagement must be off the hook at the moment. I bampfed to Dalaran last night to find a spontaneous group of players slow marching around the mid city, yelling that this was a protest to demand Saurfang be installed as Warchief. And this is not on a RP realm, which demonstrates how hard all this has hit.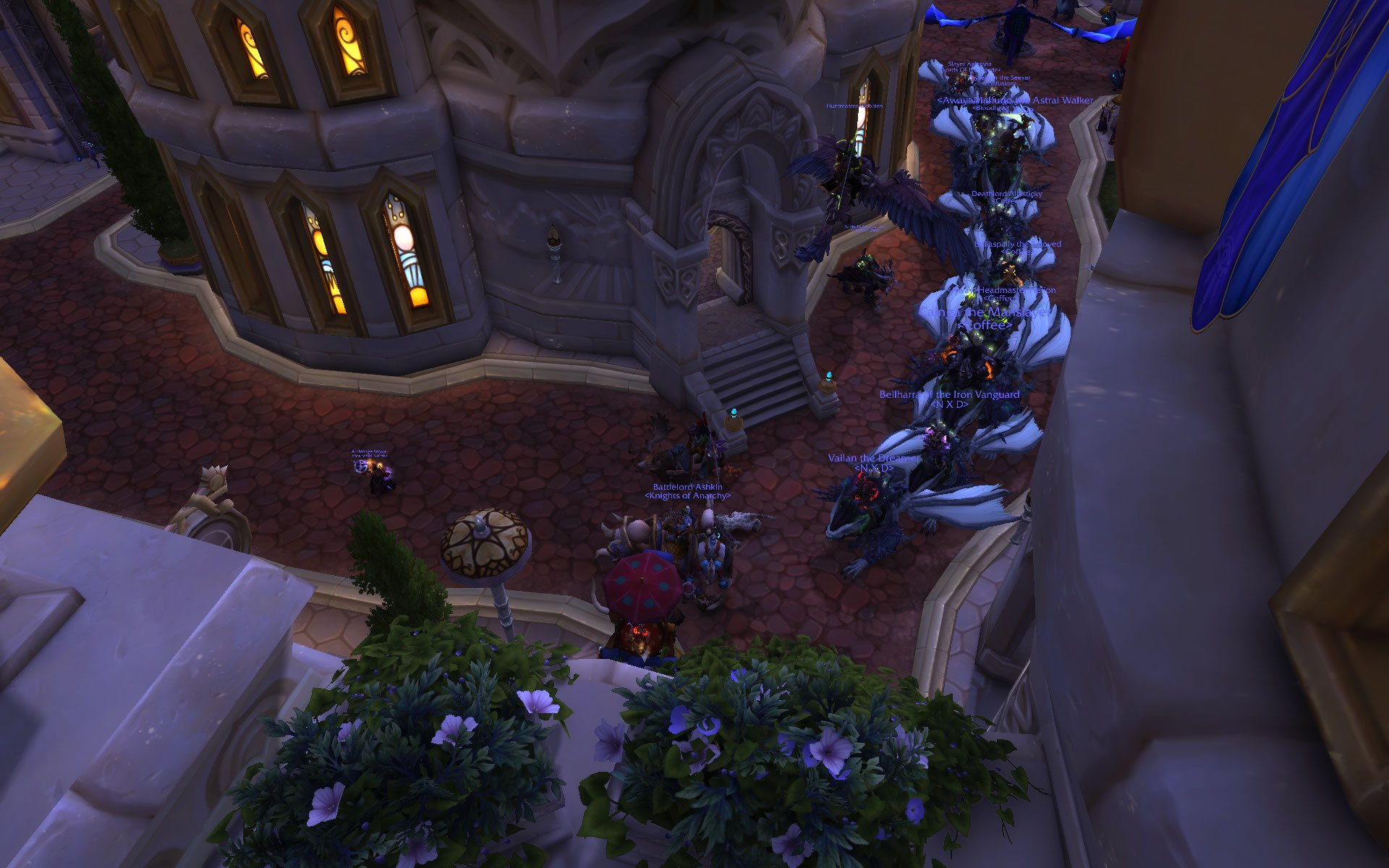 Another great spontaneous player protest that has emerged is players hiding their shoulder armour, in deference to Saurfang and his Troll disciple. Or DeadlyBossMods adding Saurfang's sage "Don't die" advice as a Raid Warning. I do wonder if this was dropped early, but once again it's much more likely that Blizzard are just better at this than we give them credit.
---
Last night I continued my flip-flopping between Sylvanas and fishing, with fishing coming out way on top. I caught my last rare fish and consequently completed the requirements for the best Legendary of Legion, the Underlight Angler. Thankfully the arrival of Azerite hasn't relegated this Legendary to the annals of history.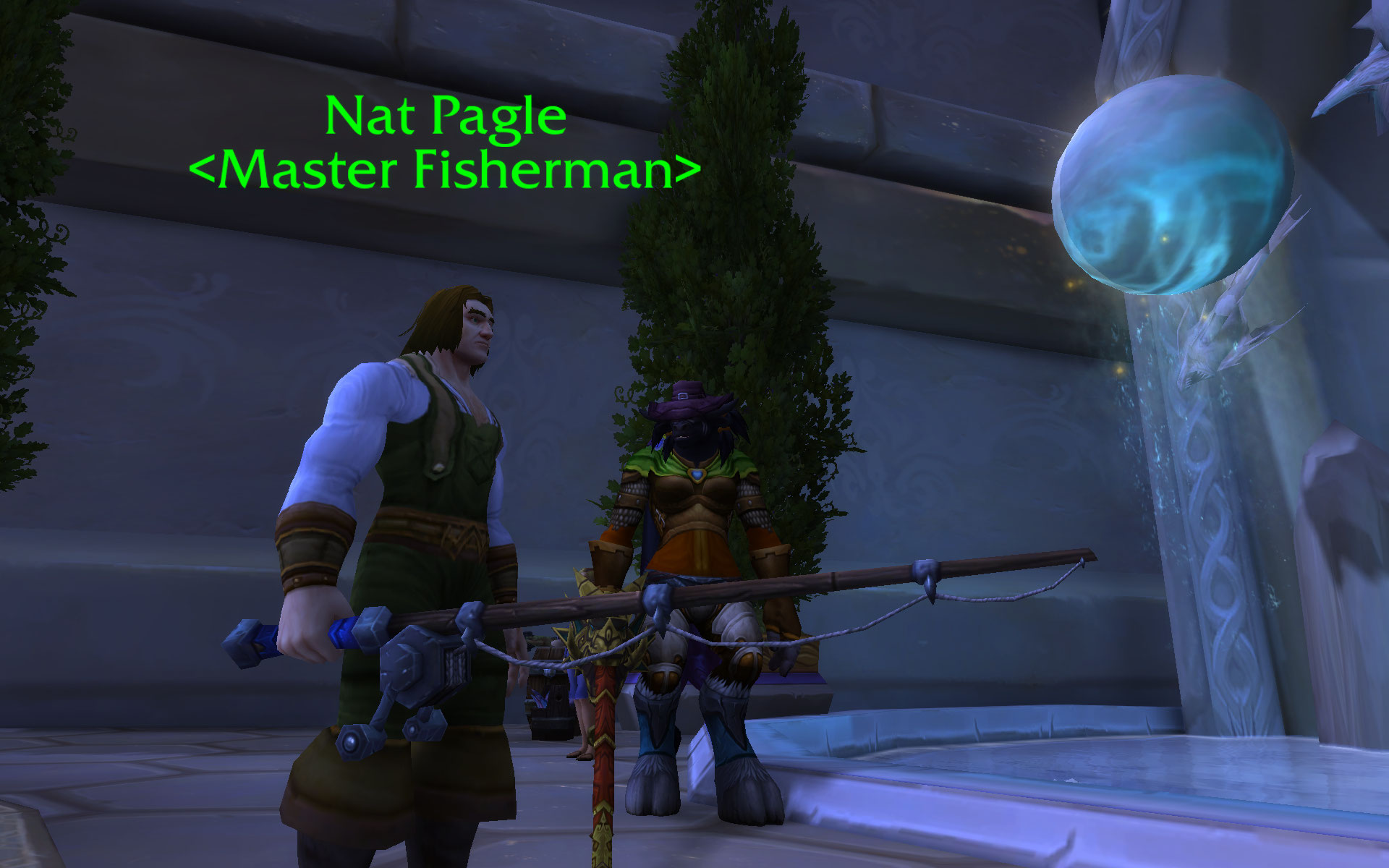 Before wielding it, there was a great surprise (though I should have guessed) when the inimitable Nat Pagle turned up for the quest that would unlock the rod. I was very happy to see the old sod again, and we went off fishing together for a while, just like old times. We - well, I - had to defeat a giant murloc in order to finish the job, which somehow then became part of the fishing rod itself.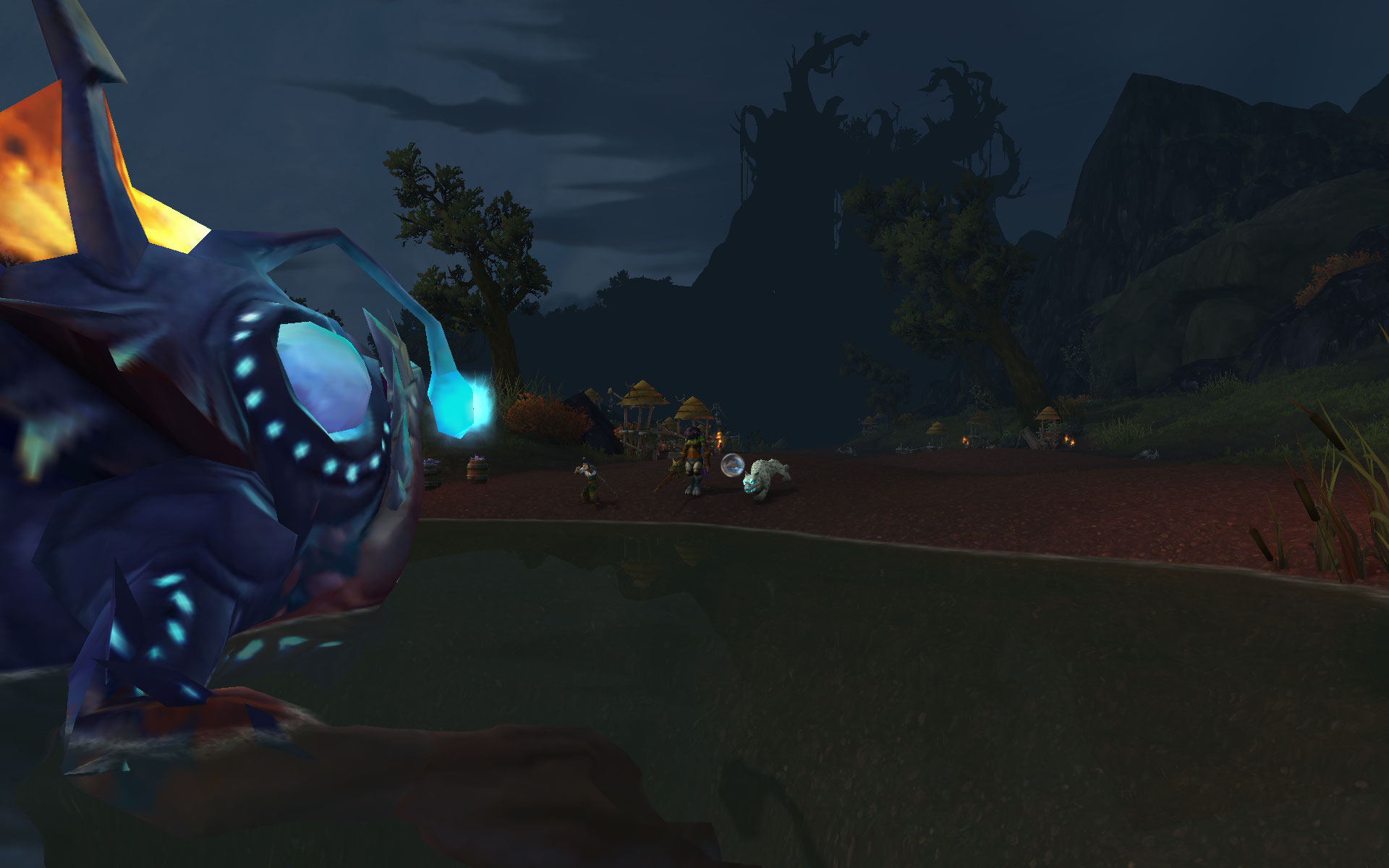 Once it is complete, a number of reputation and upgrade quests become available. The Fisherfriends seemed a good place to start, and fortuitously it was in Highmountain.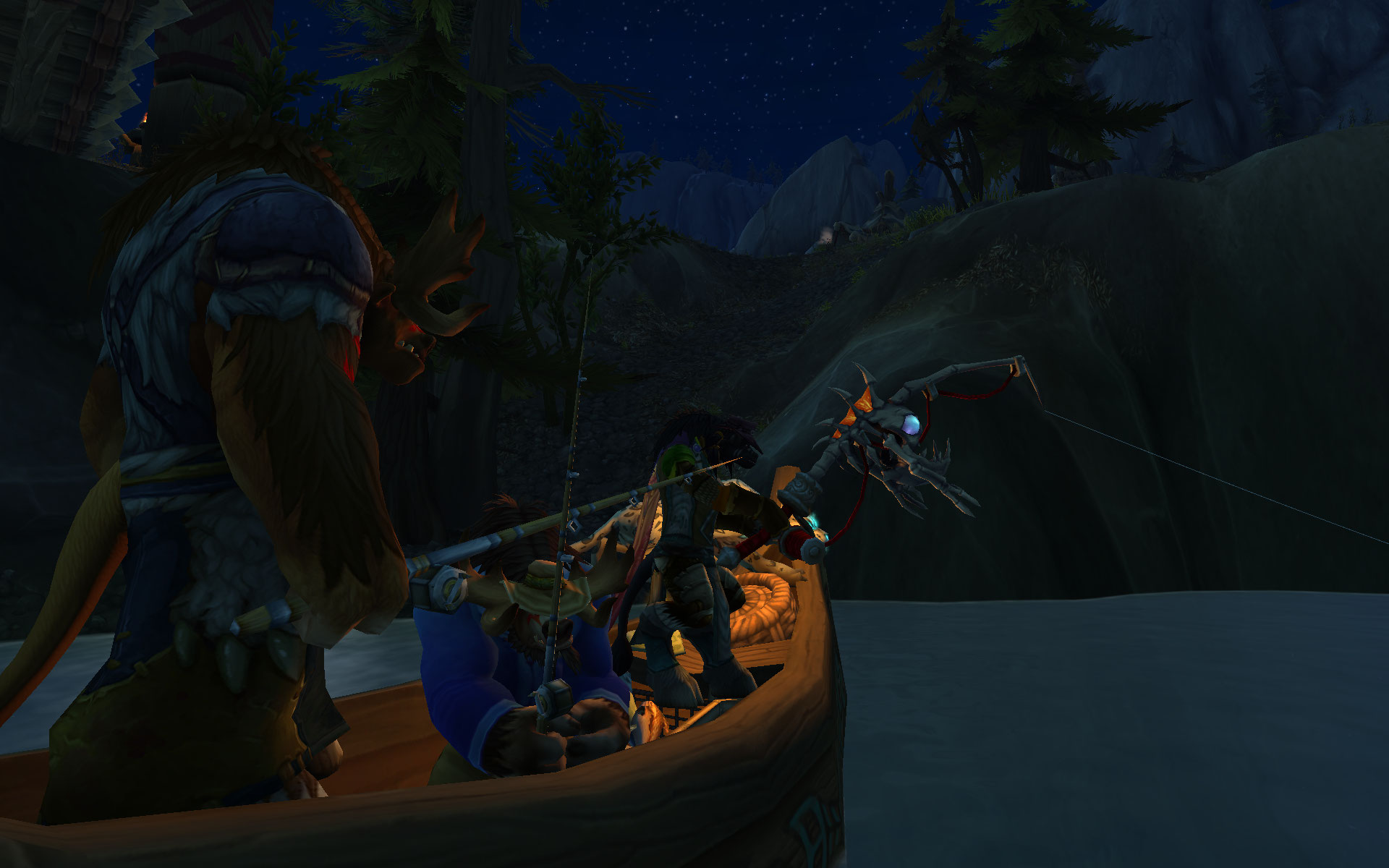 At first I started fishing alone, before recalling that there were such things as 'fishing raids'. I signed up for one, and it was hilarious and brilliant.
Fisherfriends require you to fish up specific items to earn rep, and you have to be standing in certain spots to achieve that. For the Highmountain, that spot is a tiny boat in the moat around the building. Which means there were 20+ people suddenly crammed on the boat, all fishing peacefully.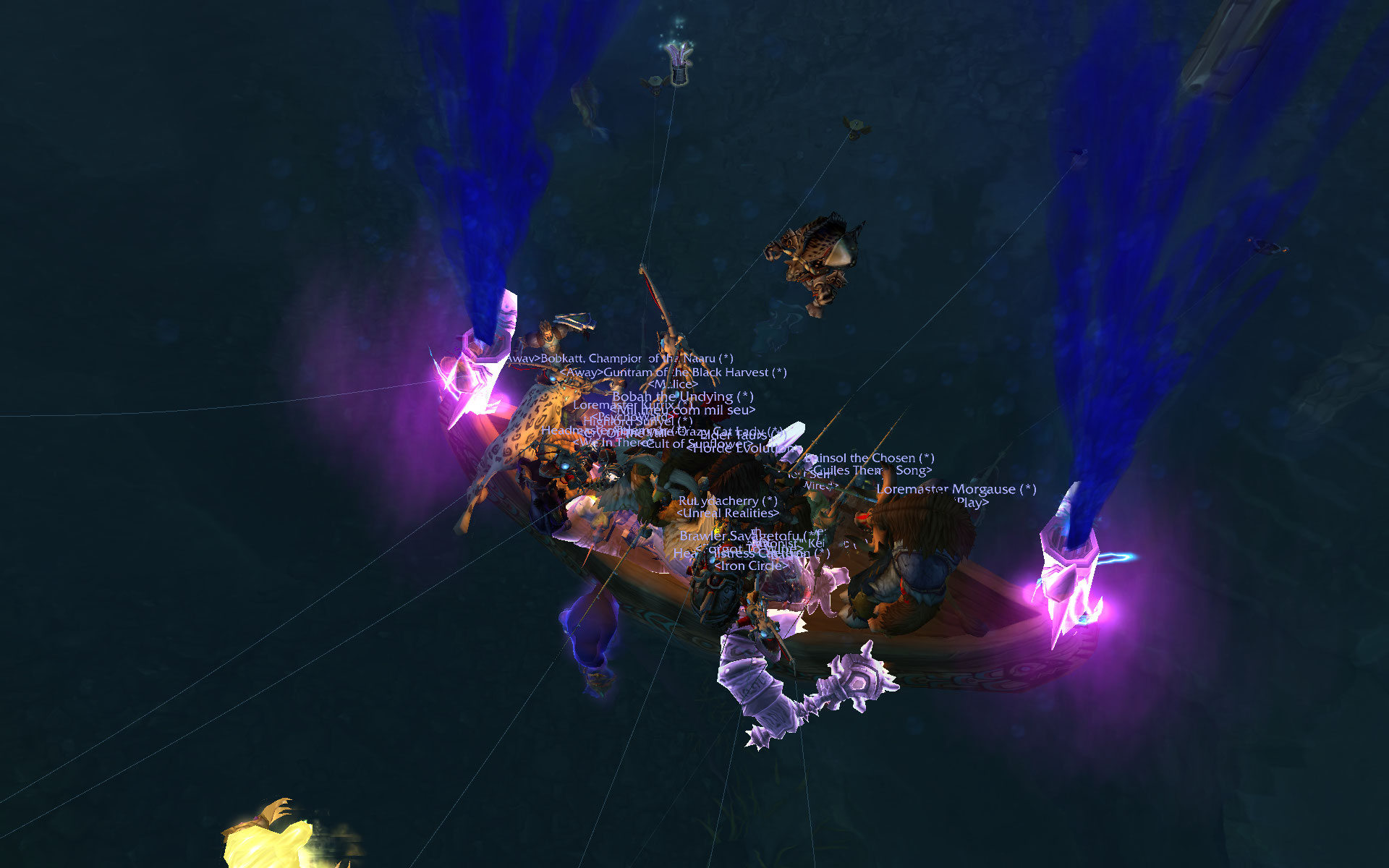 Best of all was when a conversation started that somehow ended up talking about D&D, Warhammer, miniature painting, and Pathfinder 2 beta testing. In other words, not Barrens chat. I loved it. Everyone was just casting, idly killing the occasional boss spawn (that gave a buff meaning every cast caught the required items), and having a relaxing time and thoroughly ignoring what was going on out in the 'real' world.
As fellow Blauguster Barely Readable Diary puts it:
So here we are. On the cusp of Blaugust Reborn, and of the continuation of the so-called War of Thorns and the Battle for Azeroth, and I've gone fishing. I'm pretty sure as soon as I have a foothold on Kul'Tiras sorted, I'll go fishing again, too.
May your casts land true, my friend!
---
What Sylvanas has done is inexcusable, and effectively makes her the inheritor of Arthas's mantle - celebrating death over all else, destruction for destruction's sake, all out of spite and malice. The Warbringer animation does a good job of showing her come full circle, from heroically trying to save Silvermoon to cravenly destroying Darnassus and Teldrassil.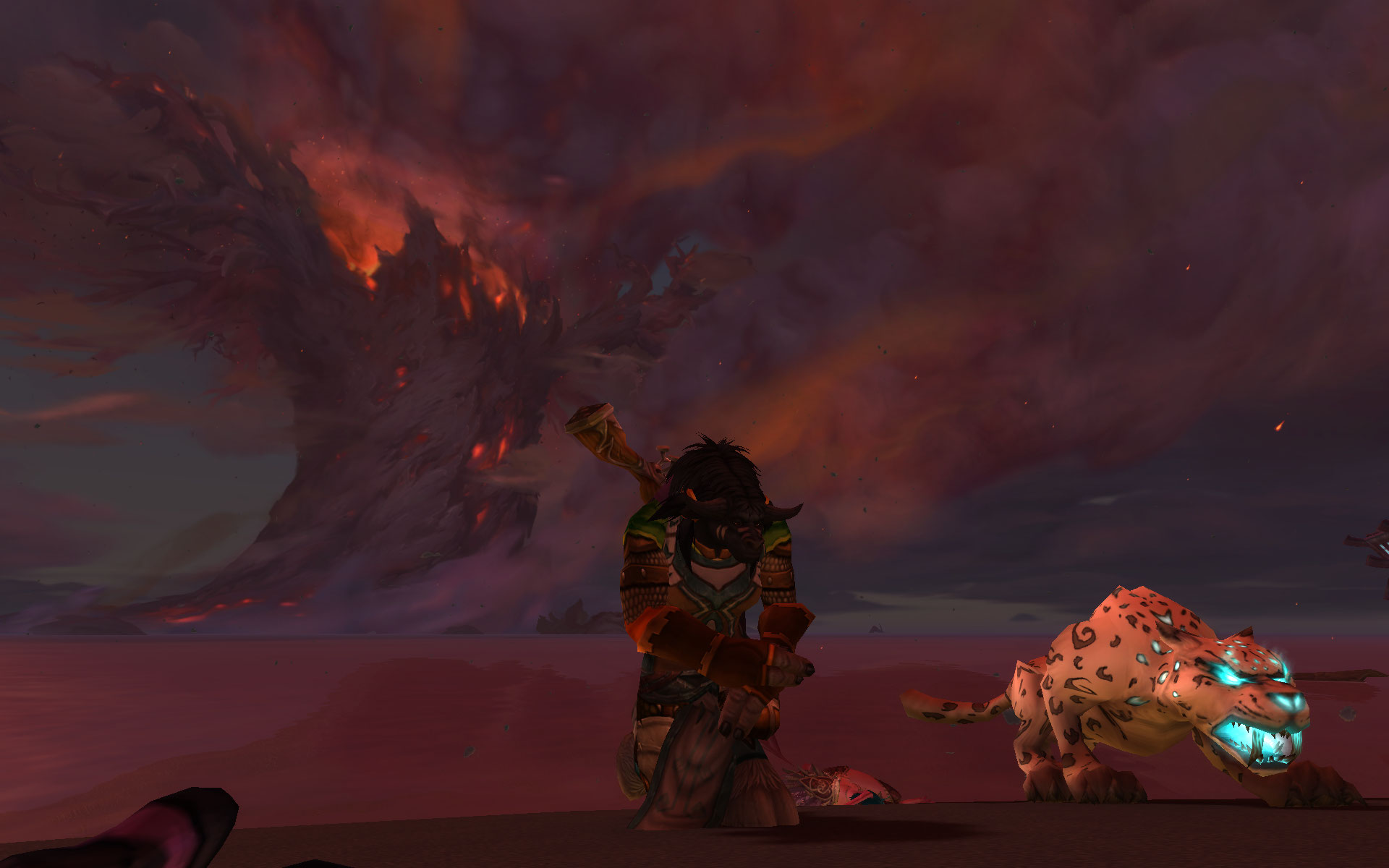 As Grimmtooth notes, it's left the majority of the playerbase feeling some combination of angry, guilty, and bereft - or as Perculia puts it, everyone feels bad. Except maybe well known elf-hater Syp, though I'm sure even he wouldn't support what Sylvanas has done here.
As with part one, it's kind of refreshing to see no get-out-of-jail cards being played. No appearance of the rumoured Old Gods to get Sylvanas off the hook, no surprise sabotage to frame her, just a pure and simple act of evil.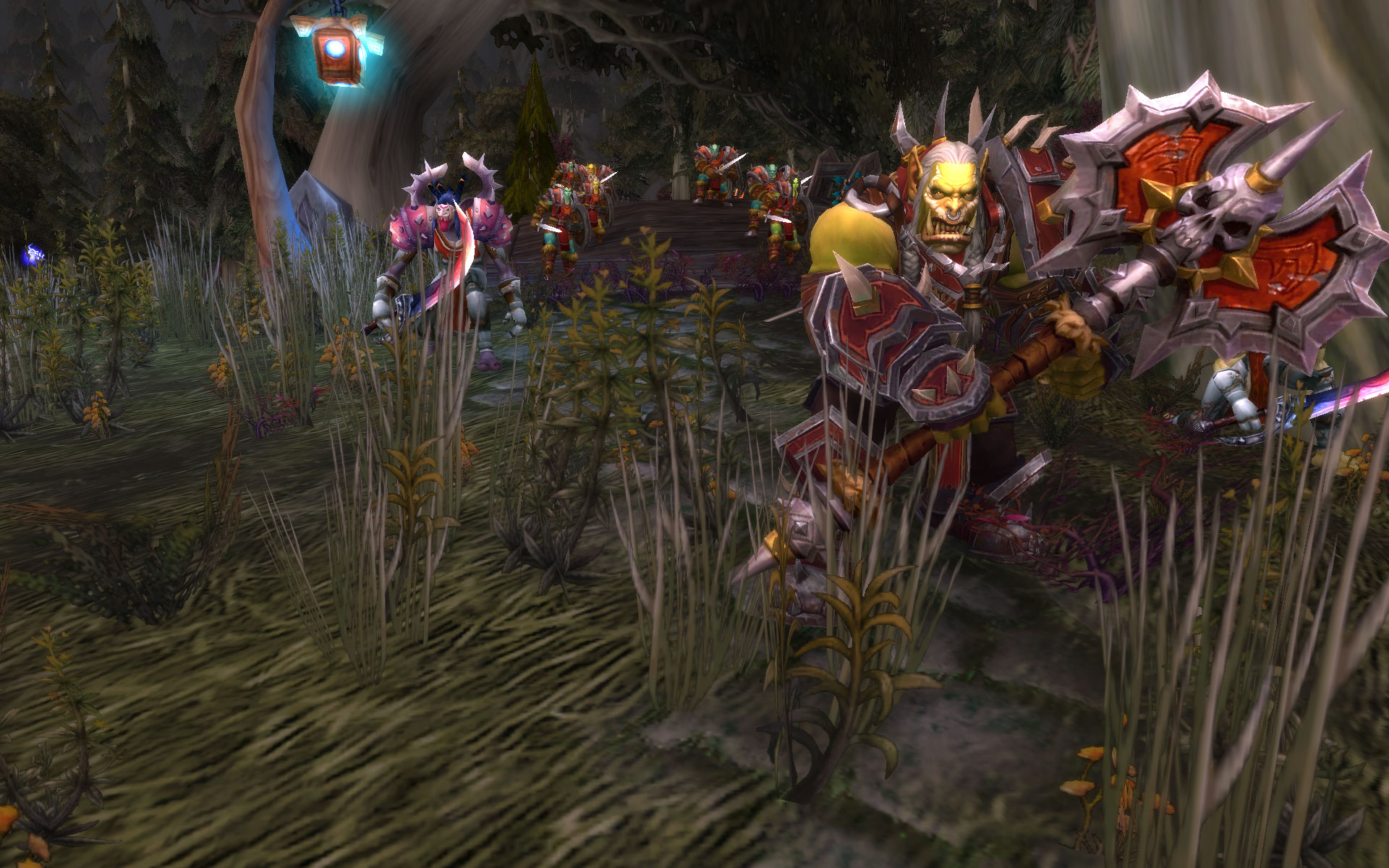 If nothing else this new narrative has certainly engaged the playerbase. We'll never be told, but it would be interesting to know how much Blizzard anticipated the level of outrage and sorrow (and the predictable but abhorrent social media attacks on Blizzard storycrafters). I suspect they may have underestimated, but then again they're not new to this game.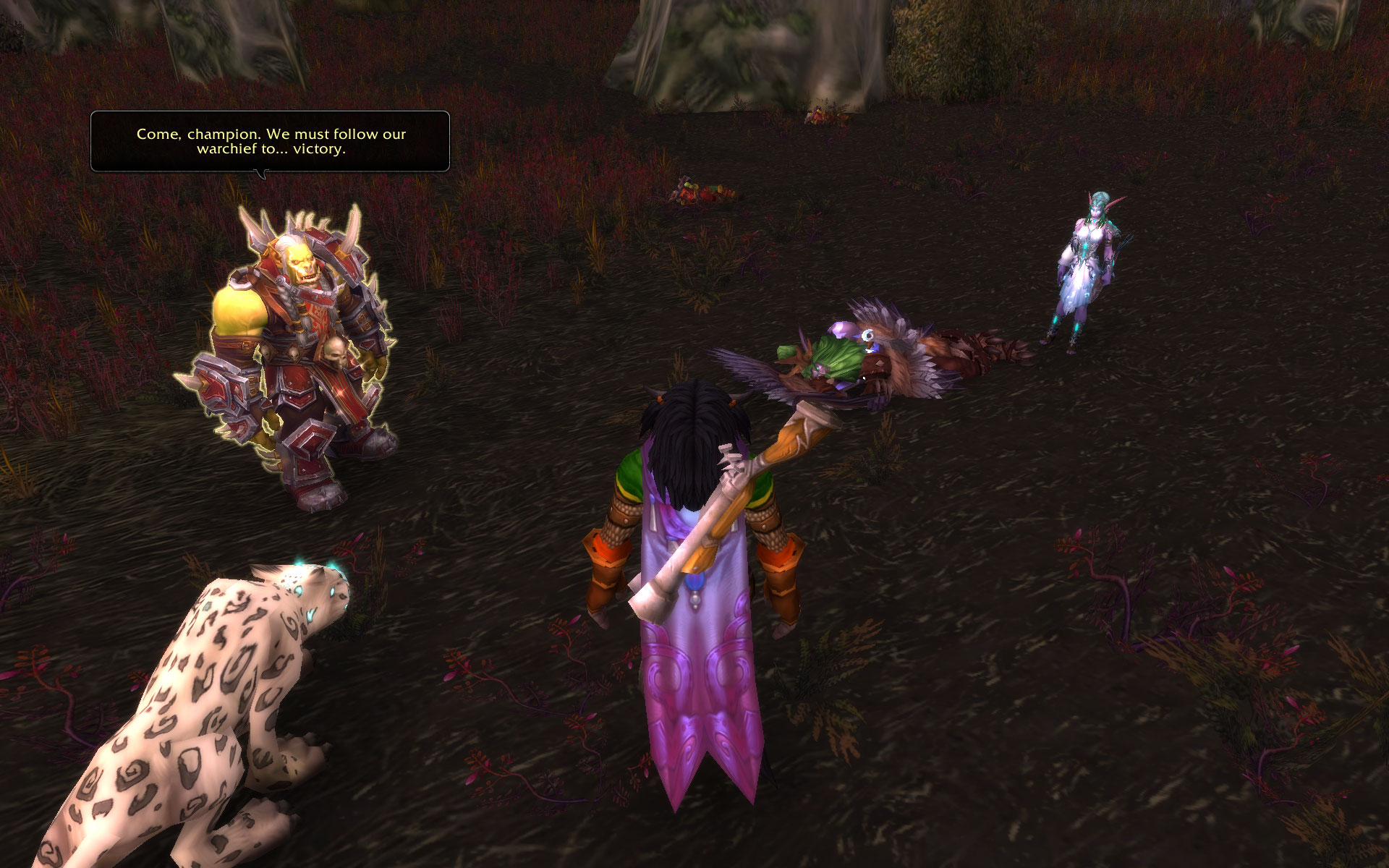 As many have pointed out, it's important to remember that this is just the prologue to the full story. It was interesting to watch Saurfang hesitate during the cinematic, even as he obeyed his Warchief. There's more to come there, no doubt, hopefully including the rebellion of the Horde faction leaders1 against Sylvanas's madness.
It's not enough to make me re-roll Alliance, because I want to be there when we fight back - and make amends, if that's possible.
---