A friend is about to try tanking for the first time, and as I was writing an email trying to provide some tips it occured to me that that's what this blog is for! So here is a first attempt at a Warcraft Tanking Tips guide.
UI
UI is a very personal thing, but there are some basics that every tank should consider.
First, have your core rotation abilities on an action bar nice and central to your view. Add your self-heals and mitigation skills to the same bars, and try to gather them into logical groups. DPS on 1-3 and F1-F3, heals on 4 and F4, migitation on F5-F6, etc.
Second, bind your interrupt and taunt abilities to easily accessible keys - I use my mouse thumb keys, which makes interrupts super quick.
Third, have your name plates configured to show threat. There are many add-ons that do that - it's built in to ElvUI, or there are stand-alone add-ons like Tidy Plates Threat Plates etc.
Fourth, put uour unit frames front and centre, probably on either side of your action bars. You need to always be able to see your health and debuffs, and the enemies - especially their cast-bars for interrupts and incoming migitable abilities. Sometimes a boss will take up so much of the screen that you will need to rely on the unit frame cast-bar to know what's about to happen.
Fifth and finally, have your healer unit frames highlighted somehow. Maybe make them your focus (/focus in chat) so you can keep track of their health and mana. Their job is to keep you alive, so doing your best to return the favour is the least you can do, and knowing their status is key to that.
Rotation
Tanking rotations tend to be pretty simple - almost always priority based and generally about spreading your damage around equally between the enemy combatants.
Rotations tend to vary slightly depending on how many mobs are attacking you, but that's usually just an easy swap of a single target attack for a multi.
Follow one of the Icy Veins guides for best results. Start with the Easy Mode options, and graduate to the more complex rotations as you gain confidence and knowledge. Or just stay on easy mode - it will work for everything up to Mythic.
Threat & Taunting
The main job of a tank is to keep all of the enemy mobs focussed on you, so your DPS and (most importantly) healers don't die. The mechanism for that is Threat.
Tank classes have a boost to threat generation, so they will naturally pickup mobs when fights start. The trick is holding that threat when the DPS starts to ramp up.
One of the members of our regular group is vastly more powerful than the rest (and me as a tank), so they will quickly start to draw the attention of the mobs. To mitigate that, it's important to spread my attacks around the mobs, and keep whatever AOE threat I have ticking over.
For a Paladin, that means plenty of shield-throwing, and keeping the ground around me constantly Consecrated. Other classes have similar abilities - for example Spinning Crane Kick and Keg Smash for a Brewmaster Monk.
With your single target attacks, don't always focus on a single mob, watch your threat levels and throw out an attack on someone who is losing interest in you to keep them on task. The mob you've marked to die first (see 'Pulling' below) should be well in hand after a few rounds, so you can start to give the other adds some love to keep everyone on you.
Mobs will inevitably wander off mid-fight, so the other key thing to learn is how to Taunt. All tanks get a way to target a specific mob and force it to attack you. So be ready to taunt it back whenever something makes a beeline for your healer.
The other important use for taunt is to do a tank-swap on a raid boss, which allows you to take over tanking the boss from your co-tank during a phase change or other mechanic.
Interrupts
Many classes have interrupts, but tanks often have more than one. Unless you've got excellent voice comms or add-on coordination, taking responsibility for calling interrupts generally falls to the tank, though when starting out probably just let everyone interrupt whenever possible - with the exception of boss fights where some casts really need to be shut down.
You want to be confident you have an interrupt in hand for the important abilities, rather than relying on the DPS to do so or burning them on inconsequential casts. Keep one in reserve unless you know there's nothing particularly bad incoming. And bind that ability to an easy to use key, as the window for a critical interrupt can be pretty short.
Mitigation & Defence
Mitigation means what is says on the box: being ready to use your abilities to mitigate incoming bursts of damage or special attacks. This should help smooth the damage curve, making it easier for healers to keep you alive. The bosses (and add-ons) tend to telegraph these moments, and every tank has several abilities that block damage or self-heal - use them for mitigation.
Warcraft tanking oscillates between being threat and mitigation focused, and currently sits somewhere in the middle. Threat tends to come naturally through your rotation, allowing you to concentrate on being ready to mitigate when needed.
The other key thing tanks have is a few 'oh sh*t' buttons. Things like burst heals or massive shield blocks, including some which make you invulnerable (which can have the associated problem of also dropping threat dramatically, so use with care). Some of these have long cool-downs, so plan how and when you would use them.
Line-of-sight
The curse of tanking can be ranged mobs, which stand at 1000 yards and bombard you with endless spells. One mechanism for stopping that is interrupts (they will run to you and attack with their puny daggers if they can't cast anything), and the other is using Line-of-sight.
This basically involves gathering your team behind a corner or pillar or other landmark that is out of line-of-sight of the mobs. You can then pop around the corner, throw something at the mobs, and retreat. Because they can't see you, the casters will all come jogging around the corner into your DPS death zone. Neat.
It's not always possible - those designers are onto us! - but always worth looking around to see if you can use the infrastructure to your advantage.
Know-it-all
For one reason or another, tanks tend to end up leading dungeon runs and raids. Which means you have to know in advance the layouts, tricky trash pulls, and most of all the boss mechanics.
You need to be situationally aware during a fight, even if it's just trash. Watch for incoming patrols or adds so you can grab them before they wail into your healer.
I try to explain the key boss mechanics as simply as possible before each pull, but there is a lot of on-the-fly learning and making it up as you go along too.
There are many many good YouTubers and websites out there to help with all this, so find one you like and watch the basics of each dungeon before entering. Someone even made a browser based Castle Nathria recreation to help learn the fights!
Also take advantage of party members who know the zones - our Warlock has run them all on Heroic or better, so leaning on their knowledge of short-cuts and scary trash is very helpful.
And finally - get either BigWigs/Littlewigs or Deadly Boss Mobs. They're invaluable for giving you warnings of what is about to happen. They take over a lot of the screen, so be prepared for more confusion at first, but before long they become indispensable.
Your healer
Aka your best friend, soul-mate, and saviour. Always be kind, always check their mana (or equivalent), and thank them for keeping you (and everyone else) alive. If you have shareable protective abilities, reserve them for your Healer first, and you second. The longer they're alive, the longer you will be too.
Pause when they need mana, heal them when you can, throw out shields on them as required. This can be hard at first, as you're too busy trying to stay on top of the chaos, but over time you'll start to be able to also watch your healer and help them out like they do you.
Your DPS
Your other best friends, without whom nothing would ever die. Or, if you're a Paladin, nothing would ever die within an hour. The only thing you need to manage with DPS is holding back their unbridled enthusiasm: the tank always, always, pulls first.
Pulling & Marking
Speaking of. Whether it be mobs or bosses, you should always be the one initiating the fight. Use a readycheck (/readycheck in chat) when you need to (mainly bosses), and gently scold those that wander ahead and body or intentionally pull before you're ready.
Before each pull, mark the mob that needs to die first with a skull - inevitably it's the healer. If needed, mark the second most important target too with an X. The DPS's job is then to get those two down fast, before finishing off the scraps.
You can also mark zones in the battle arena for your team to gather in or retreat to during the fight, to avoid boss mechanics etc. Add-ons make this much easier - a good one I found is Marking Bar Lives, which adds a small UI element with clickable mob and floor markers, readychecks, etc.
When you pull, get to the boss or in amongst the mobs, lay down some covering fire and AOE, try to face them away from the team (so you bear the brunt of frontal cone attacks), and go crazy.
Fun!
Tanking is very fun. You're often covered in hundreds of angry mobs, or facing down a gigantic boss that covers the entire screen. It can become overwhelming, and button-mashing and panic sometimes seems the best option (and just might be!). But there's nothing quite like holding together a massive fight through sheer stubborn tankery.
Have fun, stay calm, and tanking will become second nature. Enjoy!
---
A new expansion means it's time to reset the UI back to zero and start again. I'm largely writing this to remind myself what I did, and for anyone else interested in the basics of rebuilding a UI.
There are several sections, so skip to the one that you're interested in:
UI nuke: resetting a UI back to the very basics
ElvUI: the (almost) no-work total UI overhaul
Custom ElvUI profiles: borrowing someone else's setup to make ElvUI better
WeakAuras: adding some zing to the UI, also using other players' setups
Bonus add-ons: useful extras
UI nuke
Only bother with this bit if you have an existing custom UI that you want to reset it completely. Otherwise skip to the ElvUI section.
I was surprised to find that the 'reset' was not as easy as expected. The official instructions are to delete (or rename if you're worried) the \wtf, \cache, and \interface folders in the Warcraft retail directory.
The next time you logon, all those folders are recreated with default settings - or so I thought. While all the addons were gone, a bunch of UI stuff is still saved, most noticeably your action bar and chat settings. They must be cached by Blizzard on the server as a backup, similar to the way macros are saved. You can just leave this as if of course, but I wanted to totally nuke everything.
There is an ingame /resetchat command to reset the chat but even that seemed to maintain some things like font size. In the end I had to delete the contents of the config-cache.wtf and chat-cache.txt files for each character subfolder in the /wtf directory. I also deleted the contents of the base config-cache.wtf file in my account directory. I couldn't work out how to reset the action bars, so they'd have to be cleared manually.
Doing all that is total overkill, but once done the UI seemed to be really back to bare metal - including things like auto-loot and tutorial tips. The default UI is perfectly serviceable now, but there are plenty of things that need improving - mainly the nameplates, unit-frames, and bags.
Here's a brand new character with the full default UI.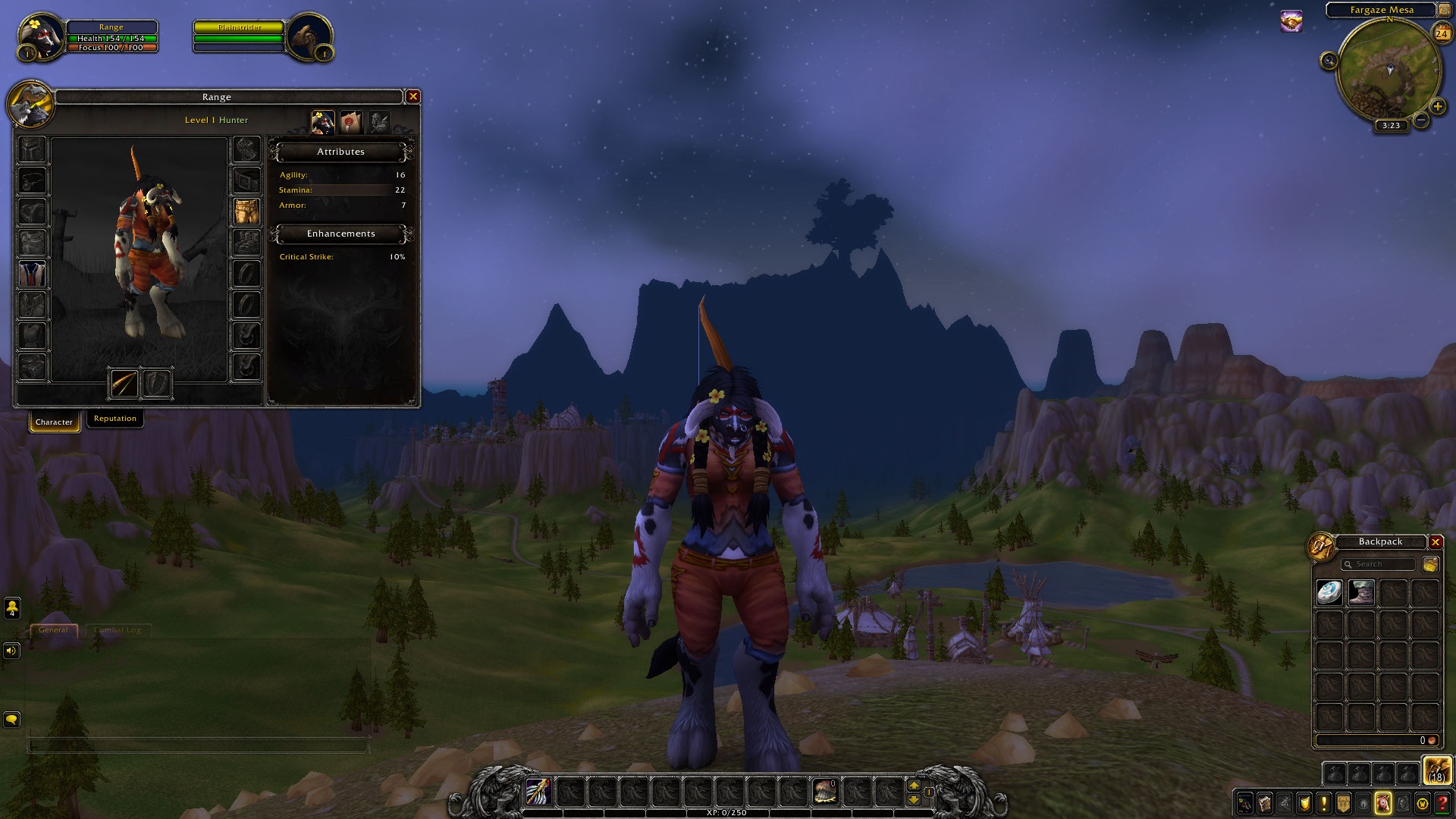 Time to start adding things back!
ElvUI
ElvUI is kind of cheat-mode UI building. It replaces just about everything, and does an amazing job at setting up a new default that is definitely an improvement on the base. In fact you could just install ElvUI and be done, but I do find it still needs some additional tweaks and additions.
When you first logon after adding ElvUI it will ask a bunch of questions. Most are fairly obvious, and all can be changed after the fact, so don't worry too much and just click what you think sounds good.
The other option is to skip the config entirely and instead load a custom profile that is already configured - see below for details on how to do that. I started with modifying the default ElvUI, but ended up loading a preconfigured setup as it saves a whole lot of manual tweaking if you can find one that suits.
Here's what the base ElvUI looks like after the initial setup.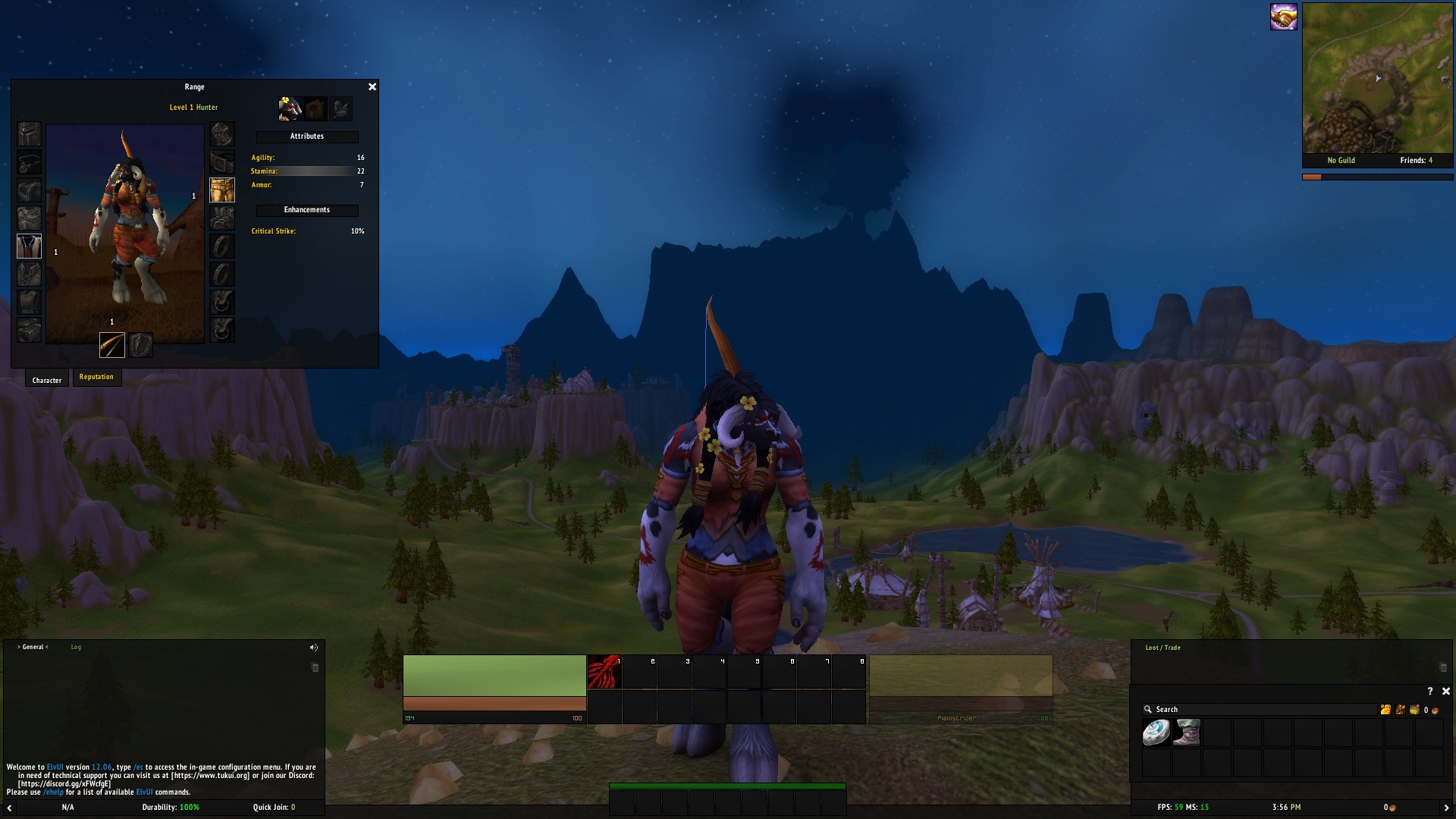 Once it's installed there are a billion things you can change and configure, which can be overwhelming.
The first thing to do is to move the UnitFrames. That's the frame that shows your health, and your target's health. I find they need to be front and centre to be effective, otherwise your eyes are too busy darting all over the screen to see vital information like "I'm about to die". To my eyes the default setup puts them a bit too low for instant access.
In ElvUI, clicking the Toggle Anchors button will bring up a screen where you can move any of the available frames on the screen. It's a little scary, but there's a reset mode (ctrl-rightclick on a frame) to get out of trouble.
Once you move the basic unitframes you start to have to move others too - like castbars, XP bars, etc. Move them around until you have something you like.
I also like to make the UI clean by fading the unused frames when out of combat: UnitFrames -> Individual Units -> Players -> Fader -> Enable -> Min Alpha 0.
Similarly with Action Bars, I want them to appear when I target something - otherwise you need to actually start combat before they will appear. Which is bad for those of us who haven't memorised which skills are on which action bars. Adding this code to each action bar will do exactly that: ActionBars -> Player Bars -> Bar x -> Visibility State
[@target, noexists][petbattle] hide; show
Customising ElvUI is a deep rabbit hole, but it's fun once you learn how it all works. There is an easier way though…
Custom ElvUI profiles
Instead of setting up your own ElvUI, another option is to download a custom profile that someone has uploaded. If ElvUI is cheat-mode, nabbing someone else's profile is cheat-mode cheat-mode. Perfect!
On the ElvUI site there are several custom modifications that are constantly being updated and which each take different approaches. BenikUI looks particularly nice, if you like a simple/spartan UI.
The site with the most custom user-created profiles is wago.io. I'd suggest sorting by Stars to find the most supported or up-to-date UI setups, as there are a lot of profiles uploaded just to help individuals keep track of their personal setups. Ideally you want one that is being updated and fixed based on changes to the game.
I found one that I really like by LostPet. They update it regularly, and it has a really useable and simple feel. Unfortunately they have closed off comments (no doubt due to the time it takes to keep on top of feedback), but if you follow the fairly simple documented steps it turns out nicely.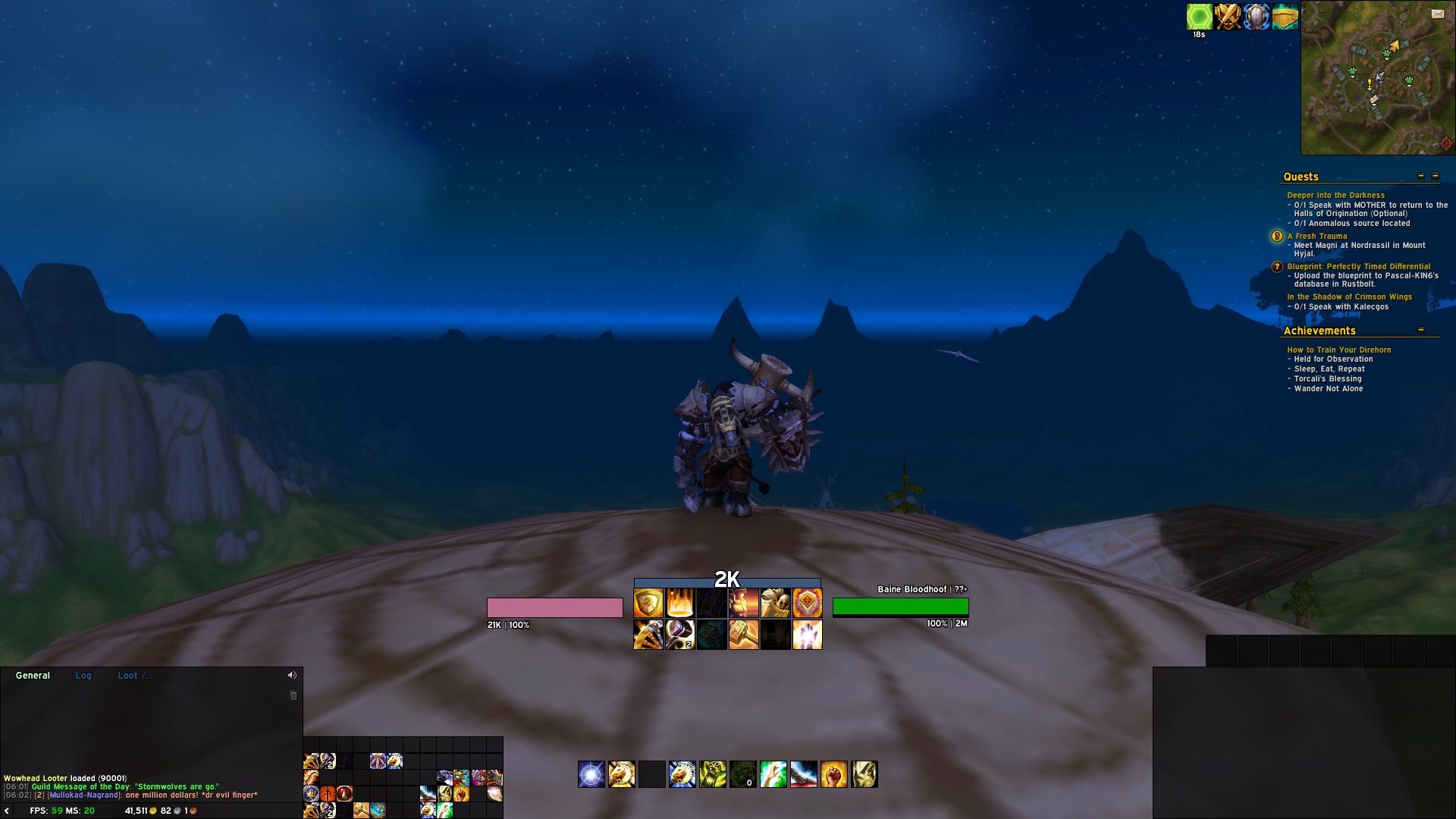 There are a bunch of extra add-ons required to make the UI look like the LostPet videos, but they're all pretty simple to install, after which you copy and apply the LostPet profiles. The required ones are Details and Plater, plus the ElvUI mods AddonSkins, Skullflower Textures, and Shadow & Light. Everything else listed on the UI page is optional.
LostPet does have a penchant for hiding most action bars, which is ok if you're right on top of your keybinds and abilities, but I tend to unhide them just for my own sanity and because different characters have different binds.
At first I tried just using LostPet's UI as is, but I found I missed having flashes and animation on the abilities when they were off cool-down or proccing. To get that, WeakAuras was required!
WeakAuras
Setting up auras is kind of complicated, but there are a huge number of preconfigured auras you can use to avoid the complexity. There are some very nice WeakAuras that work across classes, which saves a lot of time if you have an army of alts (/wave).
One good example of this is the suite of auras created by Luxthos. He has a collection for each class (here's the Paladin for example), and updates them regularly based on feedback from his large Twitch following. This is excellent as players can find bugs or suggest improvements, so everyone benefits from the hive-mind thanks to Luxthos's receptive approach.
The Luxthos auras will create midscreen action bars that have all the critical abilities and cooldowns ready to go. It's not intended to do things like telling you when to press what, but once you learn your rotation having everything in the middle of the screen with timers and highlight auras is a huge benefit.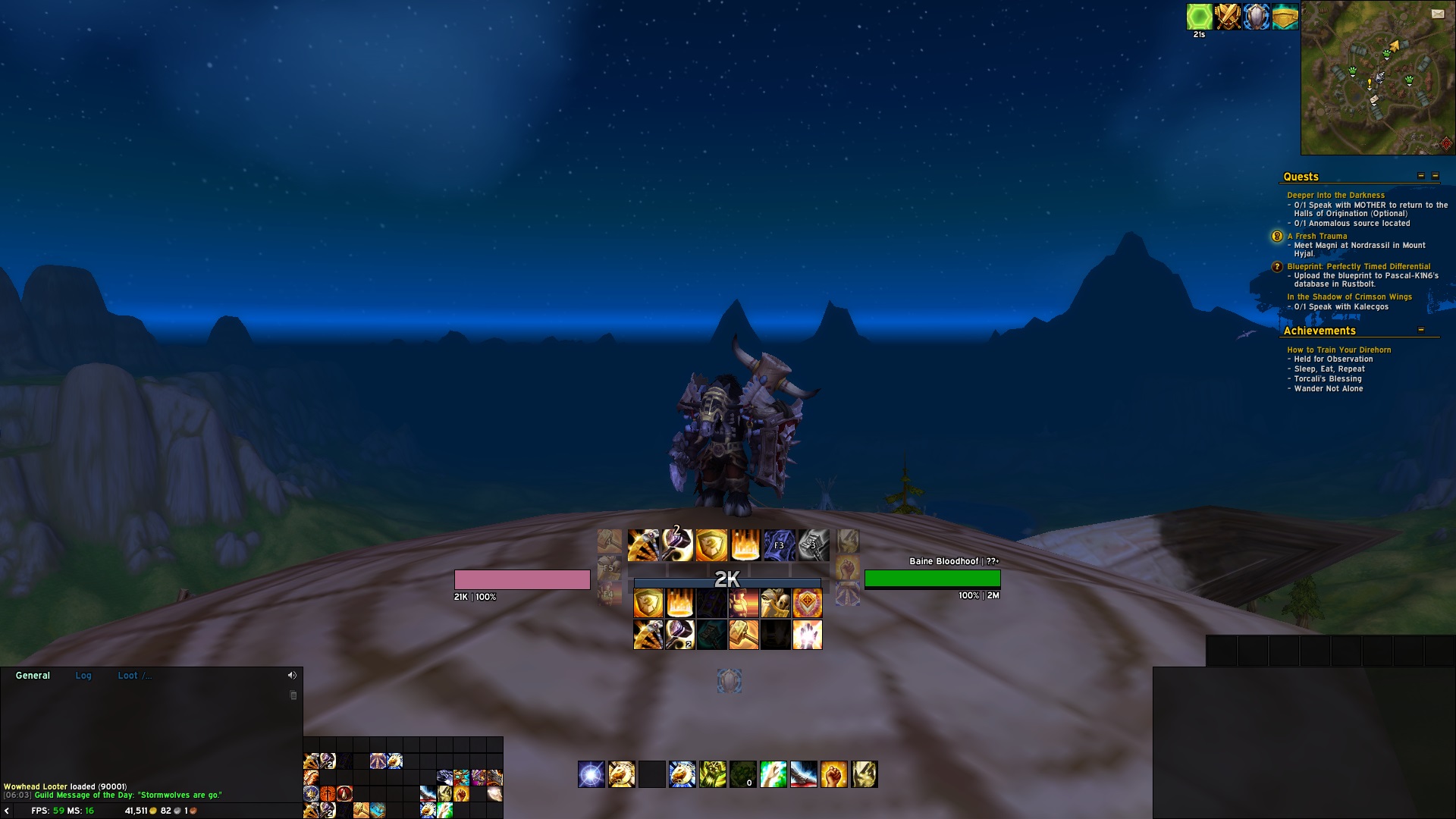 The only difficult thing with a set of canned auras is if you want to make them mimic your keybind setup. Luxthos's compilations set out abilities and cooldowns to match his preference, which is unlikely to be the same as your own. For example I have a row of mostly offensive skills on 1-6, and another or mostly defensive on F1-F6, where his only show a single row of mixed abilities.
The auras by default don't match my rotation and key preferences, so I needed to customise the setup, which means slogging around in the config to move the abilities to where you expect them. This is mainly just moving the button order around by swapping X Offset values in the Position Settings for the abilities I wanted to change.
Because he only has 6 main buttons, I decided to keep my 12 button actionbar layout visible until I have memorised the rotation and keybinds better. I also added custom text to some abilities on the WA icons which display the key bind. This all makes the screen a bit messy but it's worth it for more predictable ability use.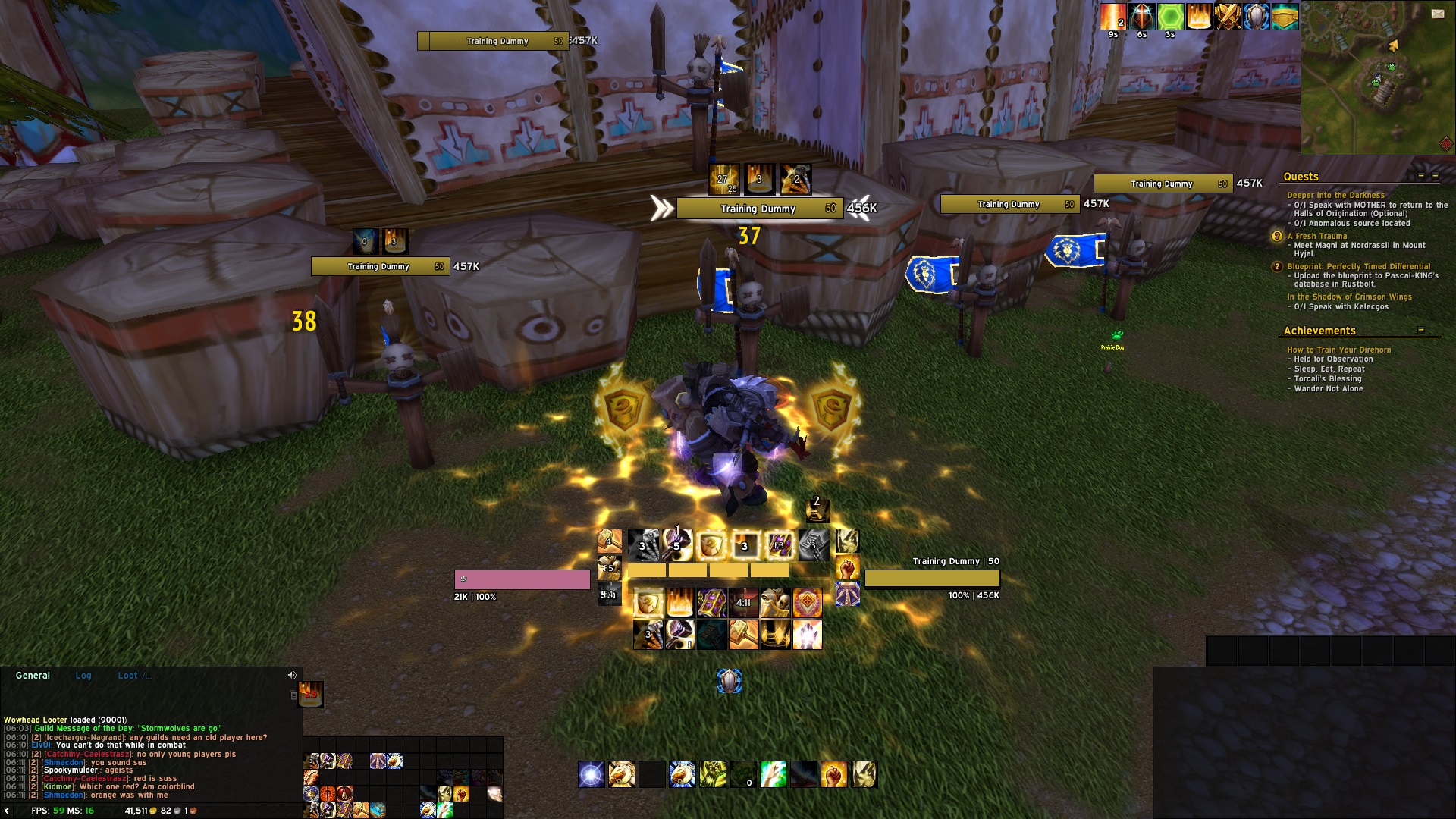 I should really learn how to make my own overlay for my 2x6 action bar of abilities. One day!
Bonus addons
Adibags is my favourite Bag manager. It does a great job of automatically sorting items into relevant categories (armour, weapons, tradeskills, etc), without needing too much thought. Just disable the ElvUI bags to make Adibags take over.
Pawn: Item comparison tool. I'm pretty sure Pawn is overkill for me, but I wanted something that updates the gear tooltip when you hover to tell you how good or bad an upgrade a newly acquired piece of gear is. Shift-hover works in the default UI, but Pawn adds a whole lot of extra info based on the Ask Mr. Robot stat weightings.
HandyNotes: Super handy (ahem) add-on that allows custom notes on the maps. Enabled by downloading overlays for the zone you're exploring, such as Legion Treasures or Timeless Isle Chests. If I could find a good guide or forum as to how this add-on works, I'd make one to display rares in Vanilla zones.
SilverDragon: Speaking of rares, if you like tracking them SilverDragon is a nice fun option to help find them when you're not looking. Especially in vanilla zones where they were actually rare as compared to Legion et al where rares were more like commons!
---
Following our Hivemind success, this week we decided to go catch the new secret hotness, Jenafur.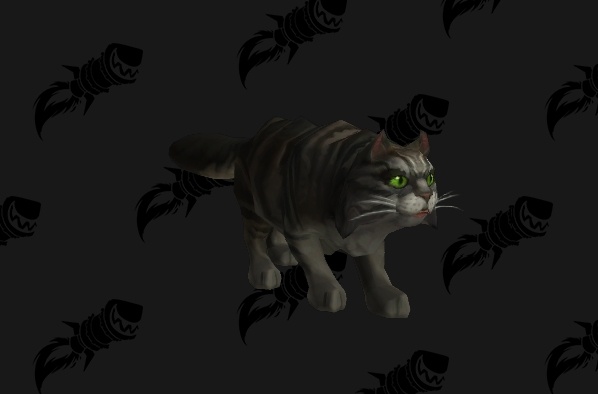 She's a battle pet that was hidden in the game in September 2019, and not found until the puzzle of her whereabouts was finally solved in September 2020. Interestingly the final solution was discovered by someone who doesn't play Warcraft but just enjoys puzzle-solving. Their account of the solve is as mind-bending as the Hivemind, if not more so - involving printed sheet music, 2d grids, musical staves, prior theories, and logic.
It's a much shorter secret than the Hivemind, taking only an hour or so once you know what you're doing. A quick visit to Amara Lunastar, an NPC in Ashenvale named after a Make-A-Wish recipient, leads you to Legion Karazhan (not the raid) - a path discovered via some amazing deduction that aligned random cat kibble to the world map of Eastern Kingdoms.
Inside Karazhan are some food items that have to be collected and placed in a certain order inside the Opera Hall, all within 5 minutes. Using a smart suggestion from Dragonray at Azerothian Life, we first we marked the Opera Hall locations. Then we posted a player near each item of food, started the timer, and our rogue sprinted around collecting the food.
We failed on our first attempt as I didn't realise you had to place the food in a certain order. Luckily the food respawned so we didn't have to do a dungeon reset, and on the second attempt Jenafur appeared on cue, accompanied by the melody from the sheet music that had led to the solve.
I still don't really understand how it was solved, but the result is a cute new companion.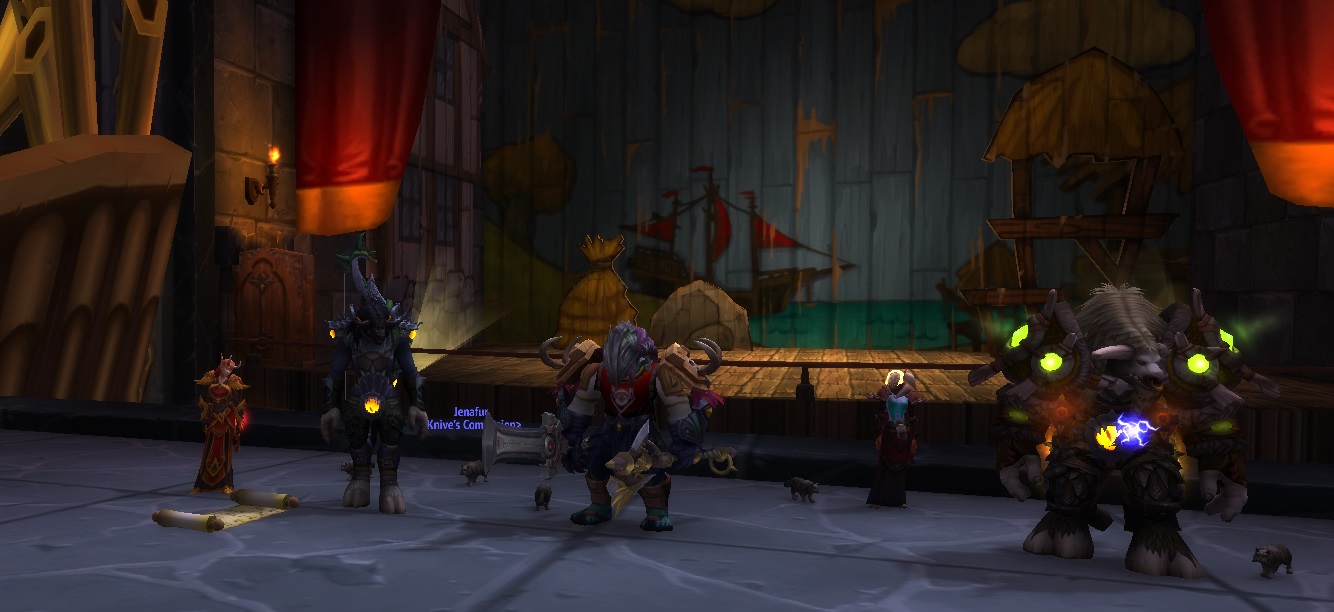 Or maybe not so cute, once you put on your pair of Overly Sensitive Void Spectacles!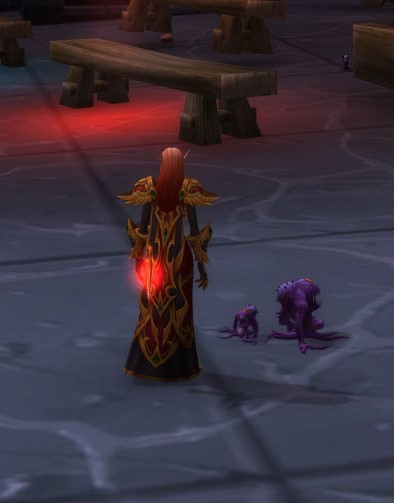 ---
Inspired by Telwyn's post at GamingSF, our Horde group decided to try and acquire the mysterious Hivemind mount. This is the only five-person mount in the game, and was hidden for a long time before the savants in the Warcraft Secret Finding Discord discovered how to unlock it.
Reading through the Wowhead Guide, it's incredible it was ever solved - some of the puzzles combine a deep knowledge of game lore, out of game meta info found in patch notes, and a crazy commitment to trial and error. Which makes the name of the mount entirely appropriate - it took a Hivemind to solve, and it takes five people working in a Hivemind to obtain.
Even with the extensive notes, steps, and add-ons, it's a challenge. But we all agreed it was one of the most entertaining experiences we'd had in the game, and very different to most content.
The first step is to obtain four monocles, of different colours, from various sources in the game. To do that you need to don a usually worthless Talisman of True Treasure Tracking, which reveals various hidden items and NPCs in the world as you continue on the quests.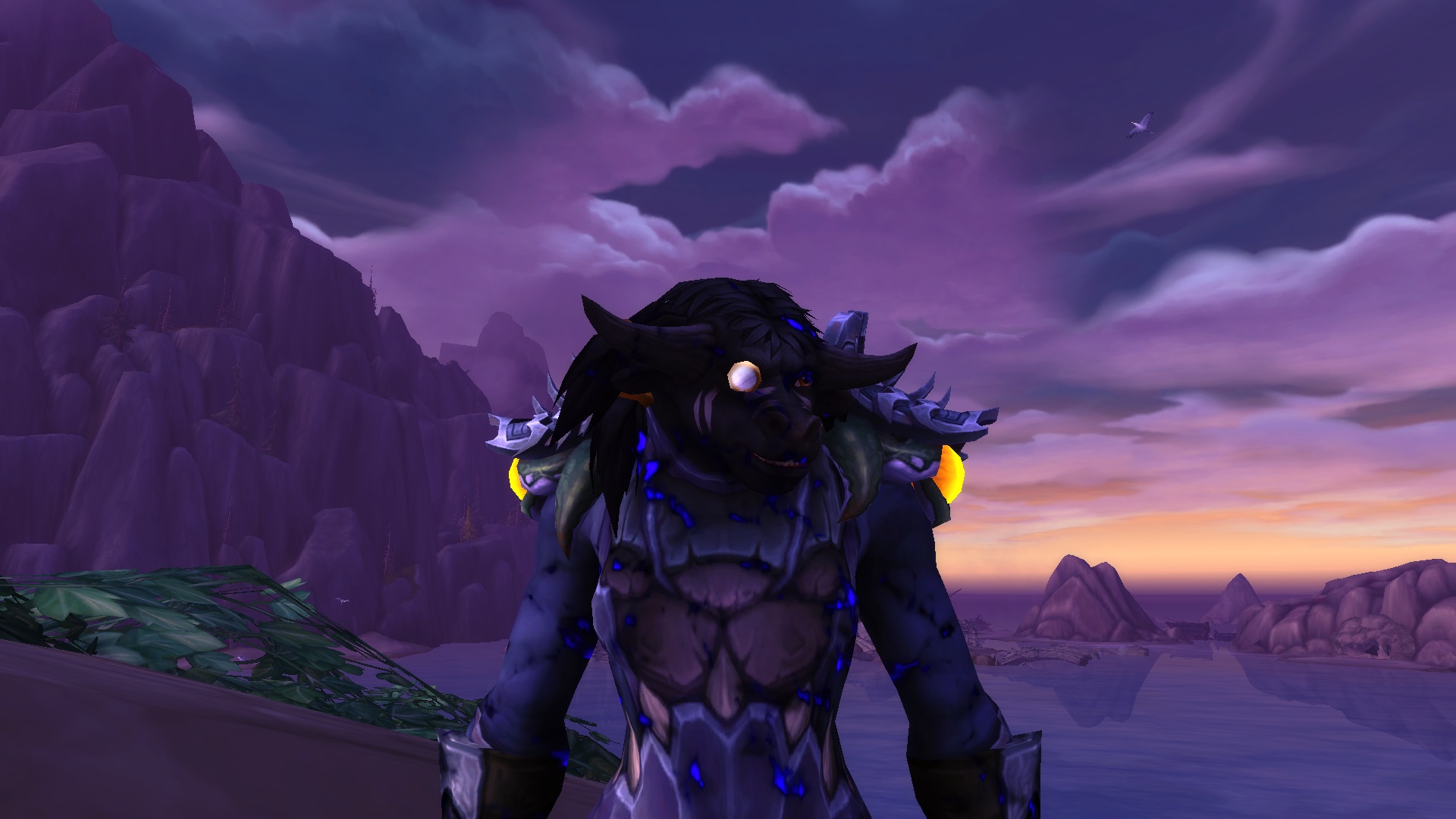 The Blue Monocle is gained by finding lore letters scattered around Azeroth. Most are simple travel quests, but one requires you to visit OG Karazhan which opened the memory floodgates for many in our group. We even had to solve Chess, which proved a challenge due to those same floodgates being pretty rusty.
As we set about collecting the Blue Monocle we realised just how complicated this must have been to solve. For example, the letter that leads to Karazhan has this cryptic message:
Of all of Gai's cures for Nature, the most liberating is Death.
The secret-finders determined that if you took the words with capital letters (Of, Gai, Nature, Death), an anagram could be made which solves to:
Seat of the Guardian
The most well-known Guardian in WoW is Medivh, the Last Guardian. As such, the third letter is located in Karazhan, by Medivh's Chambers, located after the Chess Event.
Multiply this by seven letters and the magnitude of solving the full puzzle starts to become clear. Thankfully we just need to follow the guides to collect the first reward.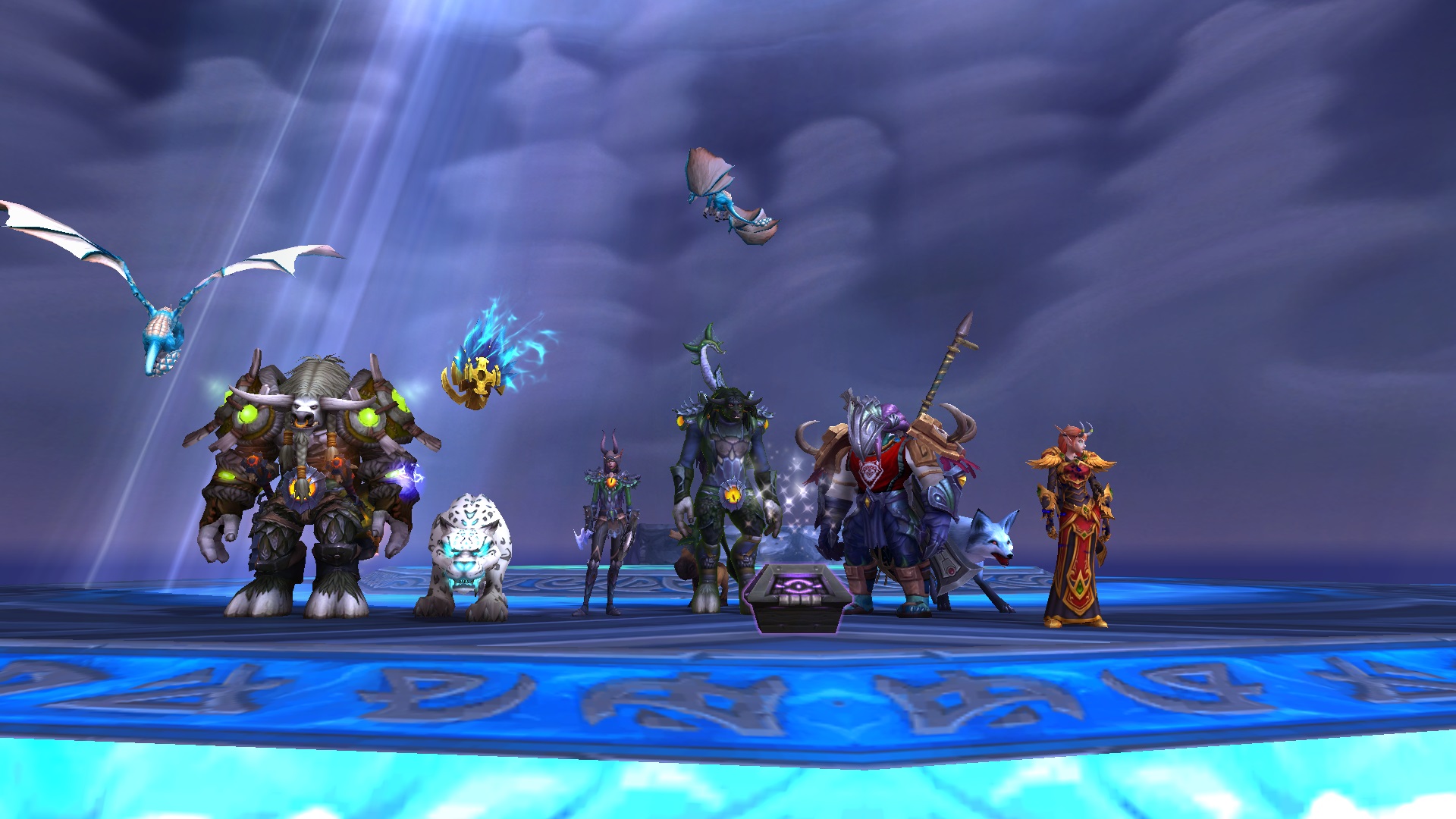 Next we thought we'd do an easier one and collect the Red Monocle. How wrong we were.
The monocle is obtained from Sir Finley Mrrgglton. He makes what seems like a simple request for a few undersea goods, which must be obtained from various fish vendors that float around Vashj'ir. As we soon discovered, the trouble is a) the fish are spread far apart; b) they're swimming so move about; and c) there is an rapidly decreasing time limit on the items once they're sold to you.
This was by far the most stressful monocle to obtain, as the combination of undersea travel and time pressure meant we lost one player after another as the timers expired, until I was the only one still in play - and only just, having beat a timer by seconds.
This was where the five-person hivemind started to shine though, as we devised an on-the-fly strategy to send the out-of-the-race party members to hover over the vendors so that I just had to look at the map and head toward the relevant character. Even that proved tricky when I called out the wrong co-ords for a vendor, and almost messed up the entire thing on a fish that wouldn't stop long enough for me to complete the trade. But by some miracle we got it done.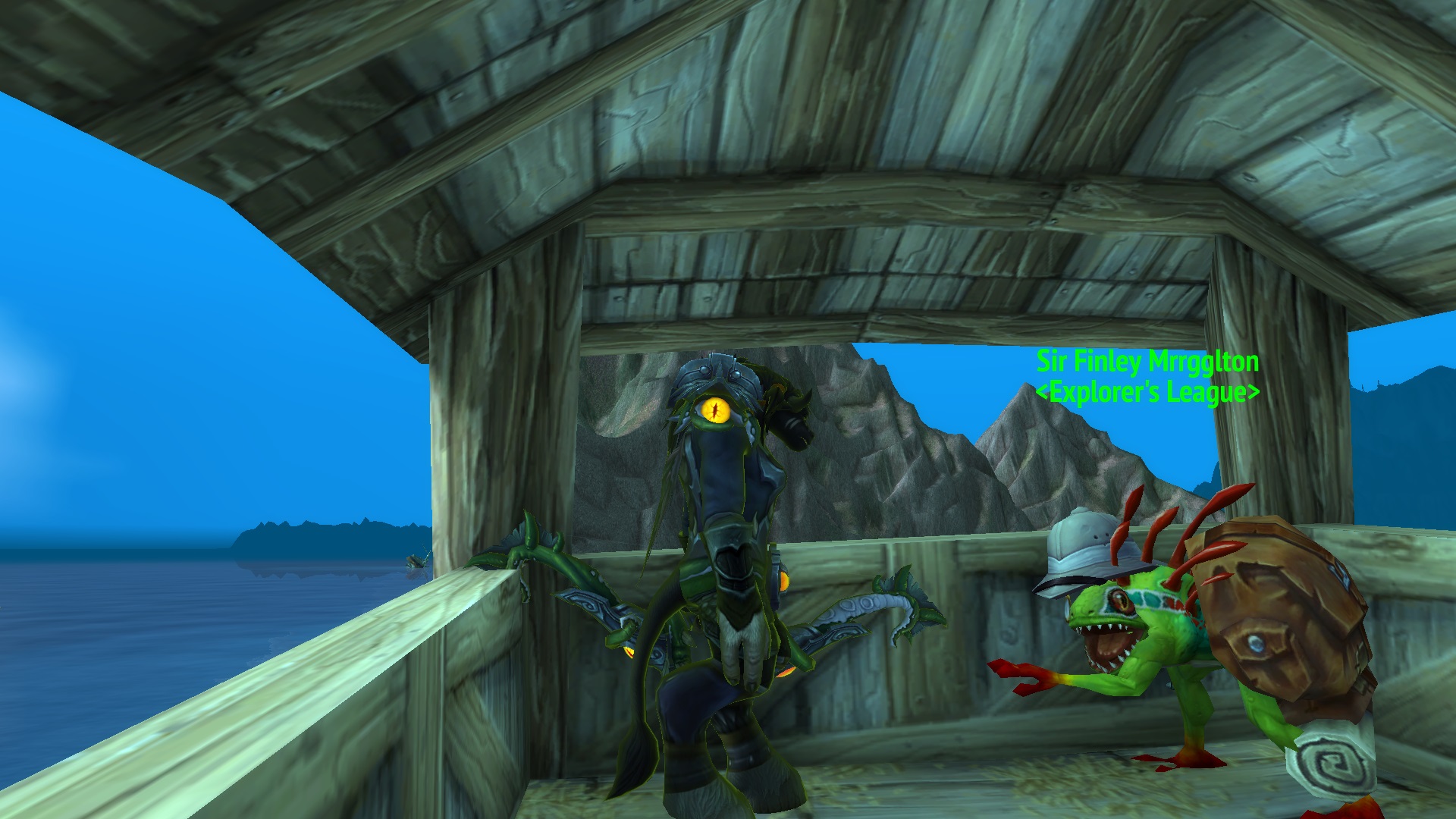 The Green Monocle was a doddle in comparison, merely requiring a visit to Skyreach to type in a simple pattern. So simple I forgot to take a screenshot.
I'd read the Yellow Monocle was the killer, and when first approached it seemed impossible. It's a gem-solve puzzle, where you need to turn an entire room of gems to a single colour using three different rotational crystals.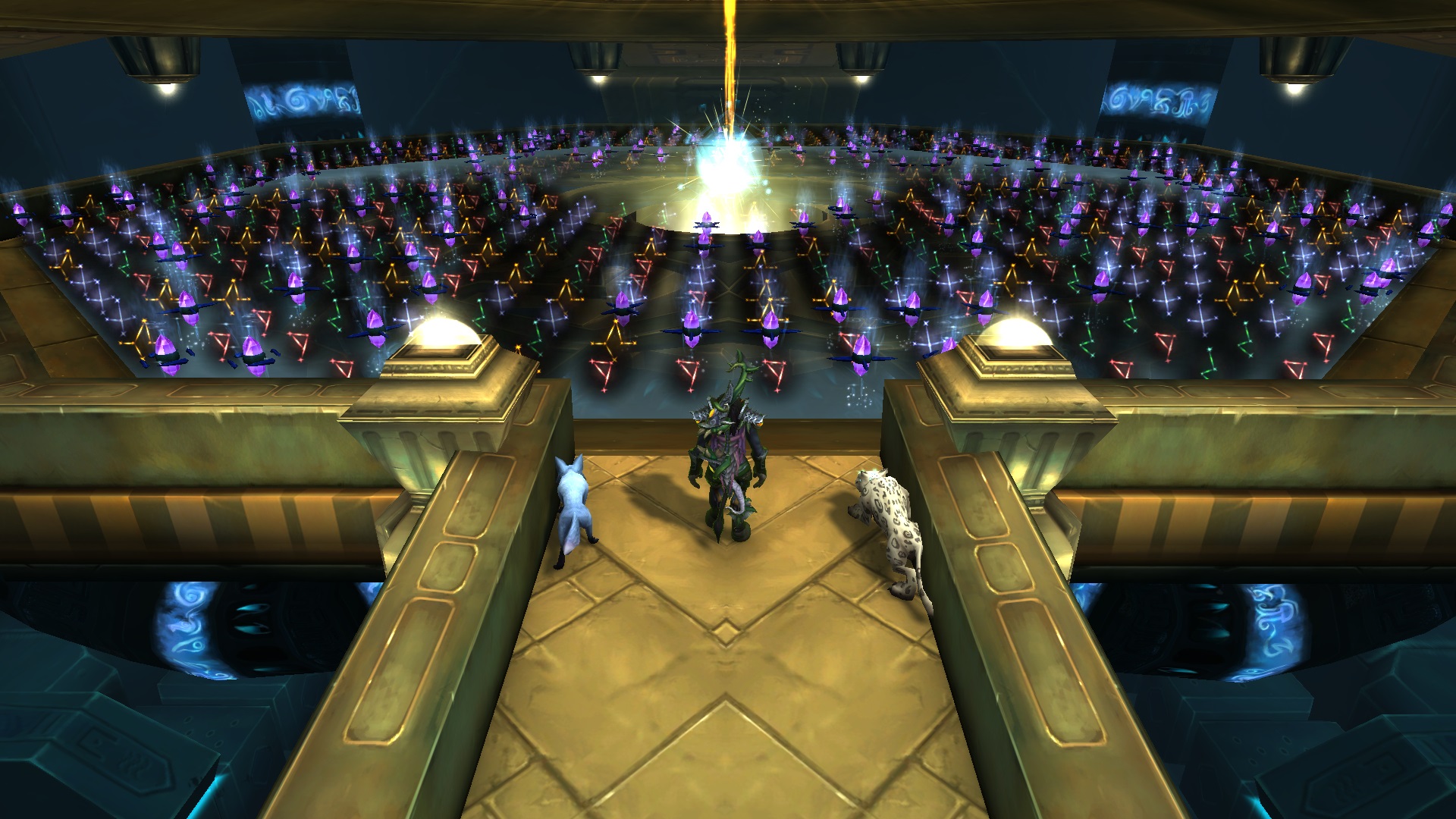 I would never have been able to solve it, and had to use the non-obvious Hivemind HoO Puzzle Helper add-on to work it out (which took me 45 minutes to key in and pray it would work), but several of our party figured out how it worked once we got half way across the room. I was suitably impressed.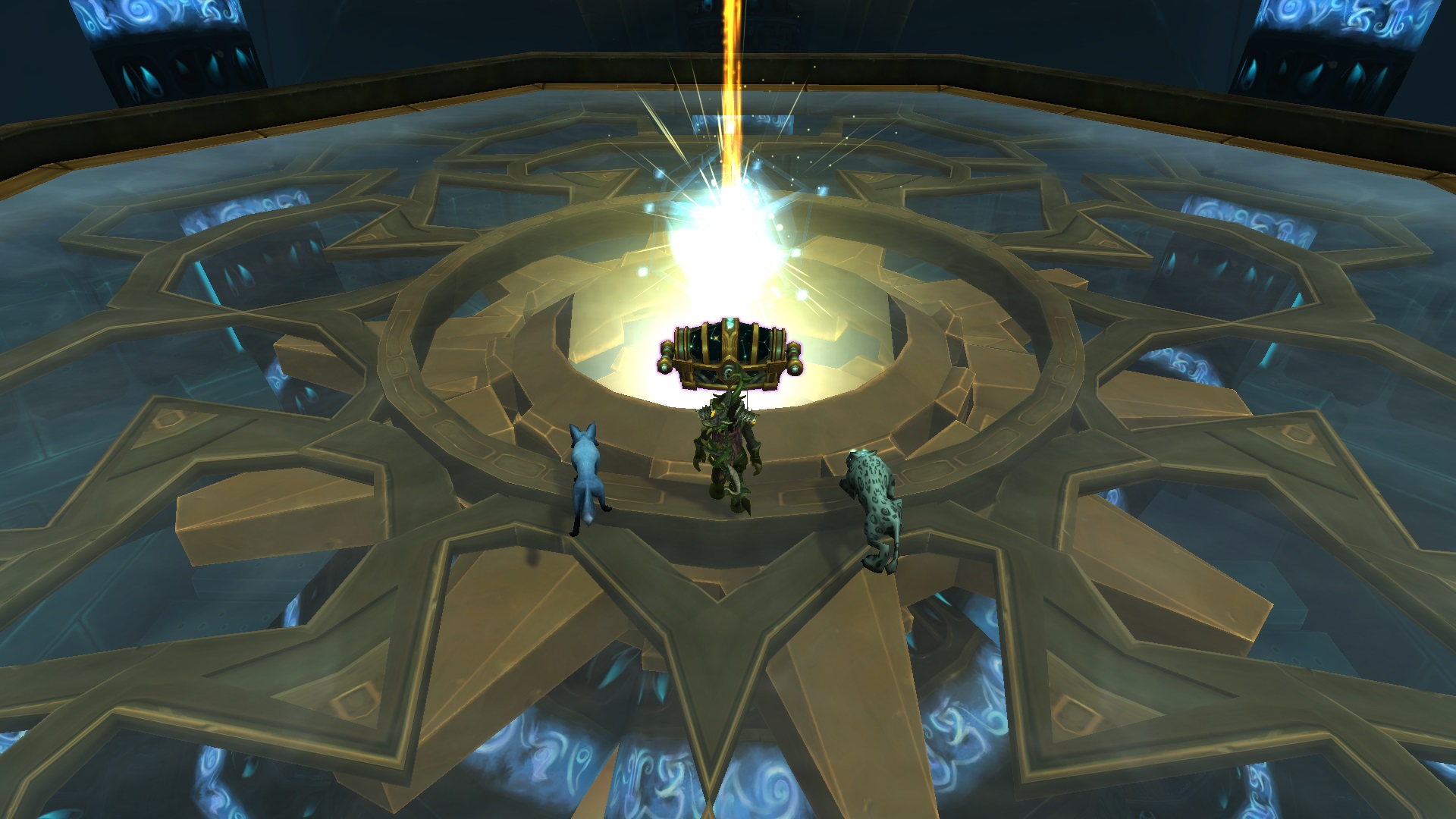 At this point we had all four monocles, and at least one on four different characters, so could move on.
The next stage took us to Suramar, where we needed to get past a barrier that was blocked by coloured beams that matched the monocle colours.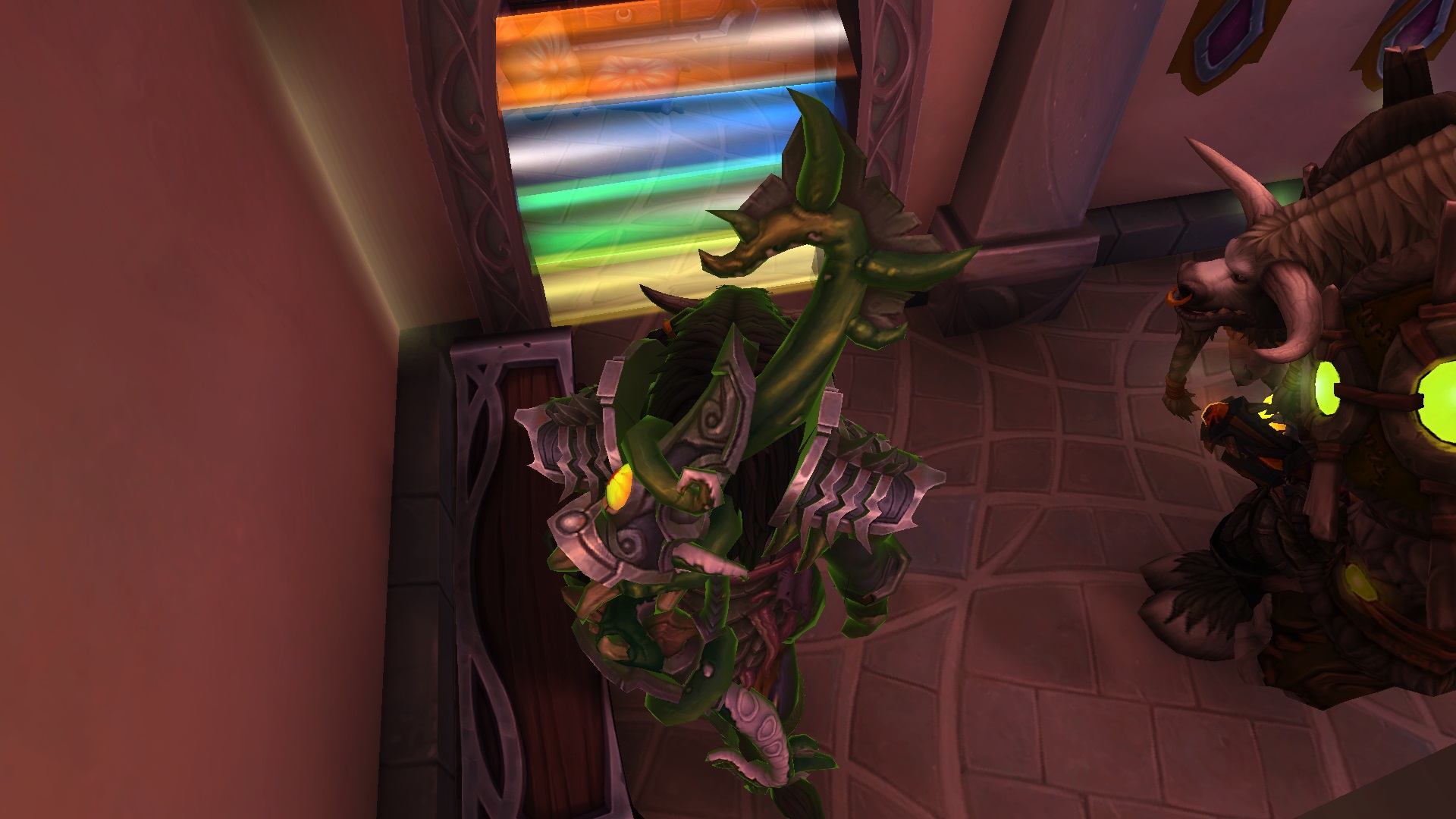 To do this, four players need to venture out and find named Withered, whose eyes glowed with a matching colour. This was another example of the complexity of the solution. To work this out, players had decipher codes inscribed on each monocle by using alphabet logic-tricks, which revealed the phrase 'Wild Withered'. They then needed to pore over the Legion patch-notes to discover four named Withered that were added in patch 8.1, then find them scattered in Suramar.
Four of us ventured out to the Withered, while the fifth stood in front of the beams. We had to all attack and 'kill' our target at the same time, which forced them to cast a Draw Energy spell that drained the barrier allowing our fifth player to step through.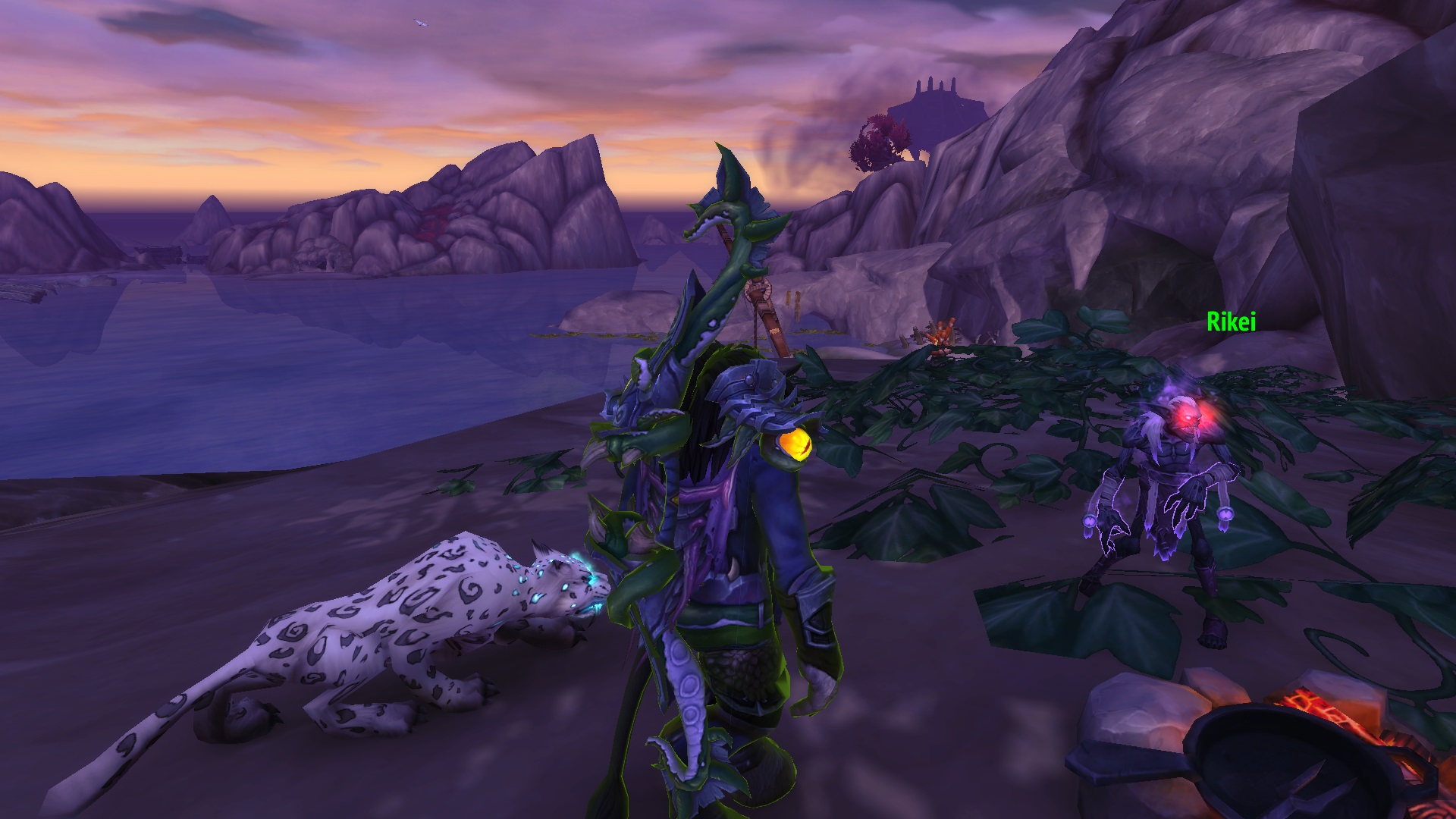 Once inside, the insanity of the solution went to the next level. He had to click on a lost cat toy that was inside the room, and when he did, he was teleported back out of the room and took a small amount of random damage. That damage total - 8140 for us - then become a five digit code (08140) that we needed to use to pat five named cats in the Court of Stars dungeon. How on earth anyone worked out that link - the damage taken mapping to pats on some kittens - is beyond our ken.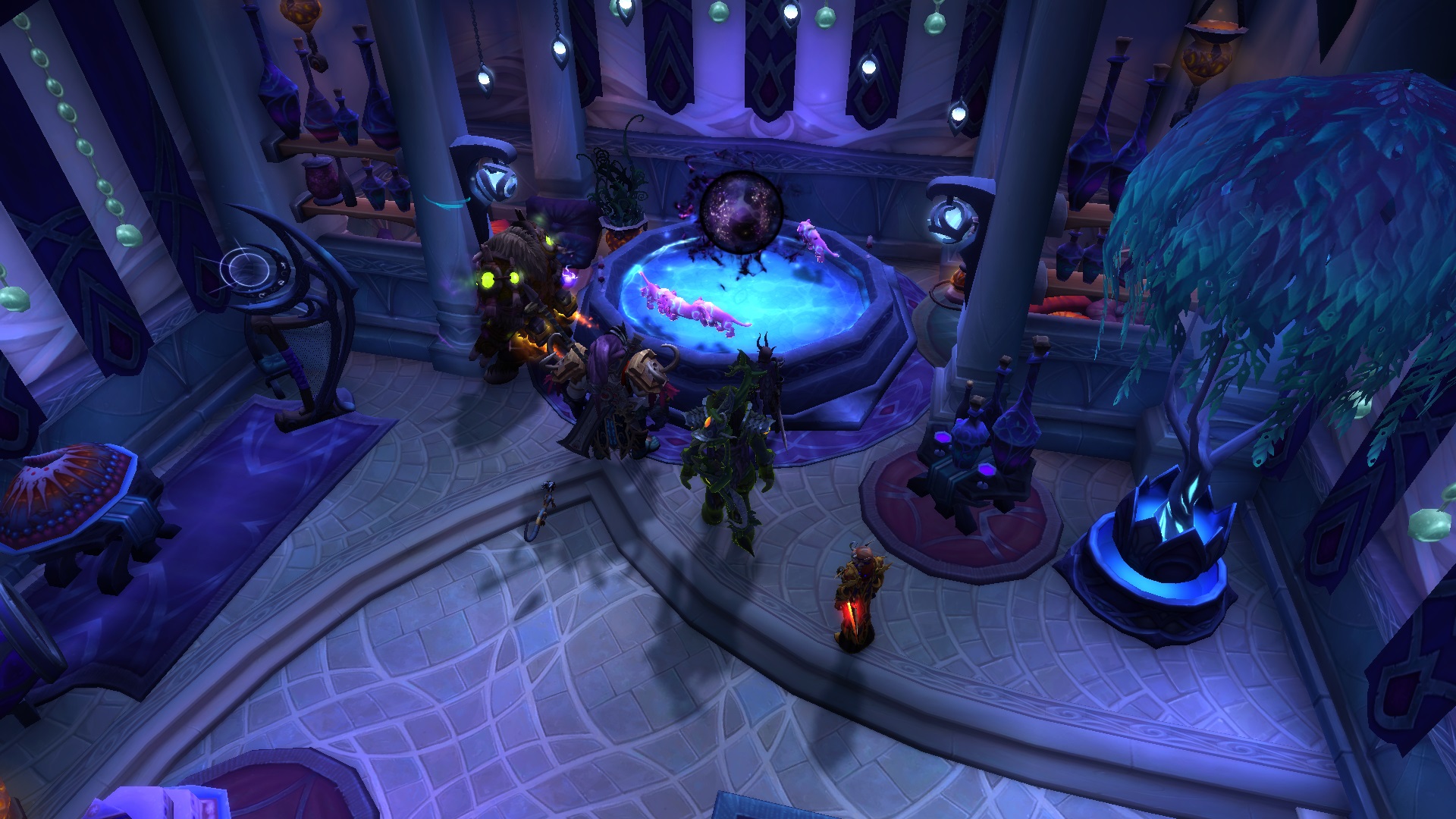 We dutifully patted our kittens, and were rewarded with a transport to the penultimate stage: the dreaded jumping puzzle.
We had assumed this would be where we failed, as 91 co-ordinated jumps awaited a group not known for our mad mouse & keyboard skills. But we were thrilled to find out the 'jumps' were actually just clicks, like jumping on a mount. Hallelujah! So we just needed to follow the sequence laid out in the guide and we were through.
Once again our smarter party members had solved this by half way across, though the step where someone had to leap to their death was surely insoluble except by trial and error.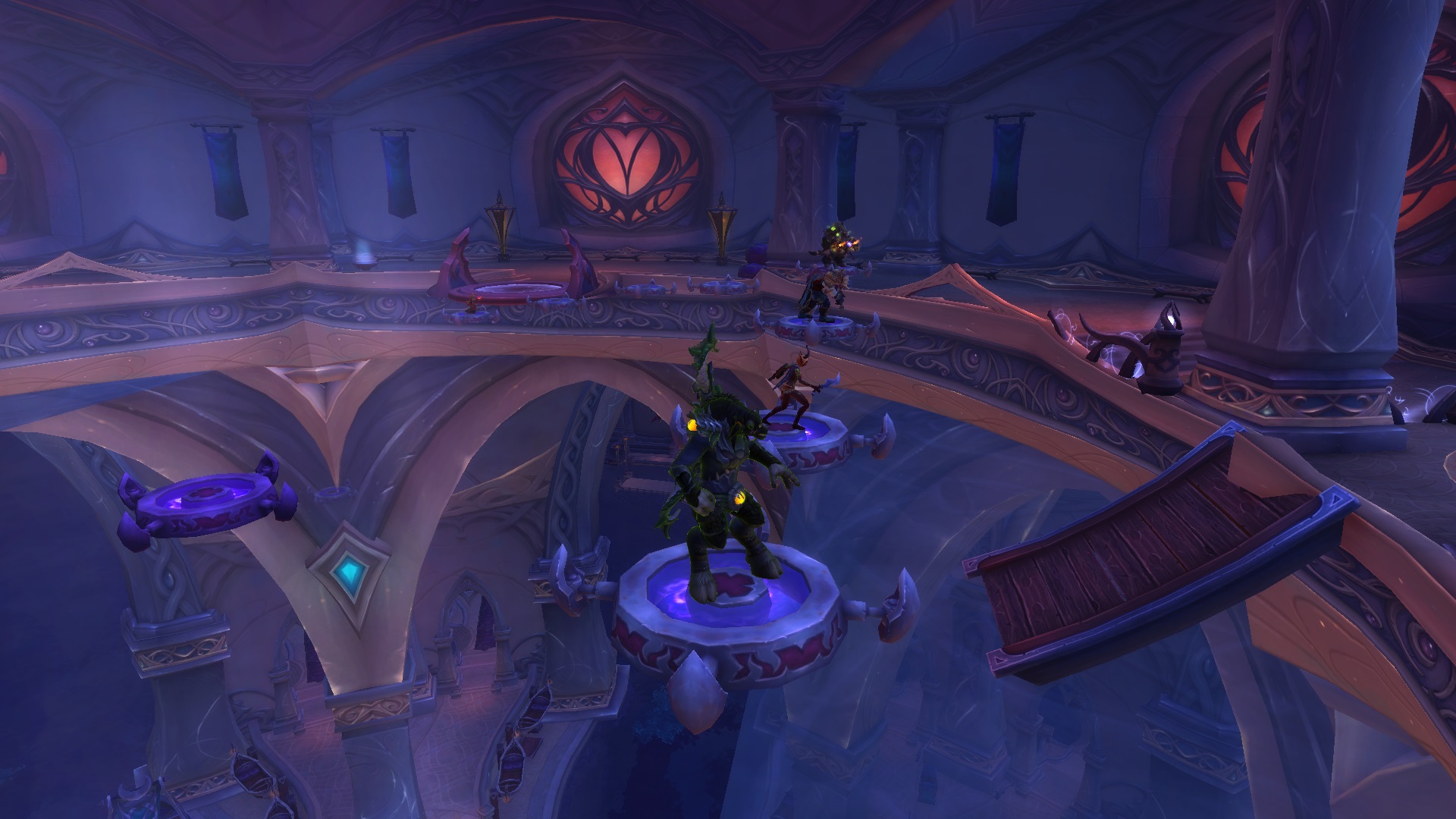 Which led us to the final challenge, which was a variation on the fox-chicken-farmer river crossing puzzle. It flummoxed us for a while, but our Professor eventually sorted it out and we made it across. I was the poison, whilst our newest recruit was the farmer, which was a happy confluence.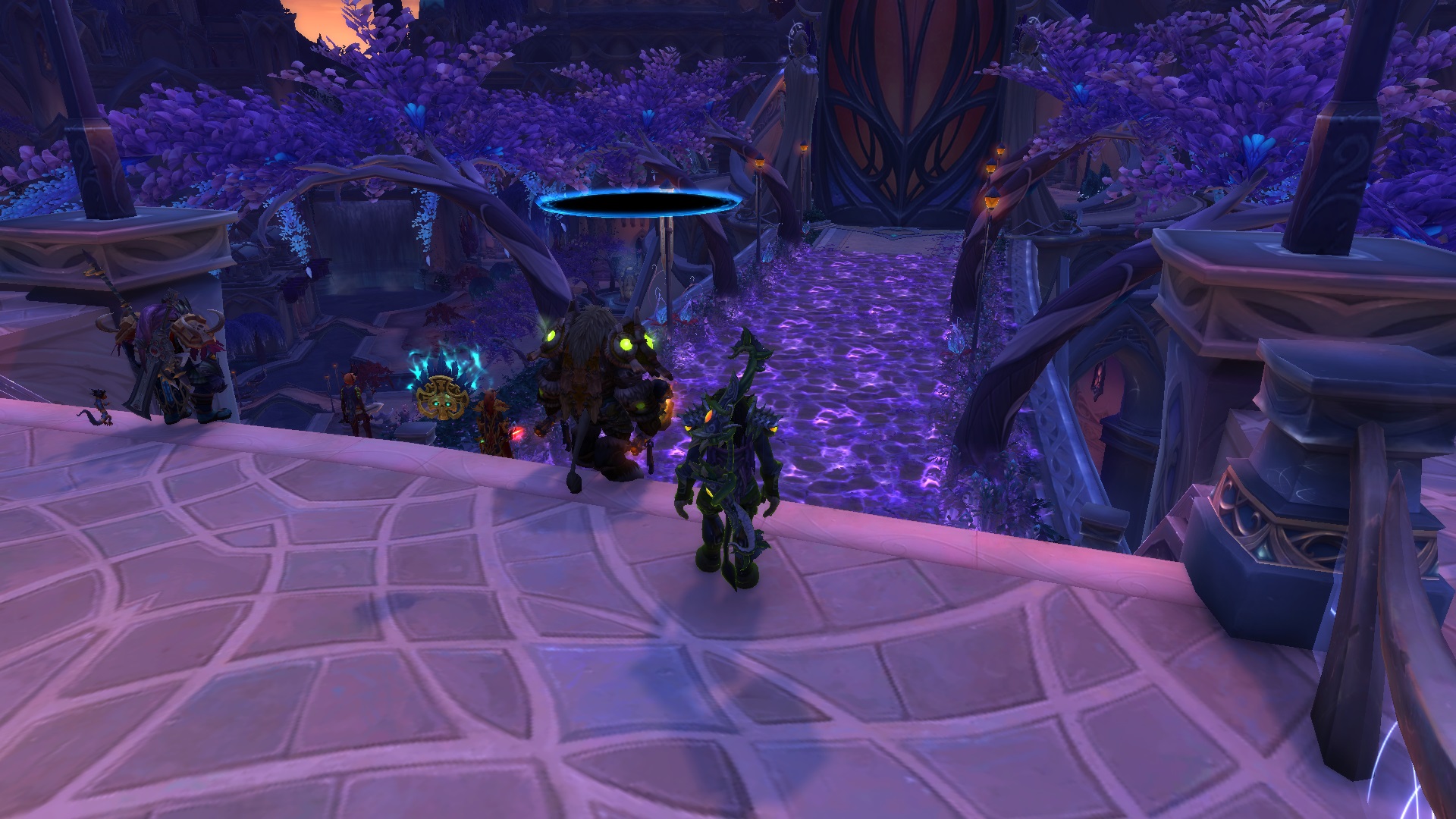 And with that we were done. We entered the room with the Hivemind, which in a nice final touch required all five players to stand in summoning circles to unlock.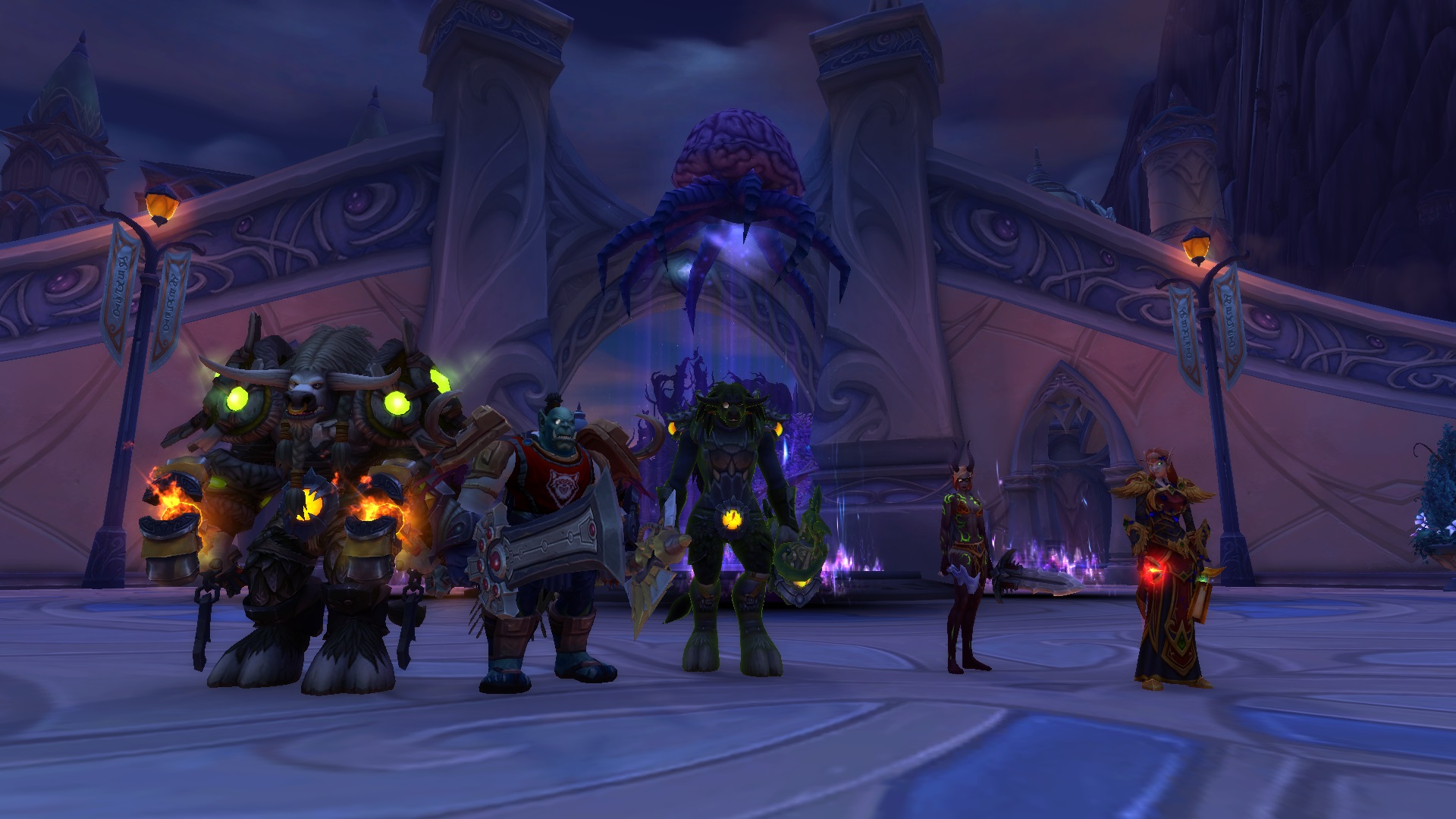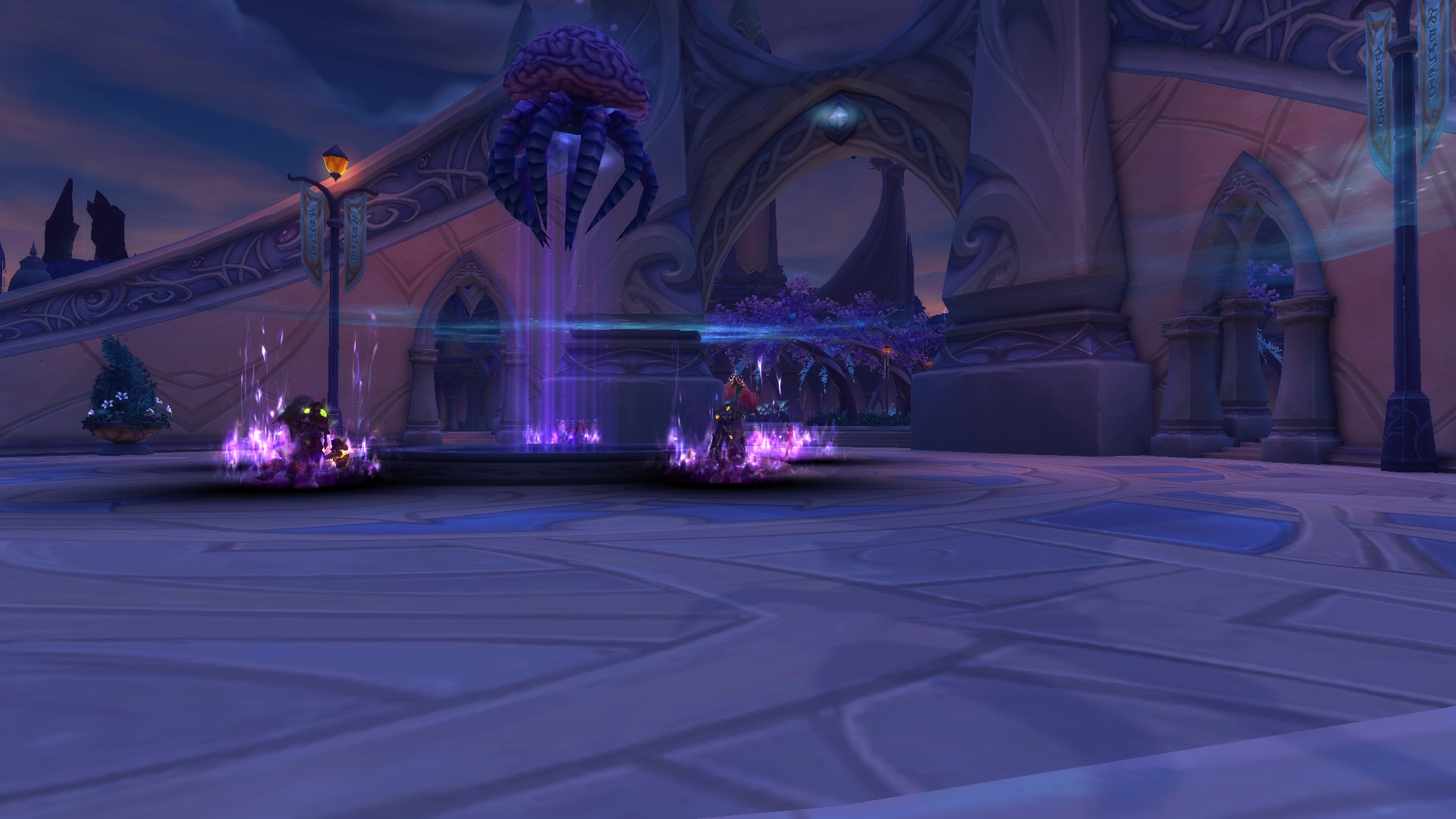 Naturally we all then returned to Orgrimmar to flounce around showing off our new mounts.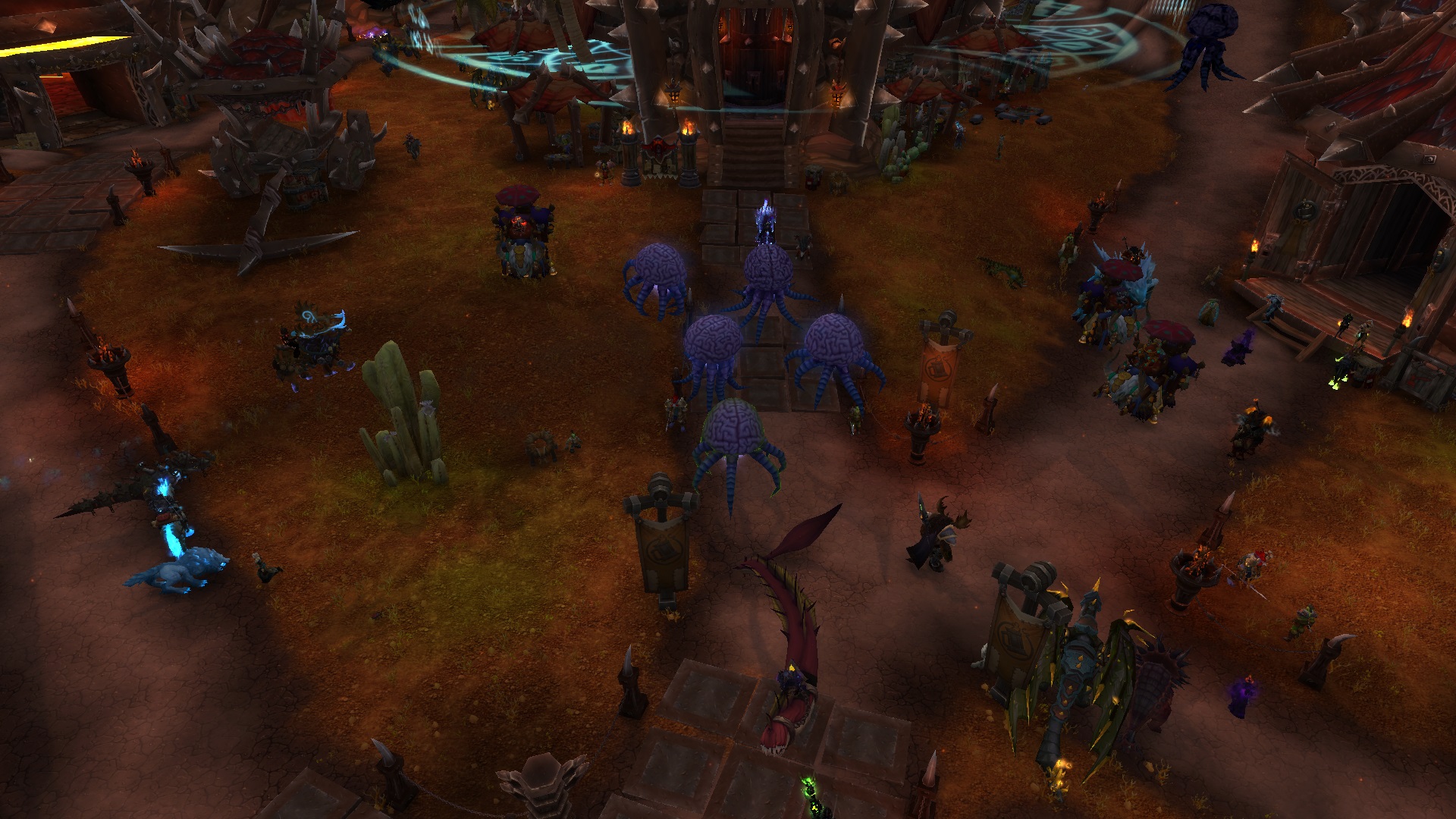 And best of all, we discovered a secret of our own! Once we all mounted a single Hivemind, our host worked out he could eject us…Special Air Horde!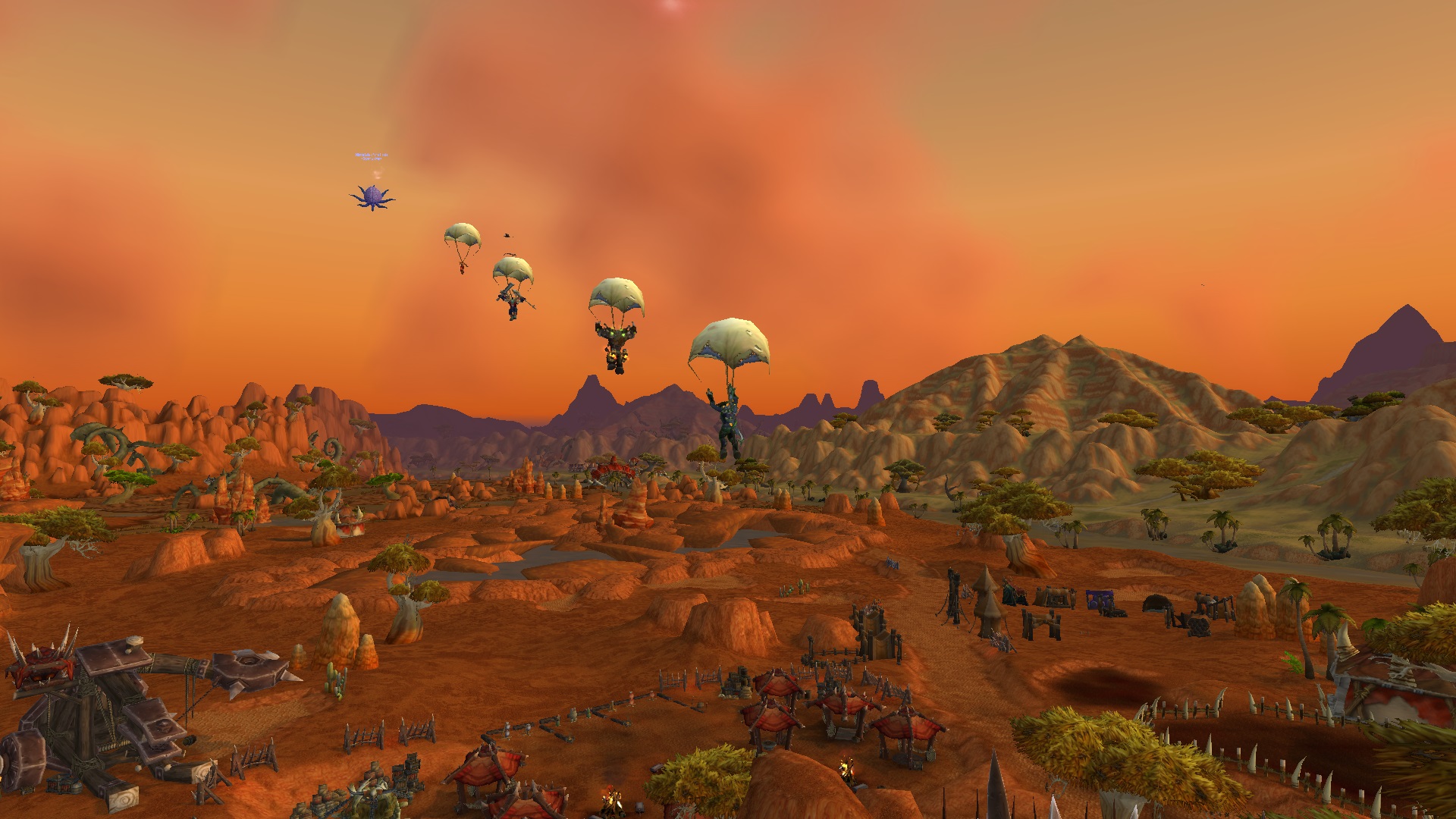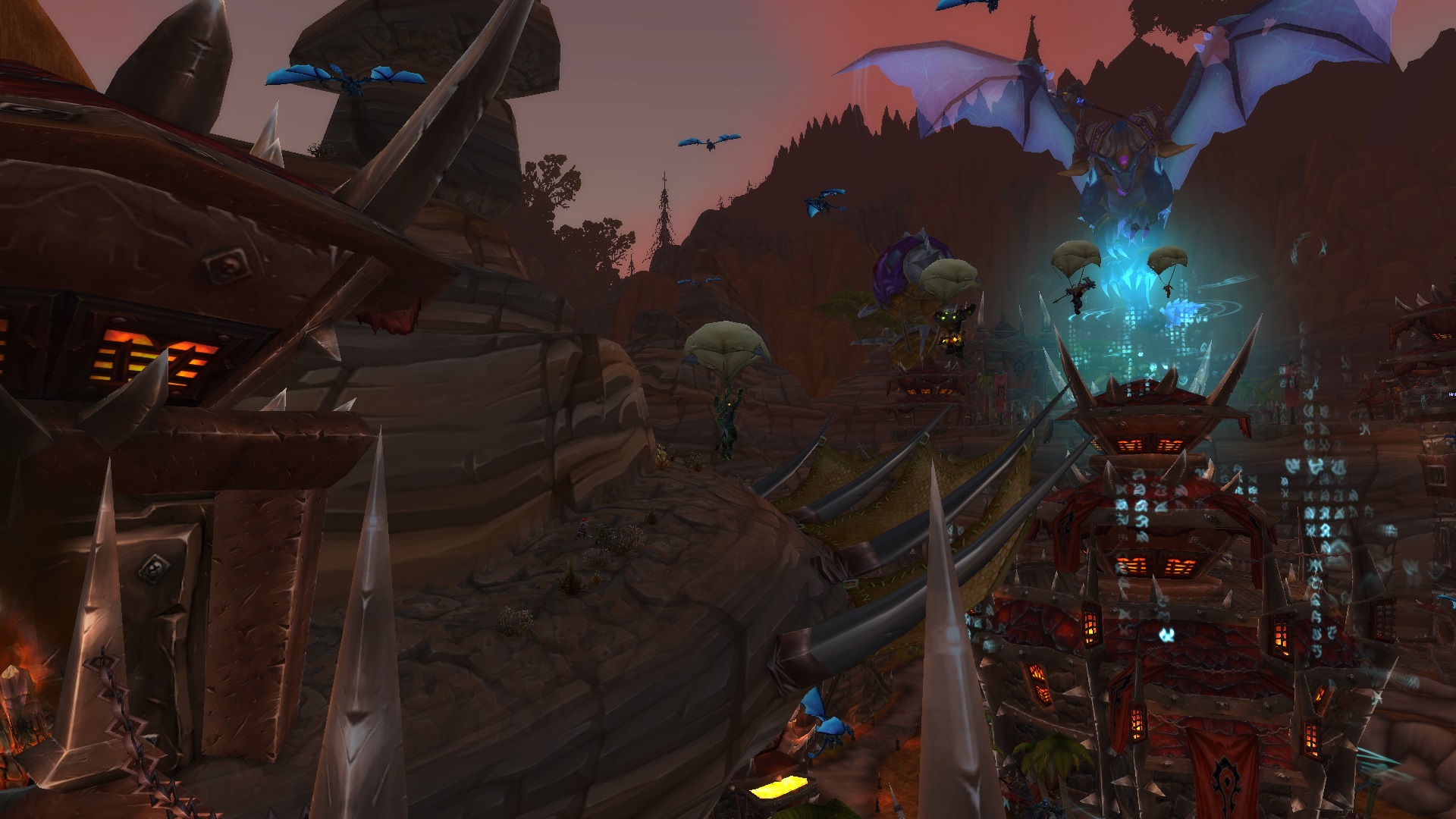 Thanks to the Secrets Discord for making the solution available to all, and solving it in the first place. And kudos to Blizzard for creating five-person content of such a different flavour.
---
For the last few weeks I've been catching up on some relatively ancient and incomplete console games from the pile: Uncharted 3, Rise of the Tomb Raider, and The Last of Us. The latter two I'd got started in but never finished, while UC3 was a fresh start.
Uncharted 3: Drake's Deception
Uncharted 3 continues the tradition started in the first two games: high-adrenaline on-rails escapist entertainment, and likely the closest we'll come to an Indiana Jones game.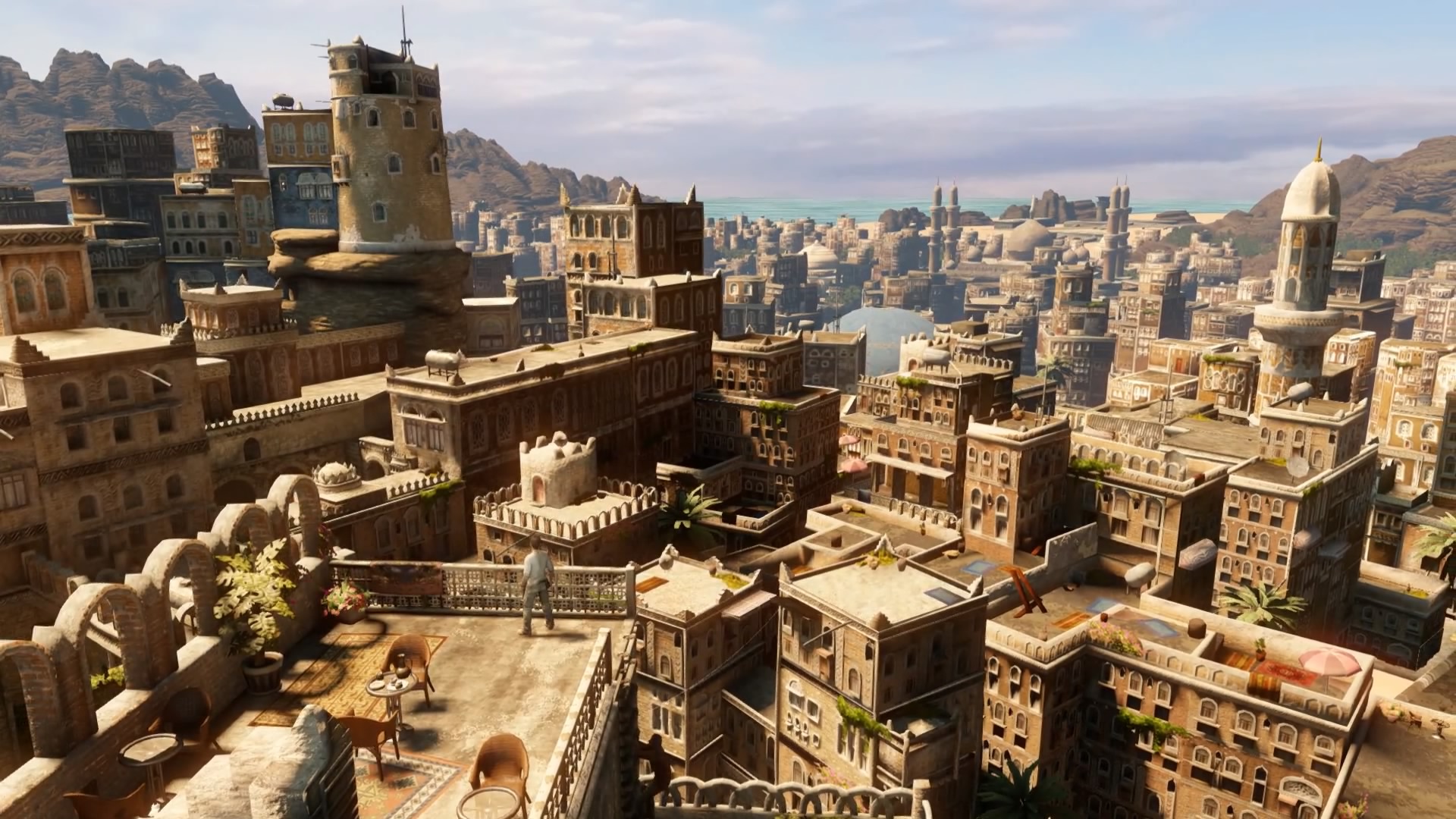 This chapter takes things slightly deeper by putting you in the sandshoes of the young Nathan Drake, a boy starting out on the path of treasure hunting and adventure seeking. We find out how he meets and bonds with his long-time mentor Victor 'Sully' Sullivan via early adventures in relic thievery and (predictably) shooting guns at people.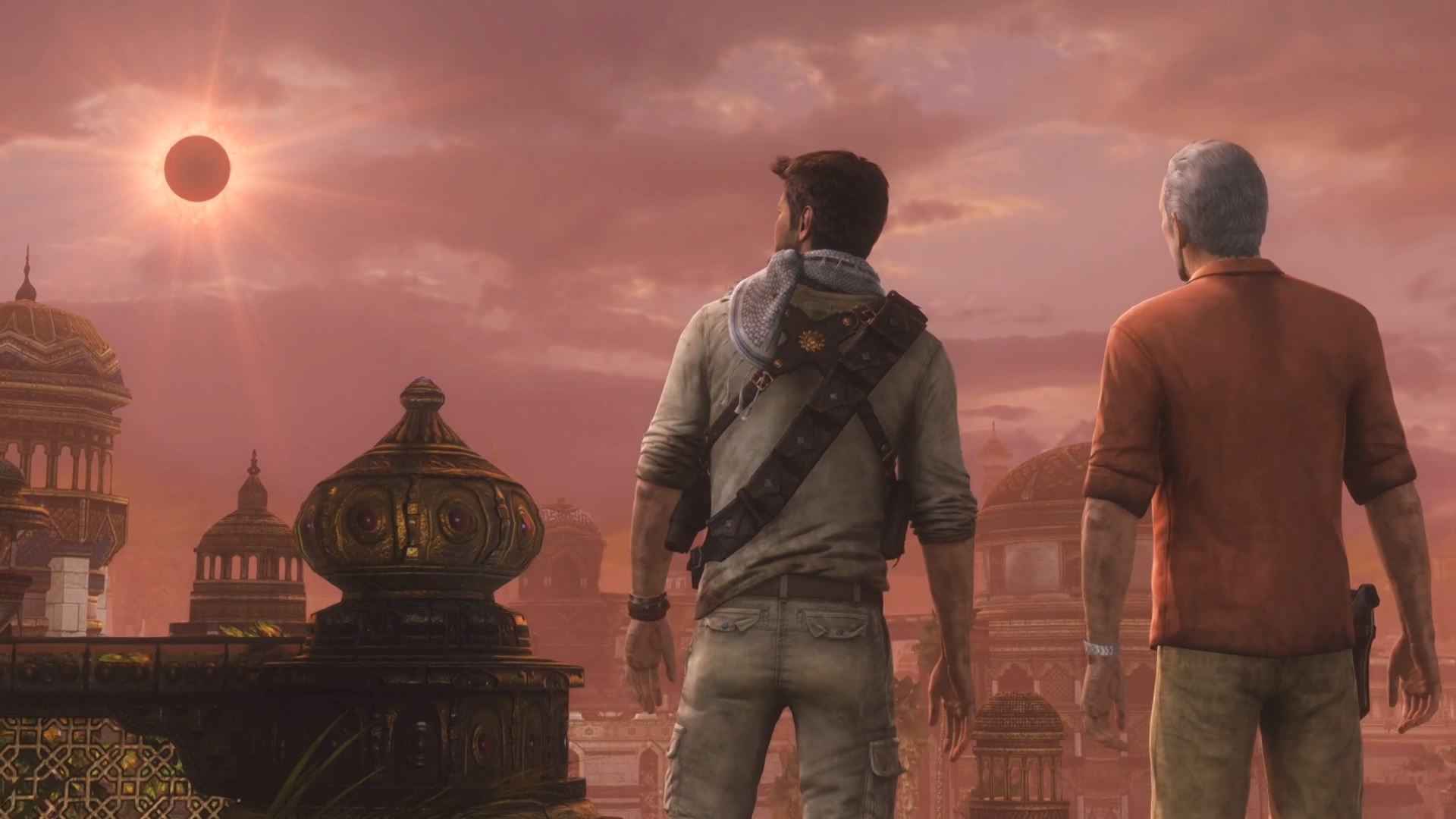 As with the other games in the series, the amount of people you kill on your journey seeking one of Francis Drake's supernatural discoveries is ludicrous, but it's also very cartoony and becomes background noise before too long. It rarely feels like a fight is simply there to extend the game, in contrast to Tomb Raider.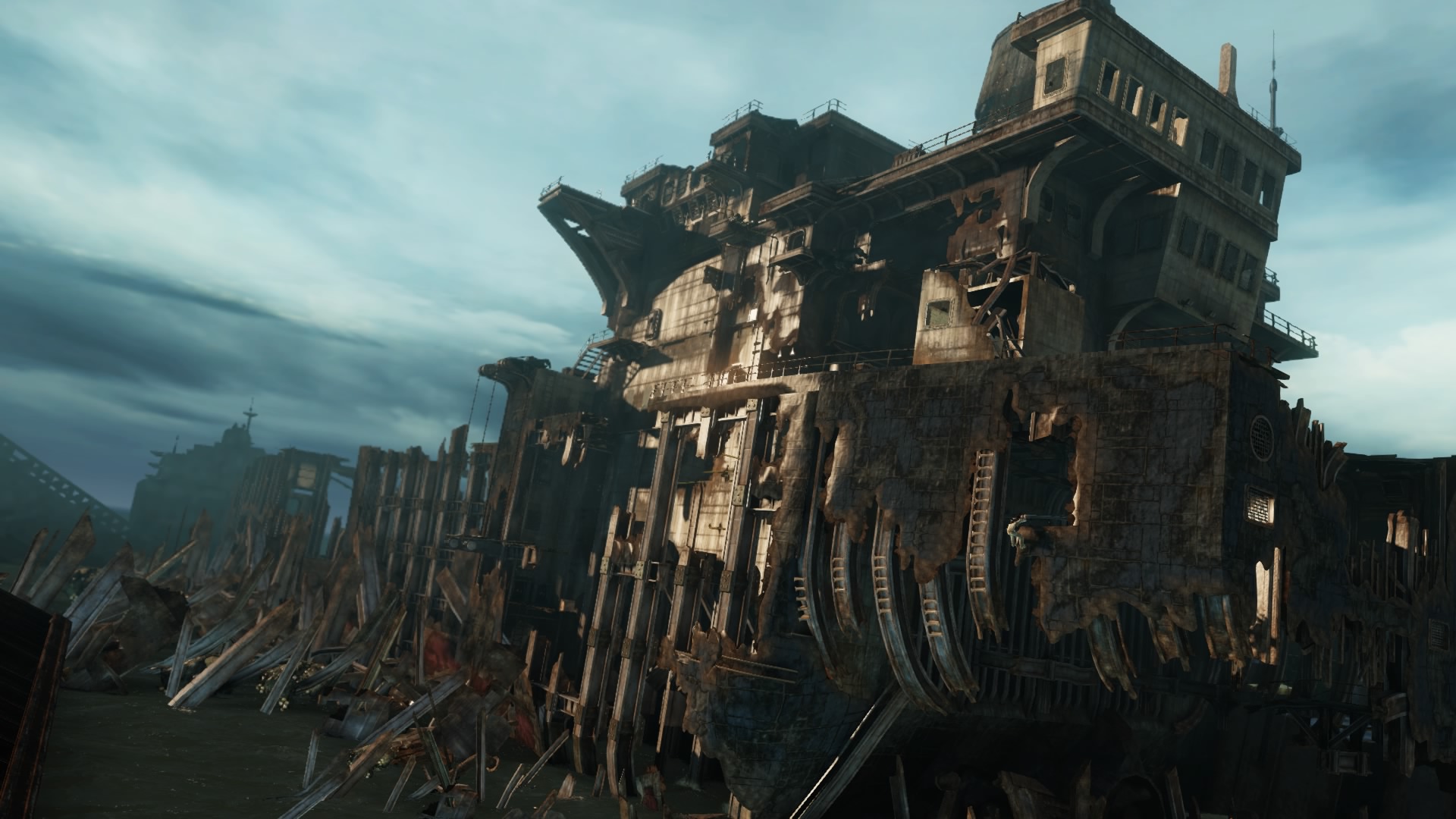 There are a lot of great set pieces, from a ridiculous parachute-free skydive off a crashing aeroplane to a high speed chase on horseback - this game's version of the great train sequence from Chapter 2. The horse animation is very funny compared to the majesty of RDR - they kind of skate over the sand.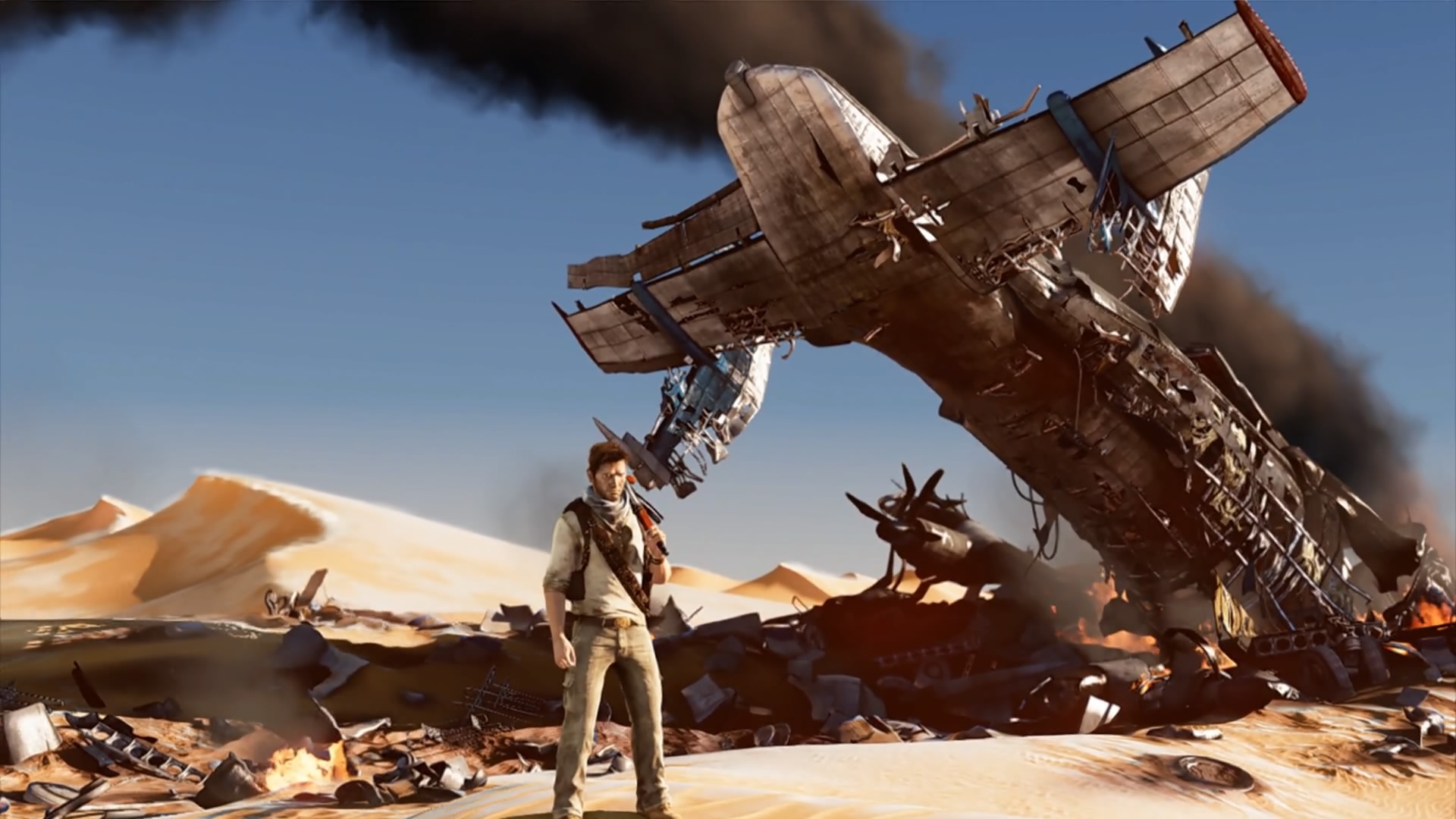 There's a moment in the game where I thought that the developers had made a brave character choice, before finding it quickly walked back, which was disappointing. But then I remembered what kind of game this is and forgave it: just have fun and don't worry about the plot or emotional weight. Perhaps the fourth chapter will deliver on that front - it's titled A Thief's End which sound somewhat ominous, though it probably means he just chooses the straight and narrow, right?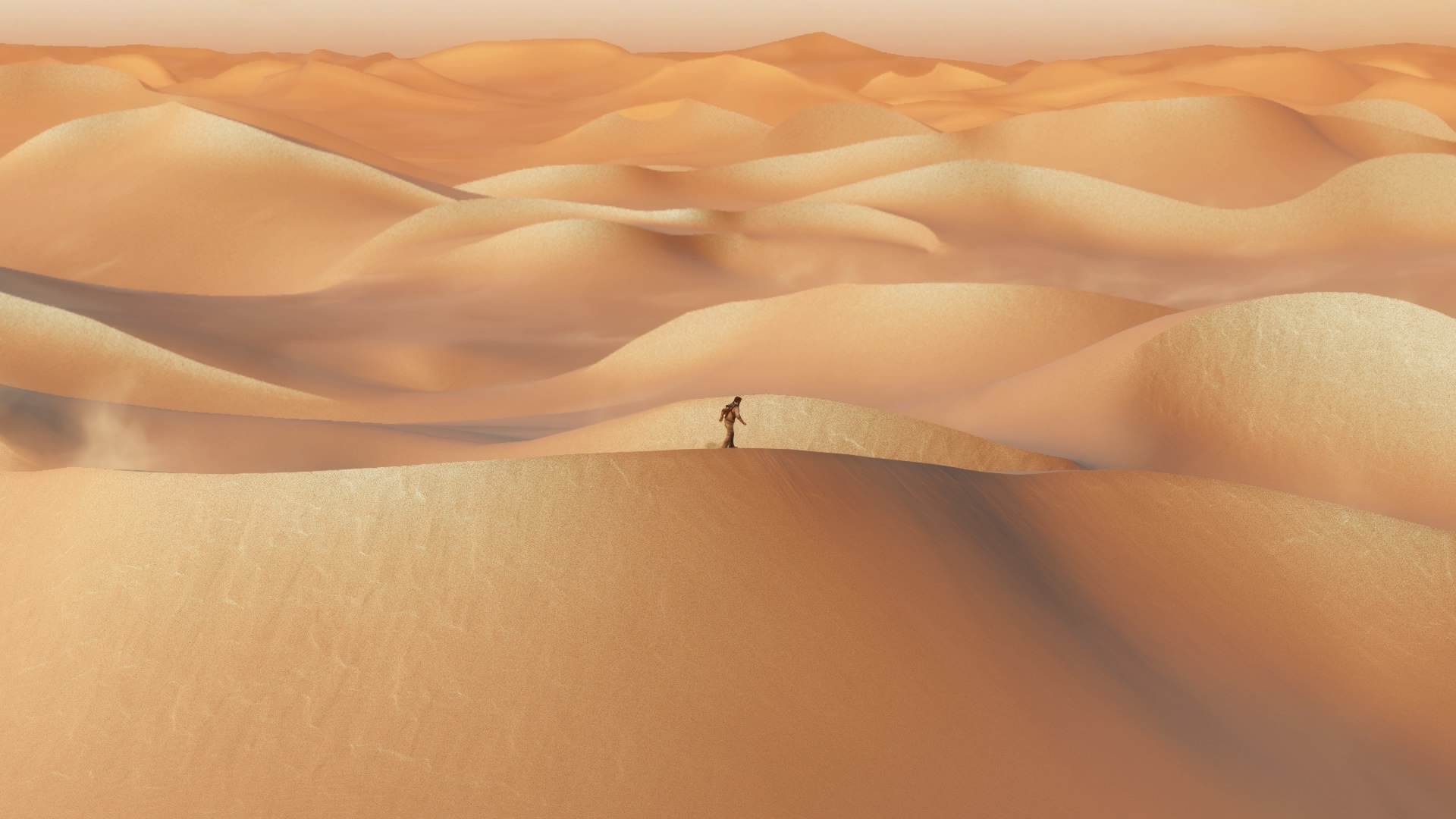 Rise of the Tomb Raider
Way back in 2013, I purchased an Xbox One at launch solely to be able to play Tomb Raider, having enjoyed the last edition and Rise being a platform exclusive for a while. Of course I then didn't play it until the exclusive window was over!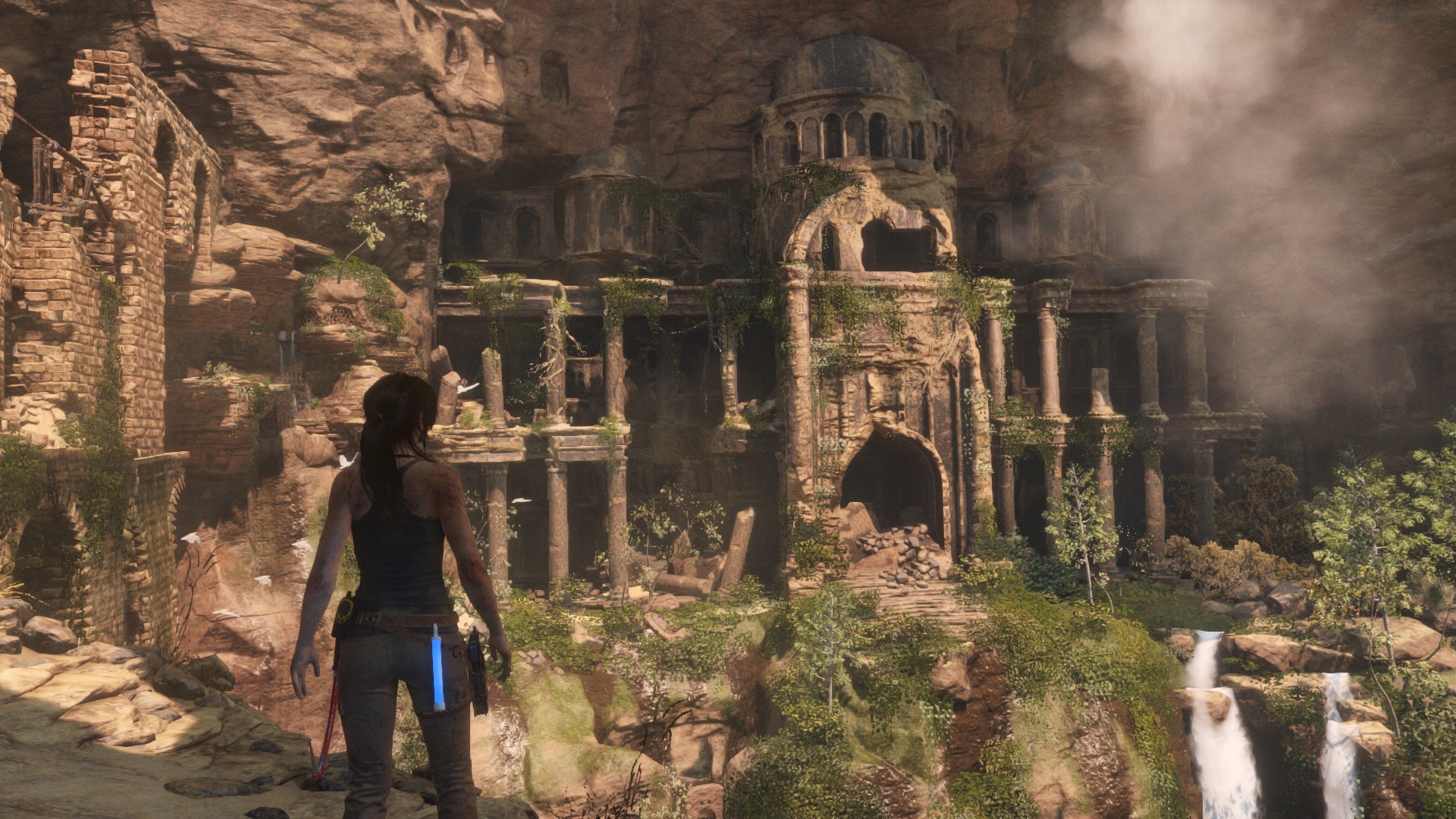 It starts well enough, with an epic climb through a brilliantly animated snowstorm where you feel Lara's cold viscerally. And the early adventuring is just that: adventuring. Finding abandoned tombs, solving fun puzzles, and seeing some amazing sights.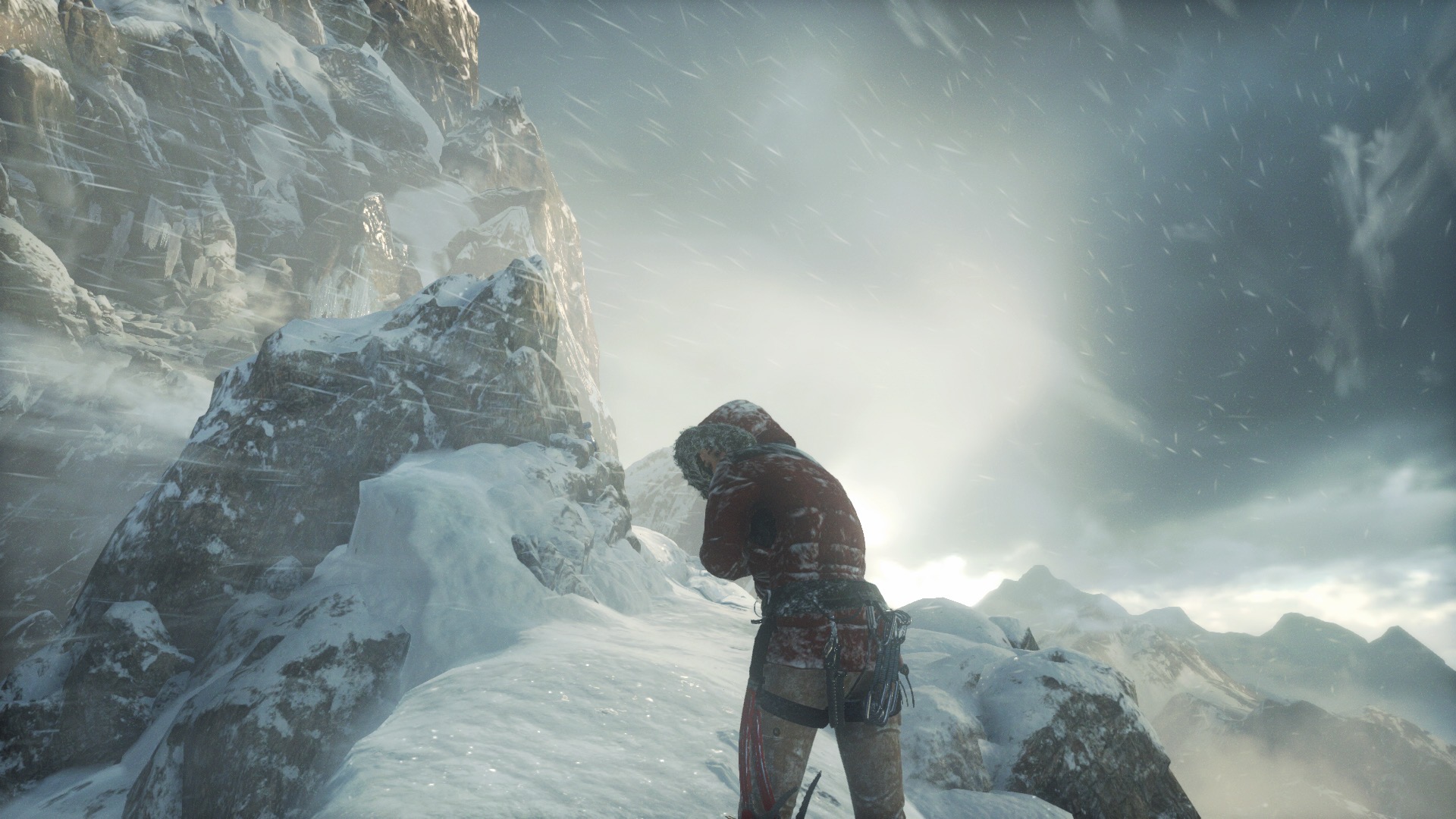 Slowly but surely the game starts to introduce enemies into the picture. And before long that becomes the main thrust of the game: shoot (or hack to pieces with your ice pick) a gazillion bad guys. It becomes pretty tiresome, not helped by the fact that the death animation when you die (which was often for me!) is particularly gruesome. The enemies attack your fallen body with enthusiastic gusto, which is very unpleasant to watch and doesn't seem to serve any purpose other than shock-value.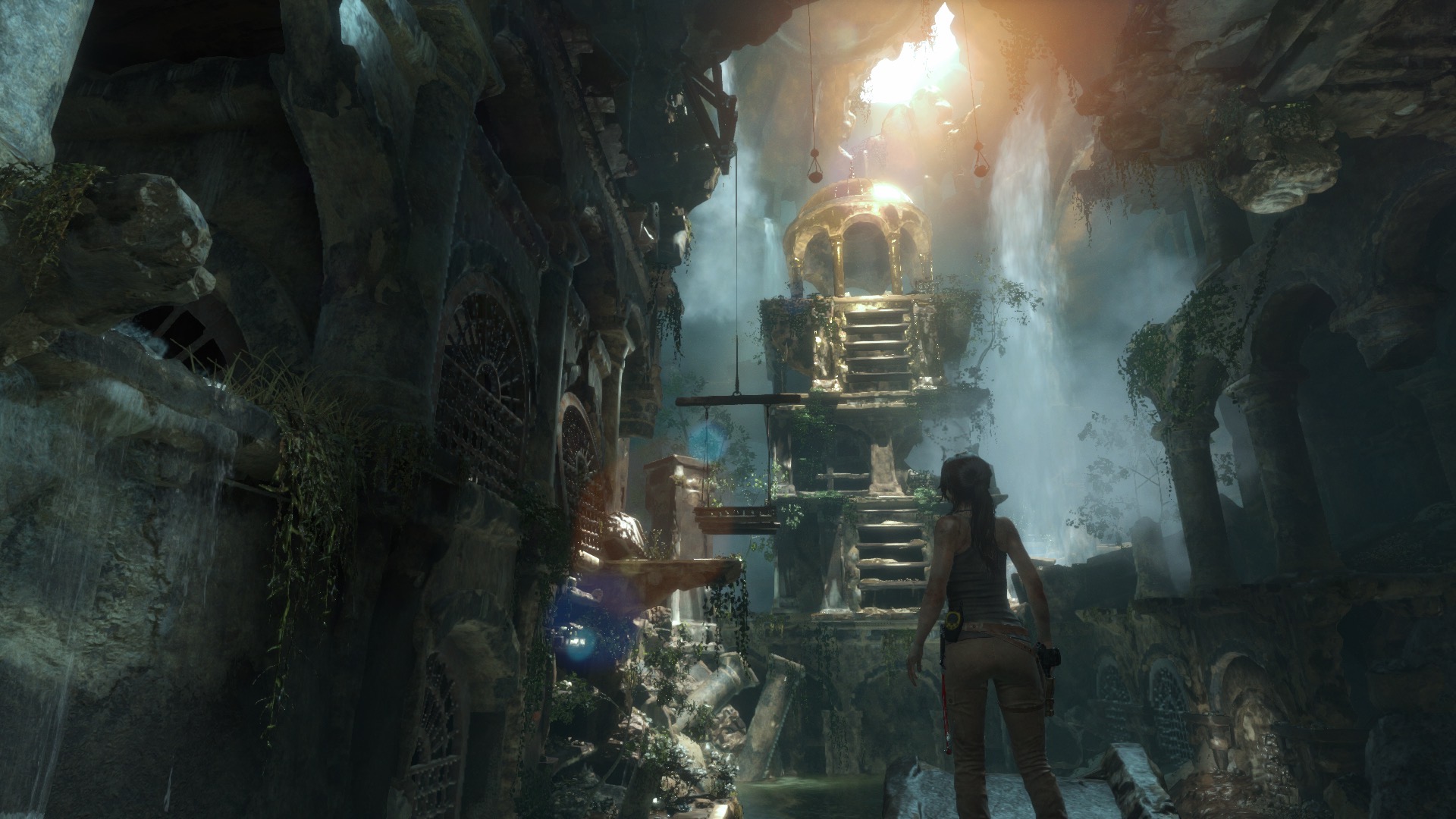 I eventually abandoned the game altogether when a battle scene became basically Call of Duty, with Lara and some allies defending a village against wave after wave of gun-toting foes backed up by a military helicopter. That fight exhausted me and seemed so far removed from what I imagine the Tomb Raider series to be about. Lara never questions her killing sprees, nor does the game try to justify them. Which is odd given the semi-serious tone the game takes.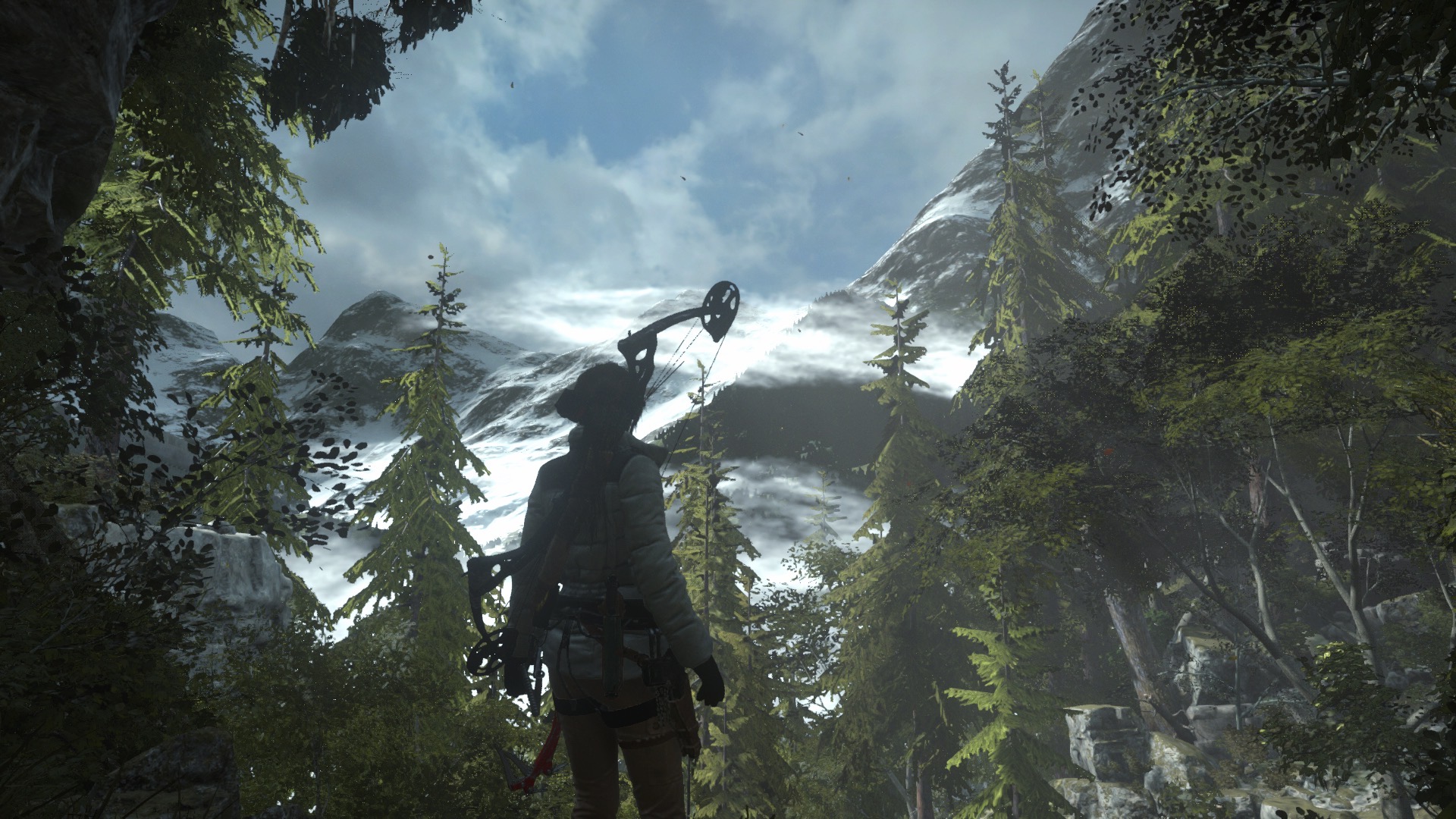 I came back to TR after finishing Uncharted, to try and finish it off (looking at the screenshots it was almost 2 years after my first failed attempt!). This time I knew what to expect, and having just played UC made the whole shooter side of the game seem more normal. The gun battles were still annoyingly frequent, but I upgraded enough skills to be able to sneak through most areas, and silently dispatch enemies if not. Unlocking new abilities also made the environments more fun to traverse, swinging huge distances and launching into mid-air to attach to an icy wall with a lunging pick.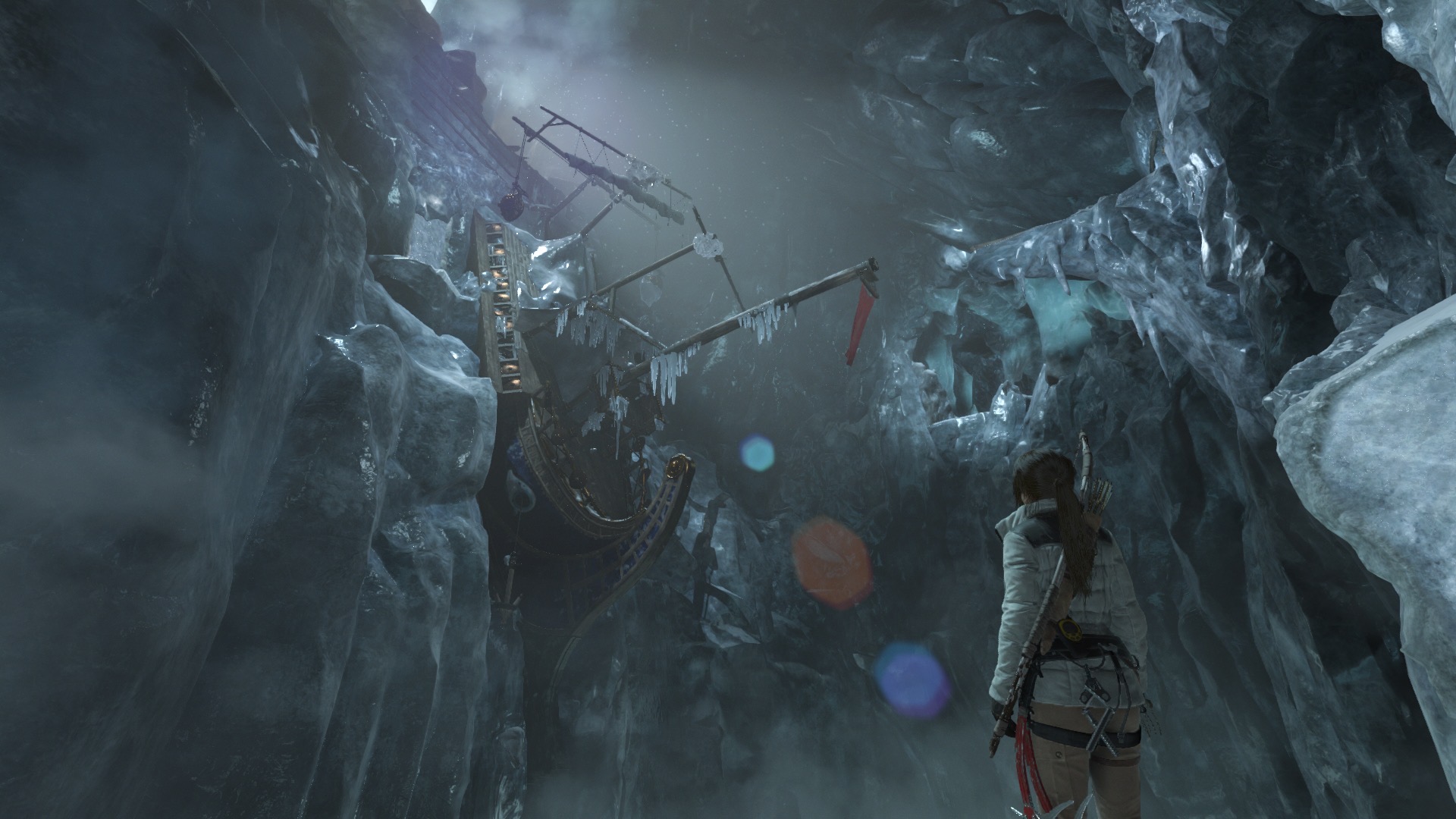 TR is far more serious than UC but if you can settle into the rhythm of it there's fun to be had. There are some bad and obvious artificial time-extenders (traversing from one side of the map and back, or rescuing a companion that disappeared and returned for no logical reason), and the story is nonsensical, but it's slightly less on rails and the environments can be lovely to explore. I don't think I'd play the next one though (Shadow of the Tomb Raider), which from reviews sounds like it's even more violent and 'fighty'.
It feels like TR needs yet another reboot, to rediscover the joy of exploration and movement instead of relying on the crutch of combat.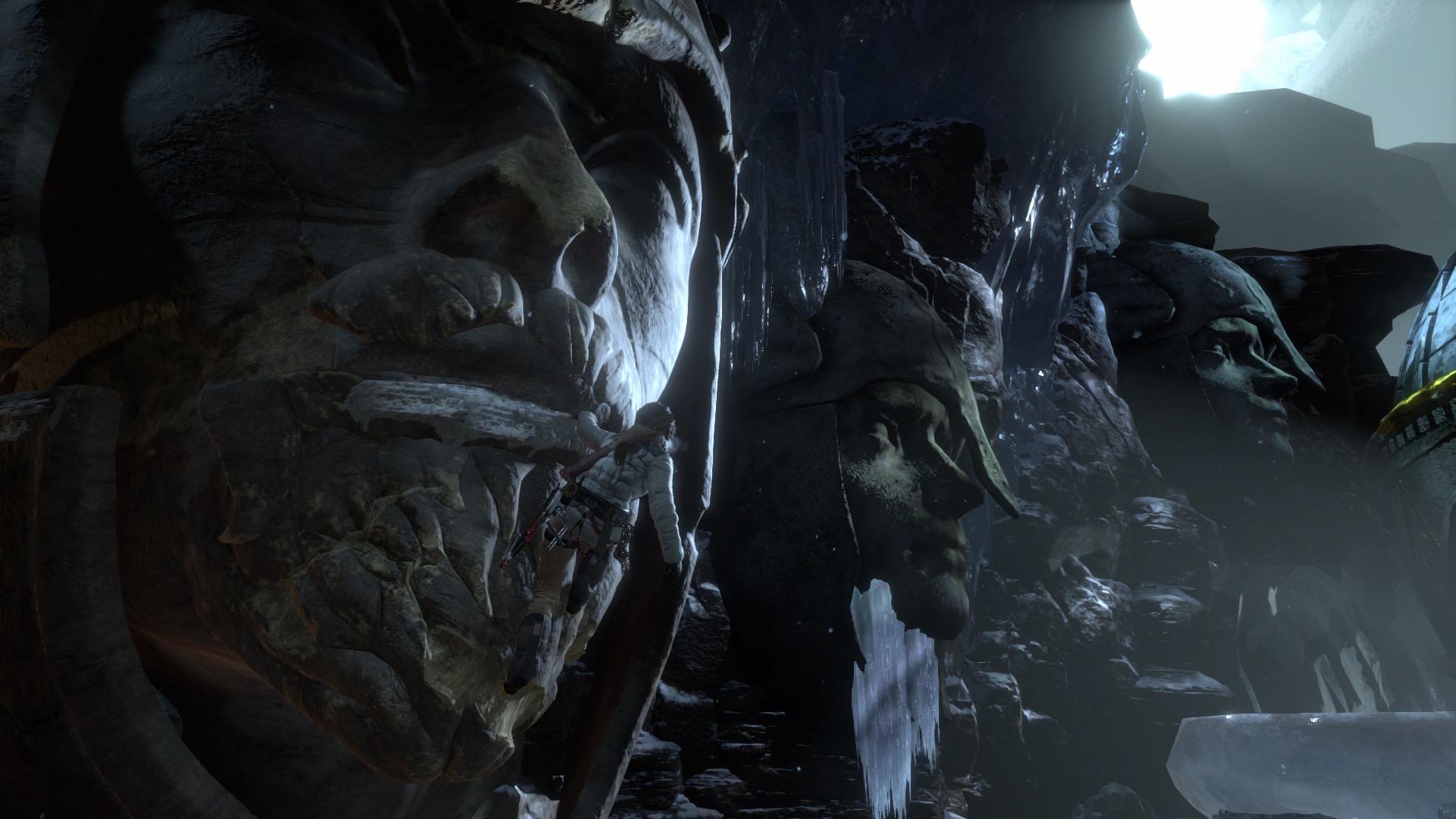 The Last of Us
Talking about violence.
Very early on The Last of Us introduces you to the mechanics of killing (the main skill in the game), as the game teaches you how to sneak up on and throttle some 'evil' humans. The strangle and choke animation is long and drawn out, and made me feel bad about the whole event. Maybe that was the idea? But then the game proceeds to demand you kill pretty much everything that moves, human, zombie, or otherwise. With many, many drawn out throttling sequences if you play stealthily as I tried to.
I found myself despising playing this game for quite a while. I'm not a fan of survival horror, and would never normally play this kind of game. But TLoU has had so many stellar reviews, particularly based on the story. So I knuckled down and tried it.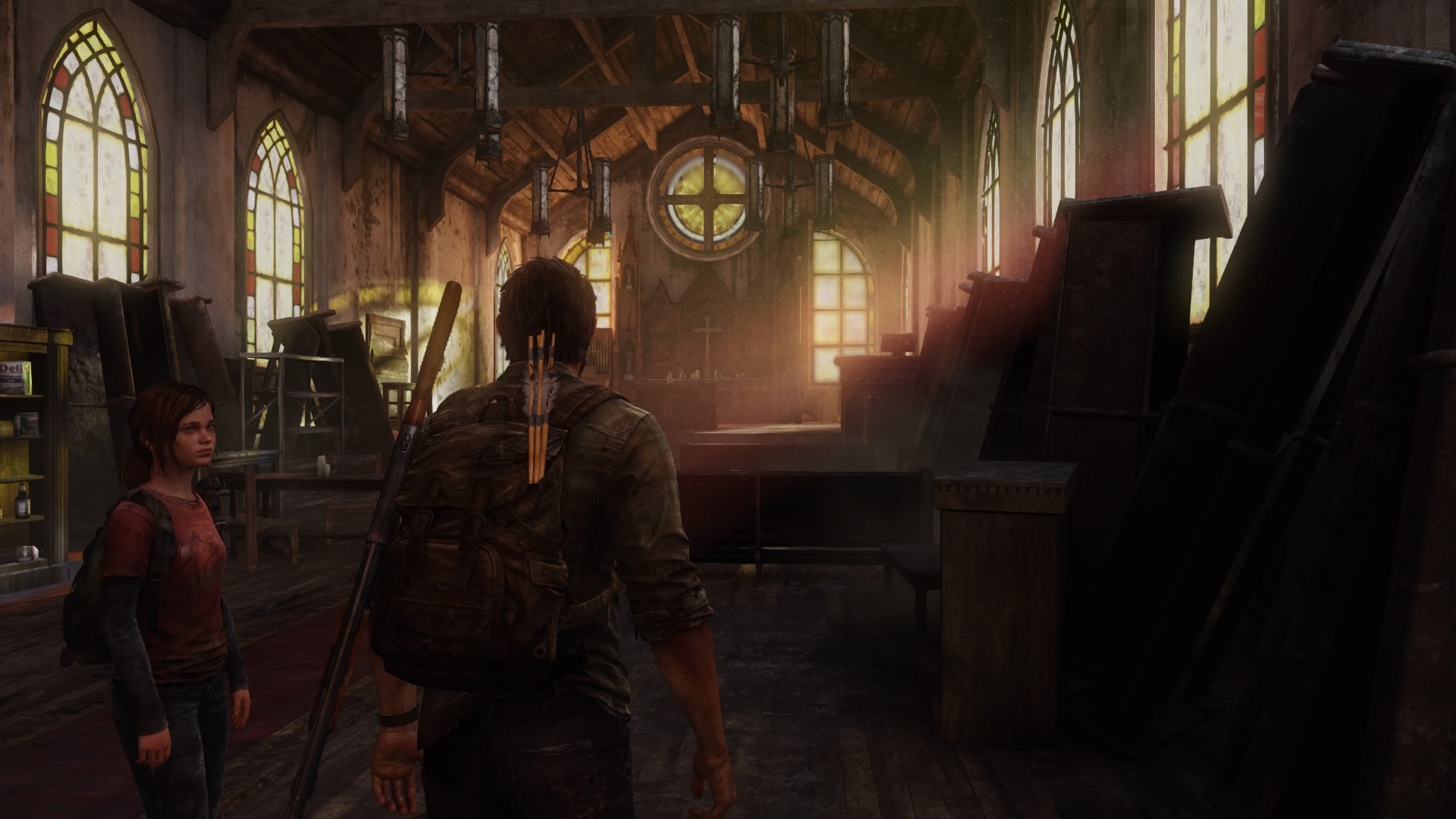 Like TR, I stopped playing multiple times and for long stretches, largely due to being overwhelmed by the horror and graphic deaths I kept experiencing. Watching your character have his jaw ripped from his face, or his face ripped off, or any number of other horrendous deaths is not terribly entertaining. And I was genuinely scared of the zombies once they got close - I abandoned the controller many times with fear and loathing. The sounds the various zombie species make is super unsettling too - very well designed to make you uncomfortable pretty much constantly.
I found the game very hard, and was dying often to begin with, despite setting it to easy mode and having all the possible helpers on. I'm not sure why it was so difficult, some kind of mental block to the setting and viciousness. Lead character Joel is a very hardened soul, with only slivers of compassion occasionally peeking through. So too Ellie, his young ward, who is very old for her age, due to the brutality of the world in which they live. I found it hard to imagine wanting to survive in that world when it was so relentlessly depressing and without hope, which also made it hard to put myself in Joel's shoes.
I also couldn't help imagining the plight of the zombies, contemplating what it must be like to be a human consciousness trapped inside those mutated shells, and hating it. I was pleased that the game asked that question (are there people inside these creatures), albeit briefly and quickly dismissed. I'm not sure what canon zombie lore says about this, but just the thought that it might be possible was disturbing enough.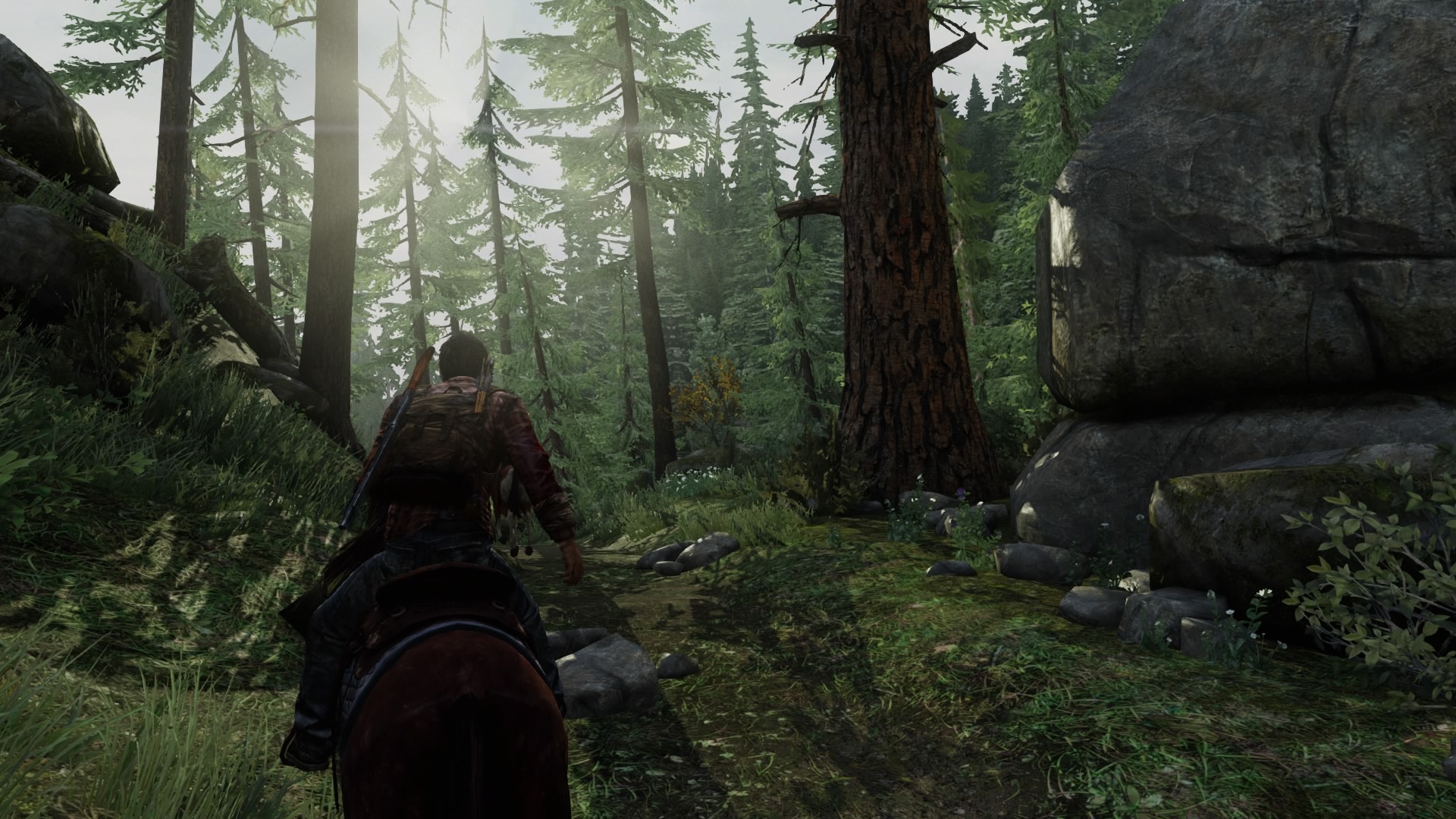 Along with the zombie hordes, you also have to deal with a lot of of unpleasant humanity. Some of the human villains verge on the absurd (let's make them cannibals and paedophiles and religious nutters) and lacking believable motivation, which makes their deaths seem excusable at the cost of plausibility. Even then it felt slightly wrong to be so trigger happy with the few remaining humans - surely they weren't all beyond redemption.
All of which makes it sound like this is a bad game - but it's not. As everyone has said, the story is very strong and the atmosphere and world are brilliant. It's not exactly open world, but the zones are so thoroughly imagined and varied that it almost feels like it is. I was constantly surprised at how much small detail was put into every room, sewer, and building. The character animation - particularly facial - is beautiful too. You feel like you know precisely what Joel and Ellie are going through just from their (often exhausted) expressions.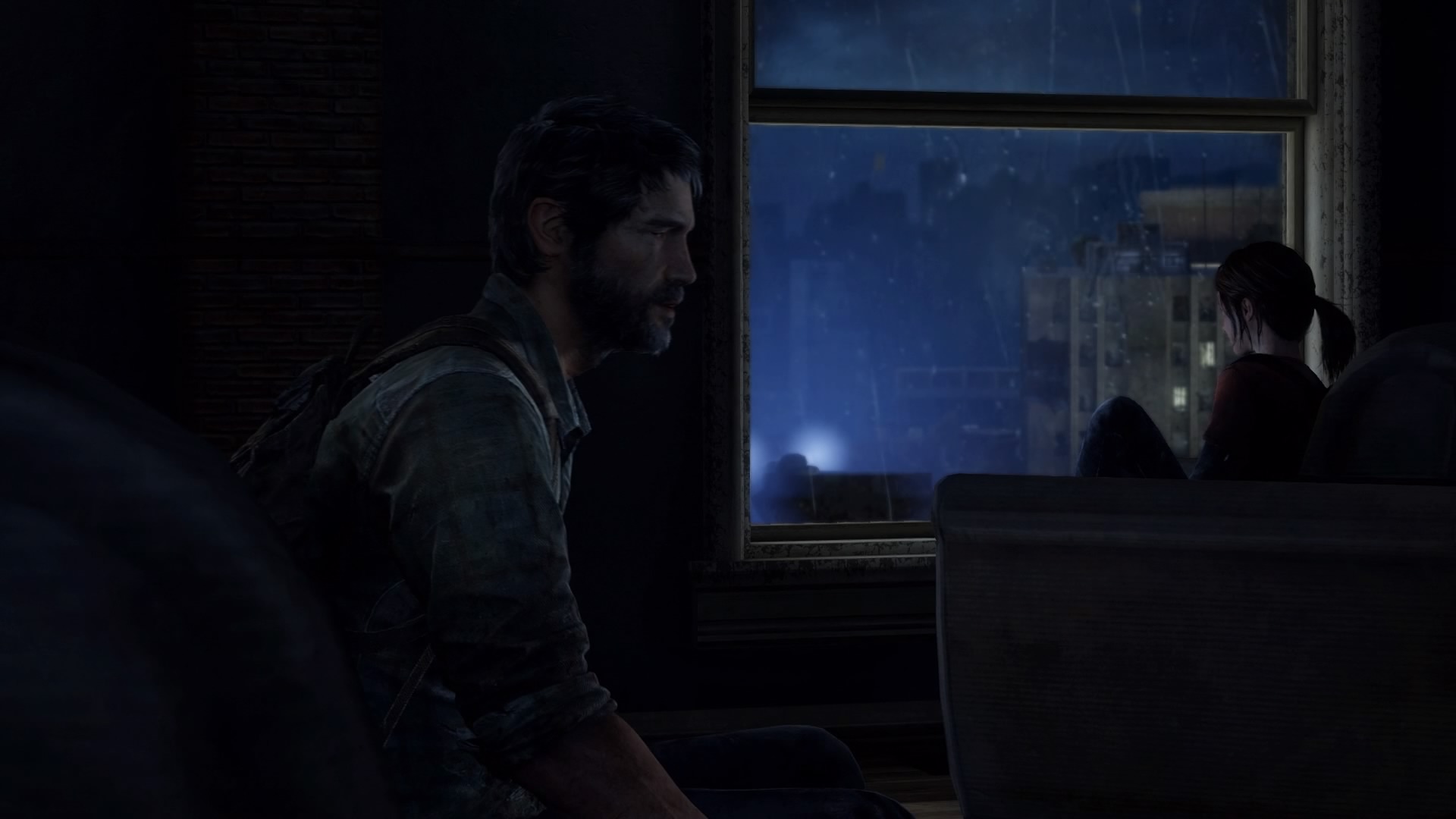 The tone is deadly, deathly serious, with very little room for relief. Which makes the rare glimpses of hope or beauty all the more powerful and compelling. One moment in particular toward the conclusion is one of the great reveals in gaming - I won't spoil it here other than to say that it is almost prophetic in the way it echoes the cautious emergence of wildlife during the Covid-19 event.
And the story is emotionally effective and often surprises. There are clunks and a few fake delays (I'm obviously not a fan of time wasters, which is funny given Warcraft is basically a series of time wasters!) but the slow development of the bond between Joel and Ellie is extremely well told. It's basically a movie, in that you don't get any choice in what's happening, but there's a reason movies are still a great storytelling medium.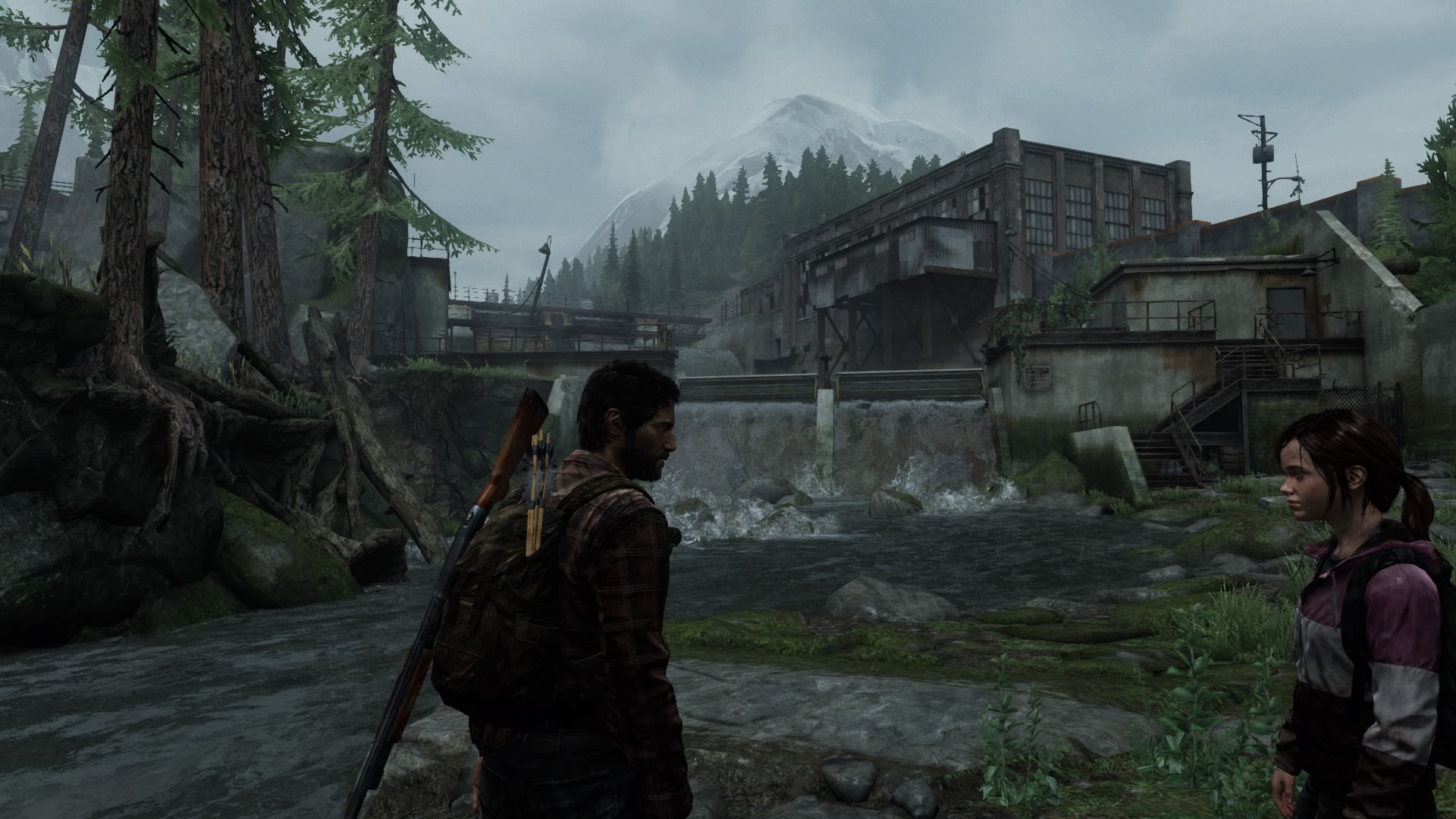 The conclusion of this game is pretty much perfect, and even though there is more story that could be told I'm pretty sure I'll avoid the sequel. As with TR, reports that the new game ups the ante on the violence and relentless killing makes me think it's not for me. I'm begrudgingly glad I played this original though.
---
During the play-throughs I found the emerging theme of these three games for me was how they depicted violence. Each one upped-the-ante, from the arcadey Uncharted, to the serious-face but fantastical Tomb Raider, to the ultra-violent ultra-realistic The Last of Us.
I found it harder and harder to keep up with the sheer volume of murder required. I think this was particularly true of UC and TR, where the heroes don't ever stop and wonder if maybe 1000 deaths is too high a price for a piece of old treasure. In TLoU it's slightly more acceptable - you're killing monstrosities with no redeeming features - but because the game is so glum and real it becomes a psychological slog to keep your head above the claustrophobic horror. And you still have to kill plenty of humans, who are just as set on surviving as you are.
TLoU is perhaps showing the player just how horrible it is, rather than just shoving it into games ostensibly about adventure and discovery. Which doesn't make it any more pleasant to play, but it does at least provide some context.
The debate about the place of violence in games will likely never end, and it was an interesting to experience different implementations of it in a sequence like this. Despite actively disliking playing TLoU for the first half, it was probably the most honest about the violence. The other two not so much, with TR in particular being guilty of misjudging the line between serious and silly.
I'm tempted to try Destiny 2 again next - getting back to the mindless and repetitive style of grind-gaming in a gorgeous sci-fi universe. Albeit with heavily fetished guns. There's no escaping it!
---