2010-01-09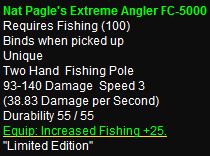 Salty. The one Achievement (and title) I really want.
For inexplicable reasons I love WoW fishing. It's medatative, can be profitable, and every cast is a surprise. Levelling fishing through the skill zones where you need 7+ catches for each skill point was mind numbingly slow, but then numbing your mind is almost the point of fishing.
Right now I have every fishing Achievement needed for Salty but two. One is to win one of the two weekly fishing comps. Despite many attempts, including the latest this morning, I'm still waiting. If you think about the odds, only 104 players per server can win the comp each year and hence get the title. Before they added the Kalu'ak Derby in patch 3.3, it was only 52 players. Ouch. Unfortunately I'm on a US server, so the Stranglethorn Extravaganza is pretty much inaccessible, being a 9AM on a Monday morning.
The other missing Achievement is the One That Didn't Get Away, the goal of which is to catch one of ten possible rare fish. As of this morning, I've hooked 4302 fish, out of a total 6534 casts, and have yet to get one of those ten. But then that's the great thing about fishing. Your very next cast could be the one you've been waiting for.
---